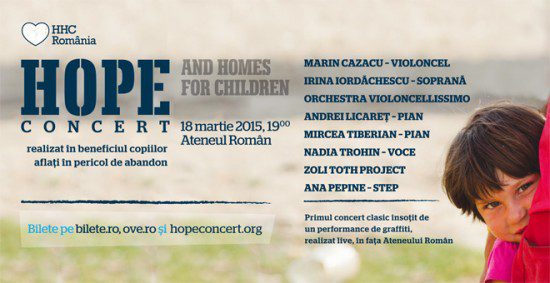 Pe 18 martie, Ateneul Roman va fi centrul generozitatii: Hope and Homes for Children Romania organizeaza cea de-a treia editie a concertului caritabil dedicat copiilor fara familie sau aflati in pericol de abandon.
Hope Concert continua traditia Galelor Twin Art din 2013 si 2014, sub numele sperantei, cea care sta la baza filosofiei Hope and Homes for Children.
Editia din aceasta primavara se anunta a fi o calatorie impresionanta de la jazz la muzica clasica, pusa in scena cu maiestrie de artisti consacrati precum: violoncelistul Marin Cazacu, pianistul Andrei Licaret, Ansamblul Violoncellissimo, duo-ul de jazz Mircea Tiberian si Nadia Trohin, percutionistul Zoli Toth si actrita Ana Pepine, cu participarea extraordinara a sopranei Irina Iordachescu.
Gazda serii va fi, si in acest an, jurnalista Amalia Enache, care sprijina Hope and Homes for Children de mai bine de 5 ani, in calitate de ambasador.
Evenimentul este realizat in colaborare cu Filarmonica George Enescu.
Biletele la Hope Concert se pot achizitiona de pe Bilete.ro, ove.ro sau direct de pe site-ul www.hopeconcert.org.
✖
Mulțumim pentru că vrei să fim prieteni!