Mariss Jansons urca pe scena Festivalul Enescu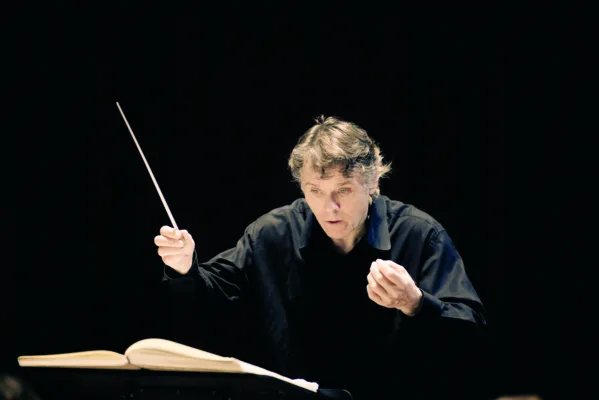 Festivalul "George Enescu" il readuce la Bucuresti pe cunoscutul dirijor Mariss Jansons, alaturi de una dintre cele mai reputate orchestre ale momentului la nivel mondial: Royal Concertgebouw Orchestra. Peste exact o luna, Jansons va urca pe scena Salii Palatului pentru primul concert din cadrul Festivalului. Potrivit criticilor de specialitate, Mariss Jansons este chiar "cel mai bun dirijor din lume in acest moment".
Programul zilei de 21 septembrie 2013
In cadrul seriei Marile Orchestre ale Lumii, de la ora 19.30, la Sala Palatului va avea loc concertul sustinut de Royal Concertgebouw Orchestra, sub bagheta lui Mariss Jansons si avandu-l ca solist pe Emanuel Ax – laureat Grammy si considerat unul dintre cei mai reputati pianisti contemporani, profesor la prestigioasa Julliard School. Programul include splendidul Concert Nr.3 pentru Pian si Orchestra in Do minor Op. 37 de Ludwig van Beethoven.
Revenirea dirijorului lituanian Mariss Jansons in Romania reconfirma pozitia pe care Festivalul Enescu o ocupa in randul celor mai prestigioase evenimentele muzicale europene. Cotidianul britanic "The Guardian" scria in anul 2012 ca Mariss Jansons ar putea fi, potrivit multora, chiar "cel mai bun dirijor din lume in acest moment".
Jansons este laureat al unui Premiu Grammy si dirijor principal al Royal Concertgebouw Orchestra, la randul ei in top 10 cele mai bune orchestre din lume potrivit unei ierarhii Gramophone din anul 2008. Dirijorul detine distinctia "Crucea de onoare a Austriei pentru stiinta si arta", cea mai inalta acordata pentru acest domeniu. Anul trecut si in anul 2006, Mariss Jansons a dirijat prestigiosul Concert de Anul Nou de la Viena.
Mariss Jansons s-a nascut pe 14 ianuarie 1943 in Letonia ocupata de sovietici. Mama sa, evreica, a fost fortata sa se ascunda pentru a putea naste si avea sa se stinga din viata cativa ani mai tarziu, in ghetoul din Riga. Tatal, Arvid, era dirijor, iar Mariss Jansons si-a petrecut copilaria la opera din Riga.
Din 1960, Arvid Jansons a fost dirijor asistent la Orchestra Filarmonica din Leningrad sub Evgeni Mravinski, iar tanarul Jansons participa la repetitiile tatalui. "Obisnuiam sa-mi construiesc instrumente din doua bete si sa fac muzica in felul meu. Dar n-am fost de unul singur, inca de timpuriu am luat lectii de dirijorat si am asistat la repetitiile si concertele tatalui", povestea Mariss Jansons pentru cotidianul britanic "The Guardian".
Dedicarea pentru muzica, pasiunea si consumul enorm pentru interpretarile live au facut ca destinul fiului sa fie in oglinda cu cel al tatalui. In 1984, Arvid Jansons a murit pe scena, de infarct, in timp ce dirija. 13 ani mai tarziu, Mariss Jansons suferea un infarct la Oslo, in timpul ce dirija opera "La bohème".
"Membrii orchestrei mi-au spus ca inca incercam sa dirijez partitura lui Puccini, prabusit la podea. Probabil ca asa faceam, dar nu imi mai amintesc nimic", declara Jansons pentru "The Guardian". Dupa recuperare, dirijorul astazi in vasrta de 70 de ani, si-a reluat activitatea care presupune nu doar turnee contra cronometru in intreaga lume, ci si multa munca administrativa si de creatie.
Concertul sustinut la Bucuresti de Royal Concertgebouw Orchestra va avea loc cu casa inchisa, insa puteti cumpara bilete pentru transmisia live in sala de cinema, de pe site-ul Grand Cinema Digiplex: www.grandcinemadigiplex.ro
In aceeasi seara, de la ora 22.30, pe scena Ateneului Roman una dintre cele mai cunoscute orchestre din Marea Birtanie si din lume, Academy of Saint Martin in the Fields va oferi publicului un program integral cu lucrari de F. Mendelssohn-Bartholdy. Solist: Boris Brovtsyn (vioara). La pupitru se va afla Sir Neville Marriner, unul dintre cei mai titrati dirijori din lume, laureat al mai multor premii Grammy.
Concertul sustinut de Academy of Saint Martin in the Fields va avea loc cu casa inchisa, insa il puteti urmari in transmisie live, la Grand Cinema Digiplex: www.grandcinemadigiplex.ro
Un concert cu intrarea libera este programat pentru dimineata zilei de 21 septembrie, parte din serie Muzica Secolului XXI – Enescu si Contemporanii sai. Duo-ul Laurent Albrecht Breuninger (vioara) & Thomas Duis (pian) va sustine de la ora 11.00 un recital cu lucrari de Debussy, Ravel si Enescu, la Sala Mica a Palatului. In timp ce de la ora 17.00, la Ateneul Roman va avea loc recitalul extraordinar al pianistului Jean-Claude Pennetier.
Concertul de la Ateneul Roman va avea loc cu casa inchisa, insa puteti achizitiona bilete la transmisia live in cinema, la Grand Cinema Digiplex: www.grandcinemadigiplex.ro
De asemenea, publicul din tara se va putea bucura de mai multe concerte extraordinare care au loc in cadrul Festivalului Enescu. La Craiova, de la ora 19.30, la Sala Filarmonicii "Oltenia" va concerta Maxim Quartet (Horia Maxim – pian, Mihaela Anica – flaut, Fernando Mihalache – acordeon, Sandel Smarandescu – contrabas). La Sibiu, cunoscutul muzician Jordi Savall, supranumit "regale muzicii vechi" va sustine, alaturi de prestigiosul ansamblu Hesperion XXI – La Capella Reial de Catalunya concertul extraordinar La Dinastia Borgia, care spune povestea legendarei familii Borgia.
✖
Mulțumim pentru că vrei să fim prieteni!