Trei concerte de Craciun la Sala Radio!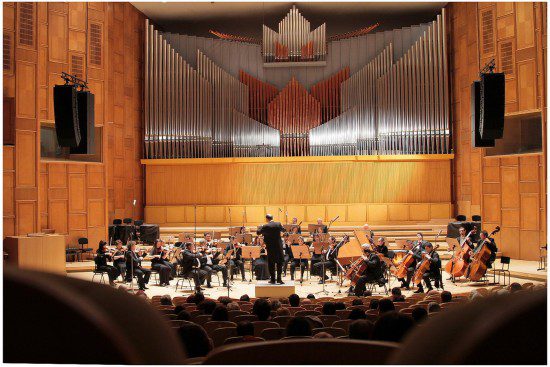 Glasurile cristaline ce compun sonoritatea inconfundabila a Corului de Copii Radio va vor purta anul acesta in atmosfera de poveste a sarbatorilor de iarna, catre amintirile dragi ale copilariei, prin magia cantecelor si colindelor de Craciun!
Sambata, 12 decembrie (19.00), ansamblul Radio Romania, sub bagheta dirijorului VOICU POPESCU, va invita la Sala Radio la un concert extraordinar de Craciun. Unul dintre momentele speciale ale evenimentului va fi interpretarea suitei A Ceremony of Carols (in traducere libera: "Ceremonialul de Craciun"), semnata de compozitorul britanic Benjamin Britten. Lucrarea complexa reuneste zece piese – cu acompaniament de harpa – si va fi interpretata pentru prima oara in totalitate in Romania.
Printre colindele romanesti pe care le veti asculta se numara: Sus boieri, nu mai dormiti, La Vitleem colo-n jos, Cetinita, cetioara draga, Domnulet si Domn din cer, alaturi de celebrul cantec de Craciun Jingle Bells si de doua compozitii semnate de compozitorul britanic contemporan John Rutter.
Evenimentul se va desfasura cu participarea pianistei Magdalena Faur, iar la harpa o veti aprecia pe Iuliana Rosca. Evenimentul va fi ulterior transmis prin Uniunea Europeana de Radio si Televiziune – European Broadcasting Union (EBU), in cadrul unui important proiect media – Euroradio Special Day of Christmas Music – care va celebra Craciunul prin 14 concerte propuse de radiodifuziuni publice,  difuzate pentru milioane de ascultatori.
Va este dor de mirosul de cozonac din casa bunicii, de colindatul cu steaua si de obiceiurile si traditiile din satul romanesc? Lumea plina de farmec a Craciunului traditional, cu datinile si colindele stramosesti, este adusa la Bucuresti prin concertul extraordinar "INCEPEM A COLINDA", prezentat duminica, 13 decembrie (17.00), la Sala Radio de numeroase ansambluri din intreaga tara si de solisti importanti ai scenei folclorice romanesti, o prezenta importanta fiind cea a lui GHEORGHE TURDA, binecunoscutul solist maramuresan.
Gratie invitatilor din toate zonele tarii, veti "calatori" imaginar in Maramures, Bucovina, Transilvania, Crisana, dar si in sudul tarii, in Oltenia si Muntenia si va veti bucura de colindele si datinile Craciunului asa cum s-au pastrat ele in vatra satului, in fiecare regiune a Romaniei.
Devenit o traditie Radio Romania, de 25 de ani consecutiv la Sala Radio, in preajma Sfintei Sarbatori a Nasterii Domnului Iisus Hristos, evenimentul ii are ca invitati pe: GHEORGHE TURDA si Ansamblul "SAPANTANA"- jud. Maramures, MARCEL PARAU si Grupul de colindatori din Merghindeal – jud. Sibiu, CALIN BRATEANU si Grupul de colindatori "BOROAIA"- jud. Suceava, ION DRAGAN si Grupul de colindatori "GORJANCA" – jud. Gorj, LEONTINA FARCAS si  Grupul de colindatori "MUGURI DE TEZAUR"- jud. Alba, Ansamblul "POIENITA"- Poiana Stampei – jud. Suceava, Grupul de colindatori "SOMESENII" – jud. Cluj, Ansamblul "BURNASUL"- jud. Teleorman, Ansamblul "COSAUL"- Sarbi-Budesti – jud. Maramures, Ansamblul "HORA"- jud. Mures, Ansamblul "JUNII CRISULUI" – Dieci – jud. Arad, Ansamblul "RITMURI ZARANDENE" – Hartagani-Baita – jud. Hunedoara si ROXANA CROITORU.
 Doua dintre ansamblurile Radio Romania – Orchestra de Camera Radio si Corul Academic Radio (pregatit de Dan Mihai Goia) – sub bagheta dirijorului Cristian Brancusi, va invita la Sala Radio miercuri, 16 decembrie (19.00), la un concert de Craciun cu totul deosebit! Atmosfera catedralelor gotice germane, in care rasuna de sarbatori cantece sacre, va fi recreata la Sala Radio prin interpretarea unei celebre partituri semnate de BACH: ORATORIUL DE CRACIUN.
Conceput de marele compozitor pentru Craciunul din 1734, oratoriul ce reuneste sase parti evoca momentele din scripturi: Nasterea lui Iisus, Vestirea Pastorilor, Inchinarea Pastorilor, Botezul Domnului, Calatoria Magilor si Inchinarea Magilor. Evenimentul se desfasoara cu participarea artistilor lirici: Cristina Oltean – soprana, Geanina Munteanu – alto, Tony Bardon  –  tenor, Cristian Hodrea – bas.
Biletele sunt disponibile pe www.eventim.ro, in magazinele Germanos, Orange, Vodafone, Domo, Carrefour, librariile Carturesti, Humanitas, in benzinariile OMV si la casa de bilete a Salii Radio.  
Pentru alte informatii legate de Orchestrele si Corurile Radio va rugam sa consultati site-ul www.orchestreradio.ro sau www.orchestreradio.com.  
✖
Mulțumim pentru că vrei să fim prieteni!