Cateva vorbe cu Florian Petrica de la The Money Channel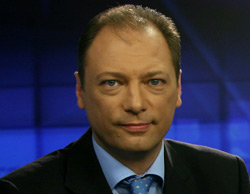 La The Money Channel, sportul nu este un domeniu de simplu divertisment sau un prilej de barfe si scandaluri. Pentru a tine sus stacheta calitatii, programul "All Star Sports" este realizat de Florian Petrica, doctor in Educatie Fizica si Sport – titlu obtinut cu lucrarea "Strategii media pentru promovarea valorilor sportului".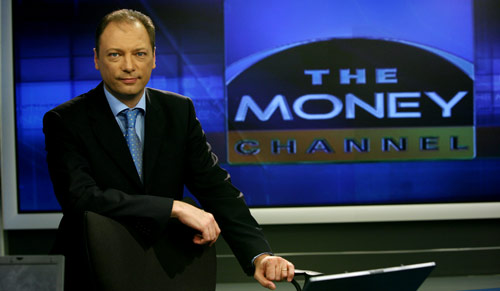 Mai spicuim din CV-ul sau: Curs postuniversitar de jurnalism la FJSC, Universitatea Bucuresti; Master in Management in Sport, la Universitatea AI Cuza, Iasi; Curs – The Human Rights (Geneva, Elvetia). Chiar daca sunt tentata sa copiez tot CV-ul, ma voi opri imediat, numai sa va mai spun un lucru: "Placeri culinare: bucataria daneza". A! Si inca ceva. Cartea preferata: "Soroc de viata, soroc de moarte" de Erich Maria Remarque.
V-am starnit interesul? Sa vedem ce mai putem afla despre Florian Petrica, din interviul realizat pentru noi de Iuliana Alexa.
Aveti ceva ce regretati?
Da. Trei lucruri: Timpul trece repede.Timpul trece. Timpul.
Depasiti limita de viteza? Cat de des?
Din cate stiu, rar; altfel spus, s-ar putea intampla destul de des.
Ce relatie aveti cu banii? Ce sfat ati da altora pe aceasta tema? Ce sfat nu ati da?
Alerg dupa ei, dar ei alerga mai repede. Sfaturile sunt usor de dat: alergati pana ii prindeti, nu-i pierdeti din vedere si mai ales nu o luati pe piste neconventionale!
Ce reviste cititi si de ce?
SportBusiness International. Daca spun ca revista voastra mi-a atras atentia inainte de acest interviu, putini vor crede; asa ca raman la SportBusiness International. E un mod nesperat de a imbina placutul cu utilul. Sportul imi place foarte mult, iar modul in care apar in acest domeniu toate lucrurile din viata mea profesionala – mass-media, marketingul, managementul, business-ul in general pe de-o parte si sociologia, pe de alta parte, este mai mult decat am visat vreodata.
Ce personalitate istorica admirati si de ce?
Che Guevara. Decebal. Mihai Viteazul. Consider ca toti reprezinta extensii ale aceleiasi personalitati. Sunt oameni extraordinari care au murit pentru idealurile lor, fie ca le-au exprimat in revolutii sau razboaie. Disparitia lor a fost violenta, insa a fost in acelasi timp onorata de destin; pentru ca nu au trait suficient pentru a-si vedea idealurile calcate in picioare si nici valorile coborate in banal.
Erati popular/a in scoala? De ce da, de ce nu?
Da. Jucam baschet foarte bine. Baschetul este deosebit de fotogenic si extraordinar de generos din perspectiva imaginii. Explicatia este simpla: esti mereu cu privirea sus, iar spectatorii sunt foarte aproape de terenul de joc.
Daca ar fi sa o luati de la capat in viata ce nu ati mai face?
Armata. Dar nu in intregime. Camaraderia este o valoare extraordinara a acestui mediu. Este acelasi sentiment pe care l-am intalnit ca sportiv, in cantonamentele tinute la mare distanta de casa.
Sunteti credincioas? Ce va aduce credinta in viata?
Toti suntem credinciosi. Empatia, condescendenta, prietenia, respectul cred ca sunt intr-o anumita masura, forme ale pietatii; iar pietatea reprezinta o mare valoare religioasa. Credinta iti aduce puterea de a merge inainte, alaturi de cei la fel ca tine.
Abonează-te la newsletter!
Primește săptămânal resurse prin intermediul e-mail-ului!
Mulțumim pentru că vrei să fim prieteni!