Traieste viata razand – de David Servan-Schreiber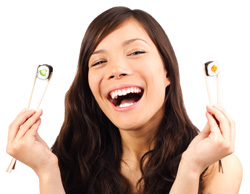 Jerry Seinfeld este un mare umorist newyorkez. El povesteste cum, copil fiind, tatal sau vindea firme luminoase cu neon si, uneori, il lua cu el sa-si prezinte marfa proprietarilor de magazine.
Tatal lui adora povestioarele hazlii si nu pierdea niciodata ocazia sa le povesteasca una potentialilor sai clienti. Adesea, urcandu-se in camion, la plecare, tatal ii spunea: "Astuia nu i-am vandut nimic, dar ne-am distrat grozav. Nu-i asa? Vezi tu, in asta consta frumusetea meseriei mele. Orice s-ar intampla, ne distram!". Rasul este asemenea unui soare care ne lumineaza viata zilnic. Daca aceasta lumina a stralucit suficient ziua, seara mergem la culcare mai linistiti, inca imbatati de dulceata ei.
Rasul este ca un magnet. De la gradinita, cautam compania copiilor care pareau sa se distreze cel mai tare. Un copil izbucneste in ras de douazeci pana la o suta de ori pe zi! La facultate, am continuat sa favorizam intalnirile cu colegii cei mai amuzanti. Si, mai tarziu, in timp ce luam pranzul la birou, de cate ori nu ne-am dorit oare sa fim la masa grupului care radea zgomotos? Nu cu colegii impusi sau cu seful cel tacut… Rasul stabileste relatii.
Intr-o reclama din anii '80, Woody Allen spunea: "Seductia este 1% parfumul folosit si 99% umor." Dar nu este vorba numai de seductie. Cand eram student, imi amintesc ca am intalnit un alt student, italian, cu care imparteam un drum lung cu metroul newyorkez. Am ras atat de mult de situatia noastra de straini care nu pricepeau deloc regulile sociale americane, incat si acum imi amintesc numele lui. Stiu ca, daca ne-am intalni din nou, aceasta prietenie ar fi inca vie, treizeci de ani mai tarziu.
Rasul este o injectie de endorfine cu efect pe termen lung.
Rasul este, uneori, o relatie unica. Pascale si Karl sunt casatoriti de cincisprezece ani. Fiind amandoi mai degraba genul studios si practic, anturajul lor nu ii considera a fi petrecareti. Intr-o zi, totusi, Pascale imi marturiseste un secret de cuplu: "Oamenii nu ne gasesc teribil de glumeti, dar noi ne facem tot timpul sa radem unul pe altul. In definitiv, este mult mai bine asa decat opusul!"
Rasul este contagios si incontrolabil. Precum cascatul, dar mult mai vesel! Este de ajuns sa privim si sa ascultam oameni razand in hohote pentru a incepe sa simtim acel gadilat in abdomen ce contracta diafragma intr-un anumit ritm si preia controlul respiratiei, vocii si muschilor fetei noastre. In asta consta toata placerea. Ca atunci cand facem dragoste: sa simtim ca intreaga noastra fiinta se abandoneaza unei alte stari. O stare de lejeritate, de energie, de bucurie. Atat de simplu si, in acelasi timp, atat de satisfacator.
Fiecare moment in care radem ne ajuta cu adevarat: tensiunea arteriala scade, arterele inimii faciliteaza trecerea sangelui si oxigenului, cele doua ramificatii ale sistemului nervos autonom se reechilibreaza si chiar si celulele imunitare sunt mai active in lupta cu virusii sau cancerul. Intr-o zi, gandindu-ma la motivele care m-au indepartat de o cariera universitara, destul de bine inceputa, inainte de a ma dedica muncii de medic practicant si profesor, am inteles ca alegerea mea a tinut in parte de faptul ca se rade mult mai mult atunci cand ai contact cu alt tip de oameni decat cercetatorii. Ca un animal ce migreaza spre sud iarna, am urmat soarele acestei vibratii care creeaza bunastare, relatii si sanatate. Nu am regretat niciodata alegerea facuta.
Foto: shutterstock.com
✖
Mulțumim pentru că vrei să fim prieteni!
David Servan-Schreiber
Cronicar foarte citit al revistei « Psychologies » inca de la lansarea acesteia, David Servan Schreiber este fiul lui Jean Jaques Servan Screiber, politician si jurnalist francez. Astazi, scriitorul si doctorul David Servan Schreiber este profesor de psihiatrie la University of Pittsburgh School of Medicine. De asemenea, este lector la Facultatea de Medicina Lyon I. David Servan Schreiber este co-fondator al Centrului de Medicina Integrativa de la University of Pittsburgh Medical Center. In 2002 a primit Premiul pentru cariera exceptuionala in psihiatrie al Pennsylvania Psychiatric Society. Intre cartile pe care David Servan Schreiber le-a scris se numara "Vindeca depresia fara psihanaliza sau medicamente" tradusa si in romaneste la Elena Francisc Publishing. Cartile lui cunosc un succes imediat la scara internationala pentur ca ele descriu metode de vindecare accesibile oricui, noninvazive si care respecta dreptul omului la vindecare prin puterea proprie.