Naomi Watts – Sunt mai inteleapta cu fiecare an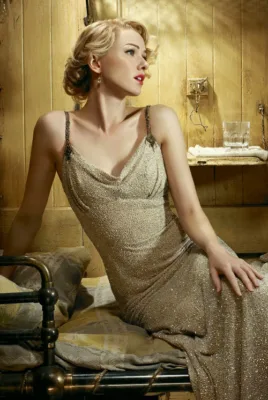 Naomi Watts are o viata plina si ocupata. Dar nu ar vrea sa fie altfel. Nimic nu pare imposibil pentru mama cu norma intreaga si sotul ei, actor si el. Liev Schrieber, Naomi Watts si cei doi fii ai lor, Sasha si Kai, locuiesc in New York. O femeie matura, frumoasa si profunda.
Naomi Watts are 44 de ani. De cand a decis ca vrea copii, s-a pomenit incarcata de culpabilitati. E greu sa fii actrita de Oscar, frumoasa si eleganta si, in acelasi timp, mama eroina. Sa arati supla, sa faci sport si in acelasi timp sa petreci orice minut liber cu copiii.
Este calculata in raspunsurile pe care le da in interviuri, stie ca orice poate fi intors pe dos. Cel mai recent film al ei, The Impossible, este povestea unei femei care isi vede familia sfasiata de un eveniment colosal: tsunami-ul din 2004, de pe coasta Thailandei.
Partener in acest film ii este Ewan McGregor. Rolul Mariei ii da ocazia unei noi partituri dramatice, registrul in care Naomi Watts isi gaseste cel mai usor cuvintele si nuantele. Sau cel putin asa se zice…
Psychologies: Cum a fost rolul acesta? A insemnat sa alergati desculta prin noroi…
Naomi Watts: Stiam ca va fi greu din punct de vedere fizic. Apa se "comporta" mereu… conform reputatiei pe care o are. Dar povestea din interior e puternica, valul acesta a luat mii de vieti. Filmul este saga unei familii, dar si istorisirea intimitatii dintre ei. E un film pe care nu il uiti cu una, cu doua. Cand am terminat de filmat King Kong, un film foarte solicitant pentru mine fizic, un film de actiune, am crezut ca nu mai pot face unul la fel. Dar e ca nasterea: esti mereu in stare sa mai treci o data prin asa ceva. Este un film provocator la nivel uman.
Dar, ca mama, probabil ca este mai expresiv, pentru ca va puneti emotiile personale in el, nu? Puteti sa ne povestiti felul in care v-a afectat?
N.W.: Cand agentul meu m-a sunat sa imi spuna ca are un scenariu despre tsunami, am zis ca e o idee destul de buna. L-am intrebat daca va fi un film despre dezastru, in care va trebui sa tip si sa para ca ma inec, daca va fi ceva senzationalist. Mi-a spus ca nu, ca este un omagiu adus miilor de vieti disparute. Apoi am auzit ca va fi regizor Juan Antonio, unul dintre cei care mi-au trezit interesul. Apoi am citit scenariul si m-am hotarat. Parea incredibil de realist. Am inceput sa gandesc din perspectiva Mariei…
De obicei, sunteti foarte eleganta pe ecran. Dar pentru acest film ati renuntat la frumusete si ati acceptat sa va murdariti. Care a fost senzatia?
N.W.: Pai nu este greu deloc. Filmul spune o poveste si trebuie sa fie cat se poate de adevarata. Nu e loc de vanitate aici. Iar presiunea este mai mare atunci cand trebuie sa arati bine. Imi amintesc ca filmam intr-un spital, aveam masca pe fata si asta imi dadea un fel de barbie dubla. Cineva a spus ca trebuie remediata problema, iar eu am tipat ca nici nu ma gandesc. Mi s-a amintit, dintr-o data, de toate vanitatile noastre de actori si asta m-a enervat. Si ce daca am barbie dubla? Oare de asta ii pasa unei femei aflate sub teroare? Cui ii pasa in rest?
Povestiti, va rog, despre felul cum vi s-a schimbat viata din momentul in care ati devenit mama.
N.W.: Cred ca din momentul in care o femeie decide sa devina mama, incepe o viata de indoieli. Orice se intampla, fie si cele mai mici lucruri zilnice, te face sa te intrebi: "Ar fi trebuit sa fac asta?" "Ar fi trebuit sa ii dau cadoul? Oare nu inseamna ca l-am mituit pe copil sa faca ceva ce trebuie sa faca oricum, fara sa astepte o recompensa?" Cred ca toate indoielile astea vin odata cu maternitatea.
V-ati schimbat de cand aveti copii?
N.W.: Da, cu siguranta. Cred ca am devenit mai profunda. Gandesc mai profund si mai bine, mai atent. De fapt, cred ca respir altfel de cand am copii. Pur si simplu sunt disperata sa ajung acasa, la ei. E simplu.
Ati mai spus ca dintre toate rolurile, cele mai grele vi se par cele care intruchipeaza personaje reale. Sin­gurul la care ma pot gandi acum, din cariera dvs., este printesa Diana. Cum a fost acest rol?
N.W.: A fost un rol plin de presiuni. Foarte mari presiuni. Trece un an din momentul in care termini un film si momentul in care vine pe piata, iar in acest interval te mai linistesti… Nu am putut refuza acest rol, desi as fi vrut la un moment dat… Diana e greu de pus in scena. A fost o femeie fascinanta, cu o viata fascinanta. Filmul se concentreaza pe ultimii ei ani de viata, ani in care a facut niste lucruri minunate. Diana ar putea fi un subiect de studiu pentru un actor.
De ce v-a fascinat, in mod special?
N.W.: Cred ca viata ei a fost fascinanta, dar nu as putea detalia mai mult de atat… E enigmatica. A fost cea mai celebra femeie din secolul XX. Si este greu sa joci un astfel de personaj, pentru ca exista enorm de multa informatie despre ea, si acea informatie nu este neaparat coerenta. Devine un fel de zgomot de fond in capul cui intentioneaza sa o joace. In cazul personajului Maria din The Impossible, a fost informatie venita de la femeia care a trecut prin asa ceva. Dar in cazul printesei Diana nu am avut acest noroc. Pentru personajul Maria, am vorbit cu femeia care a experimentat ceea ce eu pun in film si m-a ajutat la fiecare scena. In plus, Maria este si scriitoare, cred ca scrisorile ei i-au facut placere cat mi-au facut si mie, si au fost lamuritoare.
Pentru ca vorbim de maternitate, sa revenim la felul cum o traiti dvs. E greu? Cum a fost sarcina pentru dumneavoastra?
N.W.: Mi-a placut la nebunie sa fiu gravida! M-am simtit puternica. Dar mai greu a fost ca alergam dupa alt copil mic in acelasi timp. Nu am avut parte de alintari sau de masaje la picioare, daca la asta se gandeste toata lumea, insa am fost uimita sa vad ce poate corpul unei femei. Te face sa te simti invincibila.
Sunteti o mama protectoare? Prea protectoare poate?
N.W.: Da, cred ca sunt. Dar nu in sens nevrotic, sunt doar prudenta… Vreau sa fie neinfricati baietii mei si sa aiba curaj sa experimenteze tot soiul de lucruri, dar mai tarziu. Cred ca este un proces de incercare si eroare.
Unii zic ca sunteti foarte talentata in a interpreta aspectele intunecate ale sufletului omenesc. E un mare compliment, dar in acelasi timp as vrea sa elaborati un pic pe aceasta tema.
N.W.: Oamenii spun multe lucruri, mai ales criticii de film. De ce anume suferinta te face mai interesant? Cred ca avem toti o fateta intunecata si diferite variatii ale ei, care sunt mai mult ori mai putin vizibile. Dar eu nu port o povara de suferinta dupa mine. Cred ca ar fi prea greu. Sunt o femeie normala, fericita, mai inteleapta pe an ce trece. Atat.
✖
Mulțumim pentru că vrei să fim prieteni!