Iubirea de sine – percepții, trăiri, contradicții, reflecții

www.canva.com
"Iubirea este absența judecății", Dalai Lama al XIV-lea
Iubirea de sine – o temă complexă, cu lumini și umbre impunătoare. Având în vedere subiectul, am dat târcoale câteva zile ideilor, am cercetat în interior și în exterior, cu o oarecare neliniște. Apoi mi-am făcut curaj și, cu intenția ca cea mai potrivită plămădeală de idei să-și facă drum către cei ce citesc, m-am așezat să leg totul și, apoi, să las să curgă.
Iubirea de sine… Fundament al ființei noastre, sublimă stare, generatoare de acțiuni sănătoase față de noi și față de ceilalți, precum și de înțelegere și de conținere blândă, totală, atunci când, potrivit percepției noastre, "deraiem" de la traseul stabilit. Întâlnim sau auzim această expresie foarte des. Uneori, ea rămâne doar un concept la nivel mental. Și, totuși, ce este iubirea de sine? Pe lângă modul în care o definim, câți dintre noi am SIMȚIT această iubire de sine, în mod autentic? Sau de câte ori ne-am apropiat, măcar, în trăirile și acțiunile noastre de ea?
Eu o văd ca pe o stare-balsam, hrănitoare, curgătoare, necondiționată, care îmbrățișează totul. Cu toate acestea, în afară de câteva linii general valabile, consider că iubirea de sine ia forme diferite în acțiunile fiecăruia dintre noi, pentru că suntem unici, cu percepții și cu nevoi diverse.
Personal, cred cu tărie că este important ca fiecare om să-și dea voie să descopere definiția proprie a iubirii de sine, precum și, la fel de important, modul în care o poate trăi integrat în viața sa. Când ne dăm voie să descoperim cum percepem și simțim noi conceptul de iubire de sine, creăm spațiu pentru reconectarea cu autonomia noastră, cu încrederea noastră și cu Sinele nostru suveran.
După părerea mea, așa cum simt și percep în prezent, noi facem totul din iubire de sine. Acțiunile noastre, în general, reprezintă forme ale iubirii de sine. Toate mecanismele pe care le avem au apărut din iubirea noastră pentru noi, pentru a ne proteja și a ne ajuta, sub o formă sau alta. Problema, dacă îi putem spune așa, este că vorbim de o iubire ce nu mai e funcțională pentru vârsta și nevoile pe care le avem, ca adulți. Nu este elevată. În viziunea mea, în procesul de transformare, se schimbă doar maturitatea și funcționalitatea în abordarea propriilor nevoi. Dar iubirea e acolo mereu – la început, cum am zis, mai puțin funcțional, apoi mai integrat, elevat, matur și firesc. Totodată, când vorbim de iubire de sine, poate ne punem și întrebarea: suntem egoiști, dacă ne iubim pe noi?
Te invit să faci liniște pentru un moment și să observi ce răspuns apare în ființa ta, la această întrebare. Apoi te invit să observi în ce stare ți-e corpul, pe măsură ce faci acest scurt proces. Corpul este templul nostru, ce ne oferă mereu răspunsuri sau indicii poate mai profunde decât mintea… Eu consider că nu putem oferi nimănui ceva ce nu avem sau nu știm să ne oferim nouă, în primul rând. În urma experiențelor traversate până în prezent, aș spune că iubirea de sine este ca un leagăn conținător, ca o LINIȘTE netulburată, ce curge nestingherit și liber, în spatele oricăror bucurii sau furtuni pe care le traversăm și unde ORICE PARTE A NOASTRĂ ȘI RITMUL NOSTRU sunt primite necondiționat, în orice moment al vieții noastre în care am fi. Un spațiu, unde totul este bine primit și îmbrățișat. Sigur, asta nu înseamnă că avem cale liberă să manifestăm orice fel de comportamente. Însă cred și simt cu tărie că, dacă am învăța să avem compasiune și conținere necondiționate pentru toate părțile din noi, atunci comportamentele noastre și modul în care ne-am conecta la job, în cuplu, în relații, în societate ar arăta diferit.
De ce? Pentru că din starea de conținere totală izvorăsc altfel de comportamente, dintr-un alt registru de conștiință – natural, firesc, responsabil, integru, simplu, frumos. Am spus mai sus că, pentru fiecare dintre noi, iubirea de sine poate lua forme diferite. Nu cred că, pentru a o cultiva și a o întreține, este necesar să urmăm anumite acțiuni standard sau șabloane. Mai degrabă, cred în restabilirea unei conexiuni cu Sinele nostru, de unde vom ști natural, intuitiv ce avem nevoie să facem, în acest sens. Și această reconectare și restabilire a suveranității noastre reprezintă, în sine, pentru mine o revendicare a iubirii pentru noi, în mod elevat (prin opoziție cu nesfârșita căutare în exterior). Uneori poate vom simți să dansăm, alteori să ne bucurăm de o baie sau să medităm, să avem niște conversații dificile, să învățăm să punem limite, să scriem, să avem curaj să ne reinventăm, să lucrăm poate cu sexualitatea noastră profund, să ieșim cu cei dragi, să ne oferim noi nouă o îmbrățișare, să experimentăm ceva nebunesc, să ne urmăm visurile, să mergem în natură, să respirăm conștient, să ne exprimăm creativ sau PUR ȘI SIMPLU SĂ STĂM – poate chiar întinși pe jos, în întuneric. Și multe altele. Rămâne un teritoriu de explorat.
Îmi amintesc acum o scenă din celebrul film din 2005 al lui Luc Besson, "Angel-A", unde Angela îl pune pe Andre față în față cu el, în oglindă, cu dificila sarcină de a se observa pe sine și de a-și acorda chiar el iubire. Dacă nu ați văzut scena, vă invit să vă oferiți șansa să o faceți. Iar dacă ați văzut-o, vă invit să o revedeți – percepem de fiecare dată diferit, în funcție de cine suntem sau am devenit, la momentul revederii. De multe ori, găsim numeroase sugestii de acțiuni privind iubirea de sine. În acest sens, un aspect foarte important este ghidarea noastră interioară: să avem încredere în ceea ce simțim că vocea interioară ne spune că este pentru noi, din multitudinea de abordări și acțiuni.
În același timp, consider că foarte important este nivelul de conștiință din care facem orice gest sau acțiune. E normal și firesc să evoluăm. Însă e esențial, după părerea mea, spațiul din care se abordează această evoluție. Dacă demarăm cu tenacitate, hotărâți să reparăm "defecțiunile propriei persoane", pornim de la început dintr-o stare de lipsă, iar procesul va fi dureros. Dacă, în schimb, dorim să ne reamintim cine suntem, să ne reconectăm cu noi, să devenim curioși față de propria persoană și modul nou în care ne manifestăm, în urma acestei transformări, CU RĂBDARE FAȚĂ DE FIECARE PARTE DIN NOI ȘI FAȚĂ DE RITMUL NOSTRU (vorba cântecului lui Karen Drucker, "I will be gentle with myself – Voi fi blând/ă cu mine însumi/ însămi)" – atunci procesul este unul cu totul diferit. Pentru că nu este o călătorie de REPARAȚIE, ci de CURIOZITATE, DESCOPERIRE și REDESCOPERIRE DE SINE.
Iubirea de sine, după părerea mea, poate fi reprezentată de acceptarea fiecărui ritm interior și exterior, exact așa cum se desfășoară el, fără impuneri, forțări sau lupte inutile. Inclusiv de acceptarea neacceptării, a contradicțiilor și a rezistențelor. Simțim furie? E în regulă. Acceptăm momentul sau chiar faptul că, poate, nu putem face pace cu acesta. Am greșit? Căutăm să remediem, în același timp manifestând compasiune și față de partea din noi, care a acționat într-un anumit mod. Un mare maestru japonez, Morihei Ueshiba, creatorul Aikido-ului (o artă marțială), în cartea "Arta Păcii" spunea următoarele: "Fiecare moment este o parte din natură – nu încerca să te opui sau să negi ordinea cosmică a lucrurilor".
Oare când a fost ultima dată când ne-am acceptat cu totul ființa noastră și ritmul ei propriu? Când a fost ultima dată când ne-am oferit sprijin necondiționat și încredere totală, indiferent de cum arătau circumstanțele exterioare? Sau… am trăit măcar o dată o astfel de experiență? Acceptare totală, încredere totală (mai ales când lucrurile nu se desfășoară așa cum ne dorim)… Și acum am putea întoarce foaia și să ne întrebăm: cât de des suntem în luptă cu noi, într-un interminabil proces de îmbunătățire, fără să ne și bucurăm de noi? Când a fost ultima dată când neam judecat și mustrat pentru ceva în legătură cu jobul sau cu finanțele noastre? Când a fost ultima dată când ne-am judecat pentru dinamica pe care o avem în relații? Când a fost ultima dată când ni sa strâns stomacul, în urma presiunii pe care o punem pe noi constant? Și, în cele din urmă, cred că răsare firesc o întrebare, aici: de ce o facem? Răspunsul care apare în mine este că încă funcționăm dintr-un spațiu de iubire de sine rudimentară și nu una elevată.
Noi toți trăim într-un context global, într-o societate, care de foarte devreme – prea devreme – pune pe umerii noștri (prin părinți, profesori, anturaj, mediu social și cultural ș.a.) presiunea de a DOVEDI CINE SUNTEM, față de A DESCOPERI CINE SUNTEM. Și de aici pornesc multe drame, interne și externe. Pornind de la celebra frază a lui Francisco Goya, "Somnul rațiunii naște monștri" – aș spune că presiunea de a dovedi cine ești (că ești cineva), fără a te fi descoperit înainte, naște monștri… Descoperirea nu poate avea loc sub presiune – ea implică, nemijlocit, lipsa judecății, curiozitate pentru a observa ce apare și spațiu sigur, pentru ca cine suntem cu adevărat să răsară în tihnă. Din păcate, nu întâlnim asta foarte des.
Însă O PUTEM NOI CREA. E POSIBIL! Și simt să mai spun ceva: nu putem să ne descoperim, dacă ținem strâns cu dinții de cine am demonstrat că suntem. Fie ca noi toți să învățăm să curgem firesc cu Viața, cu ființa noastră și cu ritmurile proprii și să ne bucurăm de noi și de iubirea de sine, manifestată în cel mai bun mod de care avem fiecare nevoie.
În încheiere, vă propun câteva reflecții, ale lui Jeff Foster, pe care le-am descoperit zilele trecute și cu care am rezonat și vă invit să descoperiți ce simțiți, citindu-le: "Nu este nimic greșit. Tristețea nu e greșită. Frica nu e greșită. Confuzia nu e greșită. Durerea noastră nu e greșită. Rezistența în fața durerii este ceea ce face totul să pară greșit. Și, totuși, iată un adevăr și mai profund, pentru cine este deschis: chiar și rezistența noastră în fața durerii nu este greșită. Dacă asta se întâmplă, nu are cum să fie greșit. Este o expresie validă a vieții în momentul prezent. Dincolo de [corect] și [greșit]. Această iubire îmbrățișează până și rezistența. Acest Acum este vast și iertător. Totuși, chiar și [rezistența] este doar un alt concept. O judecată în plus. Încă un mod, prin care să ne etichetăm pe noi ca fiind greșiți. <<Rezistența este rea, acceptarea este bună>>. Asta învățăm. Și nu e vorba că <> durerii noastre. Noi doar nu am învățat cum să fim cu ea. Cum să ne așezăm lângă ea. Să stăm cu ea. Să avem o ceașcă de ceai cu ea. Să o vedem ca pe o dragă prietenă, cu sentimentul de acasă, în nemărginire. Ignoranța noastră reprezintă inocența noastră. Noi doar nu am învățat. Durerea noastră nu e greșită. Reprezintă o invitație. O învățătură ancestrală. Universală. Liberă. Viața ne invită să ne apropiem mai mult. Trecând prin straturi imaginare. În marele mister."
✖
Mulțumim pentru că vrei să fim prieteni!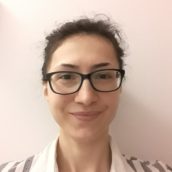 Codruţa Sântea
Codruța Sântea poate spune că şi-a început parcursul profesional de la 6 ani și jumătate, cu o frumoasă și bogată călătorie în universul muzicii, făcând 12 ani de vioară. Apoi, drumul său a continuat în universul cuvintelor, cu Facultatea de Jurnalism și Științele Comunicării, după care a finalizat contextul educațional cu un masterat în Comunicare corporativă. Urmând firul experiențelor de voluntariat din facultate și pasiunea pentru domeniul social, a petrecut următorii 5 ani, lucrând ca terapeut ABA (analiză comportamentală aplicată) cu copii autiști, într-un ONG, dar și ca freelancer. O experiență extrem de interesantă, provocatoare și deschizătoare de noi perspective umane și profesionale. Este un spirit liber, pasionată de a se cunoaște profund în diverse moduri și de a se transforma constant. Este puternic conectată cu natura, avidă dansatoare cu energia creatoare în diverse moduri și animată de imboldul de a contribui la crearea unei lumi, în care STAREA DE BINE DIN OM să fie axul central.