"Izolare într-o serie de stări liminale" – despre fenomenul izolării și istoria complexă a clădirii Malmaison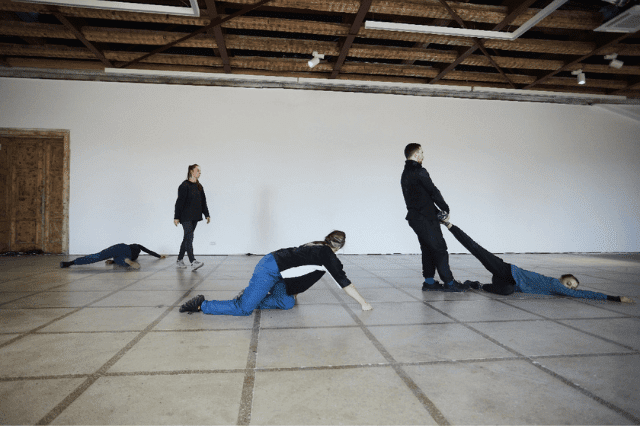 "Izolare într-o serie de stări liminale", instalație performativă în sit real, care explorează fenomenul izolării conectat cu istoria complexă a clădirii Malmaison, fostă garnizoană militară, tribunal politic și centru de detenție temporară pentru militari și intelectuali, va avea premiera pe 11 noiembrie la /SAC @ MALMAISON la ora 18:00 și va fi urmată de alte trei  reprezentații pe 12, 13 și 14 noiembrie în același spațiu.
Imagini, interviuri, cronici și mărturii ale corpurilor care au trecut prin Malmaison stau la baza instalației performative în spatele căreia se află o echipă compusă din Simona Deaconescu (coregrafă), Ramon Sadîc (artist plastic), Justin Baroncea (arhitect), Maria Ghement (arhitectă), Vlaicu Golcea (compozitor), Mihai Burcea (istoric), Bogdan Iancu (antropolog), Ioana Marchidan (performeră), Andrei Boariu (performer), Georgeta Corca (performeră), Simona Dabija (performeră), Maria Luiza Dimulescu (performeră) și Alex Radu (co-autor concept curatorial și producător).
Biletele sunt disponibile pe Eventbook: https://eventbook.ro/other/bilete-izolare-intr-o-serie-de-stari-liminale
Demers performativ, vizual și arhitectural ce conectează fragmente din istoria complexă a Malmaison cu situația corpului din prezent, "Izolare într-o serie de stări liminale" este o lucrare colectivă ce folosește extrase din texte de Egon Balas, Mircea Damian, Augustin Vișa sau Corneliu Coposu. Proiectul vorbește despre experiența corpului în izolare, recompune memoria locului și recontextualizează istoric stări corporale familiare, lăsând loc unor fantezii despre viitor, într-un spațiu care-și pierde intenționat caracterul ceremonial, devenind o resursă accesibilă.
"În această nouă lucrare mi-am propus să explorez stări liminale ale corpului, unele pe care știm să le definim prin cuvinte, sau credem că știm, altele care nu pot fi exprimate decât printr-un proces de reflexie al corpului în raport cu spațiul și timpul. Acestă instalație performativă, la care am plăcerea de a lucra alături de artiști și cercetători excepționali, mă provoacă atât prin subiectul său complex, cât și prin formatul hibrid pe care l-am conceput împreună. Am creat această nouă lucrare pentru a ne înțelege mai bine corpul din prezent și pentru a-l proteja – fizic, ideologic și mental – în viitor." – Simona Deaconescu
Coregrafa şi regizoarea Simona Deaconescu, cofondatoare a festivalului Bucharest International Dance Film Festival, a realizat și prezentat numeroase spectacole, instalații și filme de dans la festivaluri importante din Europa, America de Nord și de Sud. În 2021 și 2022, Simona Deaconescu este artist Forecast, sub mentoratul celebrei coregrafe Mathilde Monnier, ca parte a unei rețele globale de transfer de cunoștințe.
Clădirea Malmaison, inițial o cazarmă militară, are o importanță istorică semnificativă și o vechime de 177 de ani, timp în care aici au funcționat o Școală Militară de Ofițeri, un tribunal militar (în perioada interbelică), centrul special de anchetă și detenție în timpul regimului lui Antonescu și centrul de anchetă și detenție al Securității în perioada de început a regimului comunist. Atelierele Malmaison și /SAC își propun să readucă această clădire în circuitul viu al orașului, inaugurând o nouă etapă în lunga ei istorie.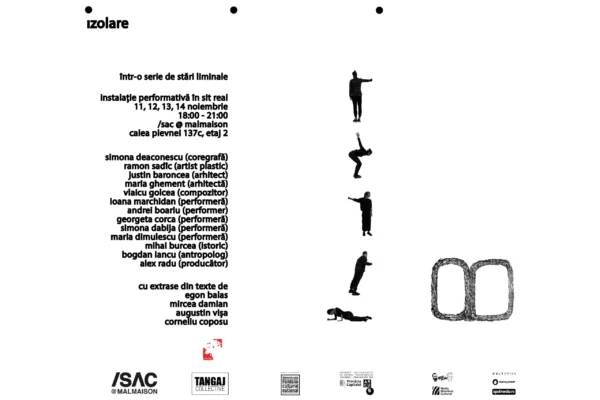 Pe deoparte, "Izolare într-o serie de stări liminale" urmărește conexiunea dintre tema izolării în temporalitățile din istoria clădirii Malmaison în care aceasta a funcționat ca un centru de detenție temporară și experiența ("embodied") atât de puternică a izolării pe care am trăit-o cu toții în lockdown și a căror urme-schimbări în noi încă nu le înțelegem pe deplin. Iar pe de altă parte, demersul urmărește și experiența vizitatorilor într-o instalație performativă, moduri în care se poate construi transdisciplinar îmbinarea de prezență și reprezentare.
"Izolare într-o serie de stări liminale" deschide un program curatorial al /SAC @ MALMAISON dedicat cercetărilor și practicilor coregrafice ca performance (ori "lecture-performance") într-un spațiu specific expozițional. – Alex Radu
Mai multe despre acest proiect într-un podcast în trei episoade: https://soundcloud.com/tangaj-dance
Mai multe despre istoria Malmaison și procesul de lucru al artiștilor:
http://www.tangajdance.com/izolare/
Instalația face parte din proiectul "Isolation in a series of liminal states", co-produs de Asociația Tangaj Collective și /SAC @ MALMAISON (Asociația Aiurart) și co-finanțat de Administrația Fondului Cultural Național. Proiectul nu reprezintă în mod necesar poziția Administrației Fondului Cultural Național. AFCN nu este responsabilă de conținutul proiectului sau de modul în care rezultatele proiectului pot fi folosite. Acestea sunt în întregime responsabilitatea beneficiarului finanțării.
"Isolation in a Series of Liminal States", este co-finanțat de Primăria Capitalei prin ARCUB în cadrul Programului București – Oraș Deschis 2021. Pentru informații detaliate despre programul de finanțare al Primăriei Municipiului București prin ARCUB, puteți accesa www.arcub.ro. Conținutul acestui material nu reprezintă în mod necesar poziția oficială a Primăriei Municipiului București sau ARCUB.
Accesul la eveniment se face în condițiile sanitare impuse de legislația în vigoare.
/SAC @ MALMAISON este un spațiu-context de coproducții, cercetări și practici colaborative și transdisciplinare în artele vizuale, performative și scenice. /SAC @ MALMAISON este al doilea spațiu din București al /SAC după cel deschis în 2018, pe str. Berthelot, nr. 5.
/SAC @ MALMAISON se află într-o comunitate-context – Atelierele Malmaison – o comunitate artistică ce include ateliere și spații expoziționale (fie artist runspace, operate de instituții non-profit ori galerii) – recent fondată în clădirea Malmaison cu o istorie de aproape 2 secole, situată central, pe Calea Plevnei, 137C.
Spațiul de Artă Contemporană – /SAC – este o inițiativă independentă privată, un context-resursă dedicat necesităților actuale ale producătorului și ale publicului pentru a stabili un dialog direct și formator prin intermediul expoziției, cercetării și promovării.
/SAC @ MALMAISON a fost amenajat cu sprijinul URSA Romania și Policolor Romania.
Parteneri media: Cultartes, Metropotam, Spotmedia, Radio România Cultural, Tanănana
Website: https://www.tangajdance.com/izolare/
Facebook: Tangaj Collective – https://www.facebook.com/tangajcollective