Bine ai venit în Grădina Minunilor!

2022 e un an important pentru SABON, deoarece sărbătorim cea de-a 25-a aniversare! Iar festivitățile de celebrare vor începe chiar la începutul anului, odată cu lansarea în ianuarie a ediției de colecție cu aroma Sabon emblematică încă din 1997, Paciuli Lavandă Vanilie, acum cu un design nou și fresh, conceput în colaborare cu tânăra ilustratoare israeliană Gabriella Barouch.
"Un amestec neașteptat de arome" – legendarul parfum PLV – Paciuli Lavandă Vanilie
Paciuli Lavandă Vanilie, semnătura olfactivă SABON, a însoțit și definit brandul de-a lungul întregii sale istorii de 25 de ani. Creat în 1997, parfumul a fost din prima clipă o revelație pe piața parfumeriei – o aromă originală, caldă, învăluitor de tandră, inspirată de magnifice incursiuni printre minunile naturii.
"Pentru mine, a crea un parfum înseamnă a spune o poveste, a trezi emoții prin intermediul aromelor. Iubesc aroma Paciuli Lavandă Vanilie pentru ca te ia prin surprindere. Este compusă din trei note emblematice din lumea parfumeriei, iar aceste trei ingrediente complementare dezvăluie un miros divin, pe cât de simplu, pe atât de complex și autentic. Acest parfum este purtat ca o bijuterie prețioasă, accesoriul feminin suprem." – Laurence Leon, creatorul aromei Paciuli Lavandă Vanilie (Grasse, Franța)
Aroma Paciuli Lavandă Vanilie este fără precedent în multe privințe. Nu numai că reunește trei ingrediente fine din trei familii olfactive complet diferite, ceea ce era pur și simplu nemaiauzit la acea vreme, dar se eliberează și de constrângerile tradiționale ale unei structuri piramidale, mixând cele trei note în armonie, fără o distincție clară între cele de vârf, de mijloc și de bază.
Paciuli transmite esența parfumului – eleganță, rafinament și accente naturale luxuriante. Lavanda aduce prospețime, lumină, puritate și o notă florală extrem de feminină. Iar vanilia evocă senzualitate, chihlimbarul oriental și moscul dulce creând o senzație uimitoare de confort și opulență.
Prin urmare, putem spune că Paciuli Lavandă Vanilie este mai mult decât un simplu parfum. Unii îl consideră picant, alții dulce. Se adaptează purtătorului și circumstanțelor, păstrându-și totuși identitatea. Dar, mai presus de orice, este un parfum plin de emoție și personalitate, întruchipând experiența holistică a brandului SABON. Chiar și după 25 de ani, aroma Paciuli Lavandă Vanilie rămâne spectaculoasă și surprinzătoare, ispititoare și inspirațională.
Grădina cu minuni SABON – Paciuli Lavandă Vanilie, ediție de colecție
Introducerea unor noi perspective asupra amintirilor onorate de timp provoacă senzații neașteptate. În Grădina Minunilor, lumile naturii și ale imaginației devin una, printr-o combinație de ingrediente, texturi, recipiente și daruri încântătoare. Aici nu există limite sau granițe. Interiorul se revarsă în exterior, iar amintirile sunt cele care modelează viitorul. Este un loc al deliciilor neașteptate și al minunilor nesfârșite…
Cu ocazia celei de-a 25-a aniversări a companiei, SABON lansează o colaborare exclusivă cu o tânără artistă israeliană, oferind o nouă interpretare vizuală emblematicei arome Paciuli Lavandă Vanilie, parfumul-semnătură al brandului din 1997.
Gabriella Barouch este o recunoscută ilustratoare și exploratoare vizuală. Desenele ei senzaționale oferă o interpretare unică și personală universului PLV, creând o uluitoare "Grădină a minunilor". Aceasta reflectă fascinația sipetelor tradiționale cu comori, unde fiecare ușiță sau sertar dezvăluie un nou și extraordinar produs care spune propria poveste despre minunile Universului. Așa cum parfumul Paciuli Lavandă Vanilie reprezintă un amestec surprinzător de ingrediente, inspirat de o călătorie magnifică printre infinitele curiozități ale naturii, Grădina Minunilor ne invită să explorăm un loc în care natura și imaginația devin una, interiorul se revarsă către exterior, iar lumea e ivadată de creații fantastice și nemaivăzute combinații de elemente.
Ediția de colecție Paciuli Lavandă Vanilie prezintă linii de design noi, eclectice, pentru multe din produsele SABON cele mai iubite, precum și seturi-cadou nou-nouțe și produse complementare speciale care vor îmbogăți experiența holistică PLV. În 2022, acceptă invitația de a deschide larg porțile Grădinii Minunilor și pornește în propria ta călătorie care te va duce către momente surprinzătoare și amintiri de neuitat.
Despre Gabriella Barouch
Gabriella Barouch este ilustratoare, colecționară de artă și exploratoare vizuală premiată. Ea și-a început cariera în ilustrație în 2011, când a absolvit Bezalel Academy of Arts & Design din Ierusalim. Gabriella a fost numită "Artista Sezonului 2012" de către Jerusalem Season of Culture și și-a expus lucrările în întreaga lume, colaborând în același timp cu o listă impresionantă de clienți internaționali, inclusiv Hallmark, Penguin Random House, La Poste (oficiul poștal francez) și Le Monde.
@gabriellabarouch
Cum ți-ai descrie stilul și perspectiva artistică ca ilustrator?
Ilustrațiile mele evocă un anumit sentiment de nostalgie, combinând suprarealul și realismul. Fiecare lucrare este o invitație adresată publicului de a-și țese propriile narațiuni personale în jurul unei viziuni de vis. De asemenea, îmi place foarte mult să încorporez în arta mea elemente din natură – cea mai puternică inspirație pentru mine.
Care a fost prima ta experiență cu brandul SABON? Ai un produs preferat?
Sincer, sunt un client SABON devotat din 2010! Sunt îndrăgostită de sentimentul pe care îl am de fiecare dată când intru într-un magazin SABON, de senzația de căldură și relaxare pe care mi-o oferă. Există ceva magic acolo. Îmi place în special sarea de baie, pe care o folosesc de ani de zile. Îmi place să mă bucur de o baie relaxantă, este micul meu răsfăț!
De unde ți-a venit inspirația pentru colecția SABON pe care ai creat-o?
Inspirația este preluată din povestea din spatele parfumului Paciuli Lavandă Vanilie. Este un parfum original, surprinzător, creat printr-o combinație eclectică de trei ingrediente, inspirat de o călătorie magnifică printre minunile naturii. Am vrut să aduc propria mea interpretare universului PLV, încorporând totodată și elementele naturale care mă inspiră ca artist. Așadar, m-am inspirat din conceptul tradițional de sipet prețios și am creat "Grădina Minunilor", în care ilustrațiile mele compun o natură imaginară fantastică, în care oamenii sunt invitați să exploreze și să se simtă atât surprinși, cât și inspirați.
Ai o legătură personală cu aroma Paciuli Lavandă Vanilie de la SABON? Ce înseamnă pentru tine?
Sunt înnebunită după PLV de ani de zile! Pentru mine, este pur și simplu parfumul suprem – elegant și tandru, oferindu-mi un sentiment bogat de lux și nostalgie deopotrivă. De asemenea, este foarte original. Nu am mai întâlnit niciodată un alt parfum ca acesta.
Care speri că va fi reacția când oamenii vor descoperi această colecție?
Sper că oamenii se vor îndrăgosti de colecție și vor dori să o ia acasă cu ei, la fel ca atunci când întâlnești ceva unic de frumos și simți nevoia să-l ai pentru tine. De asemenea, sper că îl vor prețui ca pe o inspirație pentru simțuri și că le va reaminti zi de zi de minunile naturii.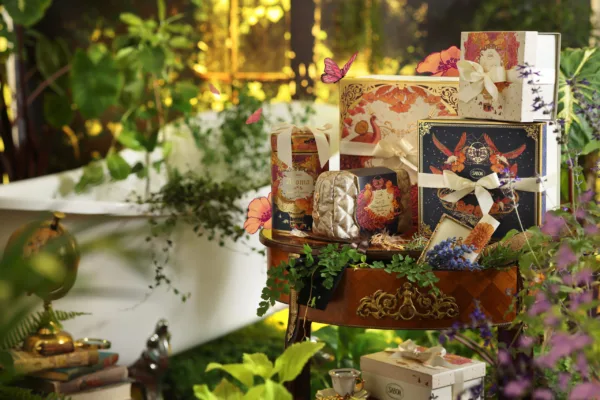 Colecția
Ulei de duș
Revigorează uleiurile naturale ale pielii pe măsură ce o protejezi, o hrănești și o răsfeți cu acest ulei de duș delicat, pentru curățare profundă și răsfăț deplin. Infuzat cu patru uleiuri botanice – măsline, avocado, jojoba și germeni de grâu, conține omega 3, 6, 7 și 9 și vitaminele A și D ce regenerează pielea, lăsând-o ultramoale și mătăsoasă. L- 500ml | S- 300ml
Exfoliant de corp
Alintă-ți pielea și redă-i prospețimea cu scrubul nostru legendar, special creat pentru a energiza și hrăni pielea uscată. Cu un conținut ridicat de sare din Marea Moartă bogată în minerale benefice, patru uleiuri botanice – migdale, jojoba, andiroba și acai, exfoliantul de corp îndepărtează delicat celulele moarte și revitalizează pielea, lăsând-o mătăsoasă și netedă. 320g
O cremă bogată care conferă zi de zi pielii finețe de invidiat și un miros senzual. Formula sa luxoasă include un elixir din șapte uleiuri botanice: măsline, avocado, borage, germeni de grâu, jojoba, macadamia și shea, care sunt bogate în omega 3, 6, 7 și 9, precum și în vitaminele A și E, pentru o senzație durabilă de catifelare și hidratare. 150ml
Cremă de mâini
Bogată în unt de shea hidratant și extract de aloe vera, crema noastră protejează pielea delicată a mâinilor, pentru hidratare și catifelare instantanee.
Se absoarbe ușor, lăsând mâinile plăcut parfumate și moi. 30ml
Special formulat cu procent scăzut de alcool și îmbogățit cu extract hrănitor de jojoba, spray-ul pentru păr protejează împotriva agresiunilor externe, previne uscarea și minimizează încrețirea de la vârfurile despicate, în timp ce oferă părului un parfum proaspăt și de lungă durată. Ambalajul de buzunar îți permite să-l iei cu tine peste tot, pentru a-ți păstra părul delicat parfumat tot timpul. 30ml
Oferă-ți o experiență a băii liniștitoare, serenă și subtil parfumată! Cufundă-te în cada cu apă caldă îmbogățită cu minerale pure de la Marea Moartă, întru relaxarea corpului și a minții. Formula sării de baie este bogată în minerale esențiale precum magneziu, care conferă pielii echilibru, precum și calciul ce susține funcționarea optimă a metabolismului celular. Florile naturale de lavandă relaxează corpul și calmează simțurile. 300g
Bulgăre de baie
Pune bulgărele de baie în cadă, întinde-te comod și relaxează-te pe măsură ce el se dizolvă, umplându-ți baia cu minerale esențiale de la Marea Moartă. Florile naturale de lavandă induc o stare de calm și serenitate, în timp ce parfumul emblematic de Paciuli Lavandă Vanilie te învăluie cu tandrețe. 160g
Aromă de cameră
Oferă casei tale esența aromei emblematice de Paciuli Lavandă Vanilie, inspirată de o călătorie magnifică printre minunile naturii. Acest difuzor luxos de aromă va umple spațiul cu o un parfum bogat și sofisticat. 450ml
Plic parfumat
Acest elegant plic parfumat este folosit în mod tradițional pentru aromatizarea spațiilor mici. Pune-l în sertare, valize și comode, pentru o atingere parfumată încântătoare.
Ceramică parfumată
Cel mai iubit parfum Sabon, Paciuli Lavandă Vanilie, e găzduit acum și de o piatră ceramică deosebită, cu efect decorativ, care-ți va umple spațiul cu aroma preferată.
Săpun Olive Oil
O bijuterie a naturii realizată manual cu migală și găzduită de o cutie splendidă, pentru a transforma momentele de zi cu zi într-o experiență minunată, reconectându-te cu toate simțurile.
Acest săpun vegan îmbogățit cu ulei de măsline extravirgin prețios ce provine din Galileea are proprietăți emoliente, pentru a netezi și a înmuia pielea, oferindu-i o  plăcută senzație de hidratare. Cultura tradițională a măslinilor în Galileea și procesul de saponificare la rece conservă proprietățile benefice ale uleiului de măsline. Iar parfumul atemporal Paciuli Lavandă Vanilie, emblema Sabon, oferă o senzație intensă de încântare.
Nu conține ulei de palmier, coloranți și sulfați. 100g
Savonieră ceramică
Realizată manual în Spania, exclusiv pentru SABON, această savonieră unică nu e doar un simplu suport pentru săpunul solid, ci poate fi folosită pentru monede, bijuterii sau bomboane. Un obiect de decor rafinat și practic.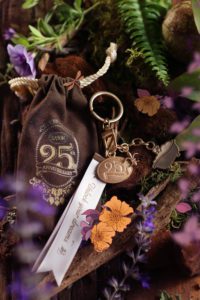 Breloc SABON
Dă-ți voie să visezi de câte ori privești și atingi acest breloc prețios în ediție de colecție, creat special pentru Sabon, cu ocazia celebrării a 25 de ani de la înființare. E prezentat într-o husă luxoasă pe care o poți reutiliza pentru a-ți depozita cele mai prețioase mici obiecte.
Set-cadou Treats of Patchouli Lavender Vanilla
Pe măsură ce deschizi acest săculeț elegant, mici comori prețioase îți atrag privirile, dezvăluind povestea lor fastuoasă. Fiecare obiect are strălucirea lui, fiecare poveste e spusă la timpul ei, totul se îmbină armonios și se completează cu grație. Iar aroma legendară de paciuli, lavandă și vanilie te învăluie tandru, ca o seducție pentru suflet și o mângâiere pentru suflet. Uleiul de duș, loțiunea de corp și scrubul Sabon emblematic creează ritualul perfect pentru un corp răsfățat, iar brelocul sclipitor ediție de colecție păstrează pentru viitor amintirea poveștii de azi.
Conține:
Ulei de duș 100ml
Exfoliant de corp 60g
Cremă de corp 50ml
Breloc SABON Glamorous
Set-cadou Capture The Moment
Fă o baie caldă și lăsă notele parfumului să te învăluie în senzații nebănuite, oferindu-ți momente de neuitat. Produse pentru baie esențiale, pentru clipe prețioase care sunt doar ale tale. Emblematicul exfoliant corporal de la SABON, însoțit de sare de baie de la Marea Moartă și un săpun de lux cu ulei de măsline, toate cu parfumul captivant de paciuli, lavandă și vanilie. Ai propriul moment SPA la tine acasă, oferit de un singur kit fabulos – pentru că meriți doar ce este mai bun!
Conține:
Exfoliant de corp 200g
Sare de baie de la Marea Moartă 300g
Săpun Olive Oil 100g
Lingură de lemn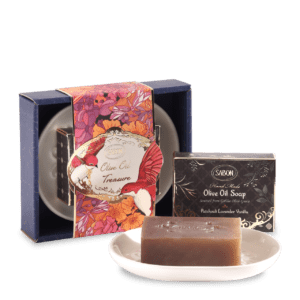 Set-cadou Olive Oil Treasure
Suntem încântați să-ți prezentăm un sapun rafinat cu ulei de măsline, asortat unei autentice savoniere din ceramică realizată manual. Cadoul perfect pentru orice casă. O creație handmade ce surprinde spiritul Galileii și-l încorporează într-un săpun prețios. Parfumul său atemporal este unic, obținut din trei ingrediente adorate: Paciuli, Lavandă și Vanilie, care împreună oferă o senzație intensă de răsfăț și exuberanță.
Conține:
Sapun Olive Oil 100g
Savonieră ceramică
Nu ai găsit cadoul tău perfect?
Alege-ți produsele preferate, asortează-le unei noi cutii-concept, ediție de colecție, și creează un cadou original.
În magazine și online pe www.sabon.ro
Vino să sărbătorești cu noi!
Vom celebra cea de-a 25-a aniversare prin evenimente unice SABON, atât în magazine, cât și online. Clienții noștri din întreaga lume vor fi invitați să exploreze o selecție de minuni care ne dezvăluie povestea, să descopere produse aniversare exclusive și să participe la activități atractive, cu premii, pe tot parcursul anului. Sperăm că aceste festivități speciale îți vor oferi momente de surpriză și încântare în fiecare zi.
Toată lumea e invitată la sărbătoarea noastră!
#SABON25th
Te așteptăm pe www.sabon.ro să celebrezi alături de noi 25 de ani de Sabon și să afli mai multe despre povestea noastră!