În ianuarie 2009, am plecat de ziua mea în Scoția la un castel. Acel castel avea în față un lac pe care erau lebede albe și negre. Mi se păreau elegante, distinse, încrezătoare, calme, frumoase, parcă aveau o atitudine regală.
În acea perioadă, începea criza economică și în Romania. Apăruse și cartea The Black Swan a lui Taleb și mi se părea fascinant că sunt într-un asemenea loc unde, pe același lac, se plimbau impasibile atât lebădă neagră, cât și cea albă.
Lebădă Neagră este metafora folosită pentru descrierea unui eveniment neașteptat ce are un impact major, și care, după apariția sa, este raționalizat retrospectiv. Teoria lui Taleb se referă la evenimentele neașteptate, cu consecințe și impact majore, și cu rol dominant în economie, în istorie.
Avem o nouă lebădă neagră acum. Una mult mai gravă decât cea de acum 11-12 ani. Una care va afecta economia globală, probabil la o scală mult mai mare decât criza precedentă. Dincolo de acest impact însă și, aș îndrăzni să spun, mult mai important, este că ceea ce trăim acum atentează la viața oamenilor.
În acest context, un rol esențial revine top managerilor din companii sau celor care fac parte din așa numitele celule de criză. Ei asigură continuitate, sunt acolo ca să facă tot posibilul pentru a atenua impactul negativ al trecerii lebedei negre printre noi. Iar unul dintre aspectele cruciale ale acestui rol este comunicarea cu oamenii din firmă.
Managementul ar trebui să aibă planuri de contingență pentru perioade grele. Sigur, nimeni nu se aștepta la o asemenea situație; pe de alta parte, firmele mari au niște proceduri pentru astfel de situații. Definitoriu însă este cum sunt aplicate. Recomand celor care comunică în aceasta perioadă:
Să își facă bine temele înainte de a comunica, respectiv, să facă o analiză a auditoriului: cine este acesta, ce temeri are, ce așteptări, speranțe; care sunt vulnerabilitățile și avantajele firmei; care este situația curentă; care sunt întrebările la care audiența ar vrea răspunsuri urgente.
Să facă un plan pentru a răspunde temerilor potențiale, așteptărilor (de exemplu: "probabil că o teamă este că, după această perioadă, firma nu va mai putea asigura un loc de muncă pentru toți. Vă asiguram că facem toate eforturile pentru ca toți să ne păstram locul de muncă")
Să vorbească clar, concis, cu încredere în ei. Când comunicăm cu încredere, dăm încredere. Când comunicăm cu ezitare, cu teamă, creăm ezitare, neîncredere, panică.
Să nu uite un principiu din viața de manager: în fiecare zi când vin la birou, starea lor este imediat percepută de către cei din jur. Nu la nivel egal, ci intensificată de multe ori. Într-un articol de acum câțiva ani, cineva spunea că e ca și cum managerul ar avea un megafon pe umăr și acesta amplifică starea celui care îl poartă. Acum, în situație de criză, megafonul amplifică înzecit. Așadar, să fim atenți la ceea ce vrem să transmitem.
Să se decidă cum vor să comunice: pe email, pe o platformă digitala, deoarece față în față nu mai e posibil acum. Dacă o fac pe platformă, e foarte important să fie văzuți de oameni. Aceasta creează conexiune, dă încredere. Atenție însă: poate crea și neîncredere, panică, dacă punctele de mai sus nu sunt bine pregătite.
Să fie pregătiți să fie deschiși, să dea exemple: ce se întâmplă; cum va fi afectată firma, la ce planuri lucrează, cum vor gestiona munca de acasă, plata salariilor.
Să creeze un spațiu virtual unde oamenii să pună întrebări și să răspundă zilnic la ele.
Să înțeleagă ce NU pot face / spune în situații de criză; să comunice cu atenție, numai din surse oficiale.
Să comunice des, chiar dacă nu au niște noutăți. A le arăta oamenilor că ești în acțiune, că te ocupi să faci planuri înseamnă a le da încredere, a le da speranță, a le arăta că ei contează pentru tine.
Să arate empatie față de ei: a nega realitatea nu ajută. E mai bine să admită că situația este grea, că înțeleg prin ce trece fiecare dintre ei, decât să minimizeze criza, panica, teama.
Să le dea lucruri de făcut: e important că oamenii să aibă activitate, să știe că firma investește în ei (mai puțin, e adevărat, dar o face). În același timp, aș recomanda măsură în alocarea sarcinilor. Toți avem un nivel ridicat de stres, cei cu copii reușesc mai greu să se organizeze. Să respectăm acest lucru.
Să se poarte în acele momente de comunicare cu oamenii precum lebedele pe lacul din Scoția: ca și cum tot castelul e al lor, doar trec pe acolo, regește, ca să inspire calm, încredere. Ei să fie singurii care știu câtă muncă e sub apă, acolo unde nu vede nimeni.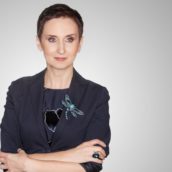 Georgeta Dendrino
Georgeta Dendrino este Managing Director al Interact și are peste 17 ani de experiență în domeniul trainingului și consultanței și 6 ani în coaching. Georgeta este executive coach și consultant și a dezvoltat programe de training pentru echipe de top și middle management; a fost leaderul a numeroase si variate proiecte de consultanță și a dezvoltat diferite simulări de afaceri și programe de teambuilding. Industriile principale în care a dezvoltat proiecte sunt: FMCG, bancară, construcții, farmaceutică și petrol. Georgeta este membru al The Executive Board al AMCOR (Asociatia Nationala a firmelor de consultanță și training în management) și este membru al Clubului Roman de Resurse Umane.