5 ganduri toxice care iti saboteaza relatia de cuplu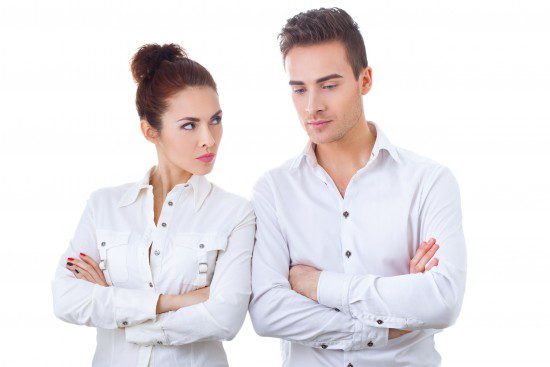 Anumite ganduri toxice pot avea la baza un adevar, dar daca le exagerezi, distorsionezi si le acorzi prea multa atentie, ajung sa iti saboteze relatia de cuplu.
Capcana "totul sau nimic"
Atunci cand gandesti in teremeni exclusivi, vei rata sa vezi si alte dovezi venite din partea partenerului tau. Generalizarile au tendinta sa ne intunece gandirea.
Daca pentru inceput le folosim ca parte din vocabularul nostru, treptat, ele vor deveni realitati in care ne vom convinge singure sa avem incredere.
Oare partenerul tau intotdeauna face ceva gresit sau niciodata nu face ce trebuie? Mai mult, atunci cand facem astfel de afirmatii sunt acuzatoare la adresa lui.
Iar acuzatiile, repetate, au un singur rol: acela de a indeparta o persoana de tine. Intreaba-te ce iti doresti, de fapt: sa inchei relatia sau sa o repari?
Concluziile catastrofale
Intamplari negative putem intalni la tot pasul. Fie o situatie nu decurge cum ne-am fi dorit, fie partenerul face o greseala, lucrurile nu depind intotdeauna de noi. Felul in care reactionam la ceea ce se intampla, depinde.
Astfel, poti opta sa treci cu umor (daca este posibil) peste incident, sa il iei ca atare sau, sa faci tot posibilul sa il depasesti cat mai usor.
Daca exagerezi momentul si construiesti pe baza lui alte intamplari catastrofale, in cele din urma acestea se pot adeveri.
In mare parte, totusi, sunt rezultatul unei gandiri negative care iti va afecta relatia. Nimanui nu ii place sa i se atraga atentia in mod exagerat ca a gresit si nici sa auda profetii nefaste asupra viitorului.
Nimic nu "trebuie"
Cuvantul "trebuie" este destul de dificil de eliminat din vocabular. Are un rol oarecum functional si justifica multe afirmatii si moduri de gandire ori actiune.
"Vreau sa invat sa cant la pian, deci trebuie sa studiez." In realitate, nu "trebuie" sa studiezi ci iti doresti acest lucru. Nu trebuie sa mergi la scoala, dar parca viata este mai interesanta cand esti educat…
In cuplu, "trebuie" are deseori un rol de asumare si unul de obligativitate. Nimic mai putin atragator! "Trebuie sa stii cum ma simt cand te porti asa!" In realitate, poti comunica exact cum te simti, ba chiar sa faci acest lucru la persoana I, evitand pe cat posibil acuzatiile.
Ne ia o viata intreaga sa ne cunoastem pe noi insine, nimeni nu "trebuie" sa ne anticipeze dorintele, asteptarile si nevoile. In principiu, putem apela la limbaj. Unul cat mai armonios.
Etichetarea
Tii minte cand te-ai indragostit? Bine, ai dreptul sa spui ca fluturasii din stomac si lentilele roz sunt indicii clare ca nu prea stii ce faci in acele momente.
Totusi, revenind la perioada respectiva, aveai in fata ta o persoana independenta, interesanta, atragatoare, pe care iti doreai sa ti-o apropii, sa o primesti in viata ta si sa te primeasca in viata ei. Iar acest lucru chiar s-a intamplat!
Intamplator, tu nu esti o persoana perfecta si nici partenerul tau. Toti avem calitati si neajunsuri. Etichetarea insa, se focuseaza pe neajunsuri.
Nu numai ca partenerul tau nu se va mai simti dorit si apreciat (motive de baza in infidelitate), dar te vei convinge singura ca are numai defecte. Etichetarile sunt nedrepte si incorecte, iar tendinta de generalizare duce la umbirea iubirii.
Gasirea vinovatului
In mod irational, sau ca metoda de autoprotejare, ajungem sa ne acuzam partenerul pentru neajunsurile relatiei. O replica din celebrul "Sex and the city" spunea ca "ne plangem cand nu avem iubiti, apoi ne plangem cand ii avem".
Problemele relationale, precum relatia in intregime, depind de doi parteneri, nu doar de unul. Daca intr-adevar unul singur este toxic, atunci cel de-al doilea isi asuma vina de a ramane in relatie.
In mare parte, totusi, problemele sunt rezolvabile, cat timp nu cauti un vinovat. Sau, mai corect, atata timp cat esti pregatita sa iti asumi din vina. Nu invarti in minte la nesfarsit ganduri despre greselile partenerului si lipsurile lui.
Nici despre ce nu face sau cum ar putea face mai bine. Discuta cu el despre ce iti doresti si evalueaza cum te poti schimba si tu in beneficiul relatiei.
Foto: 123rf.com