Să ascultăm cea mai mare orgă din sud-estul Europei la Sala Radio, în concertul dirijat de CHRISTIAN CIUCA!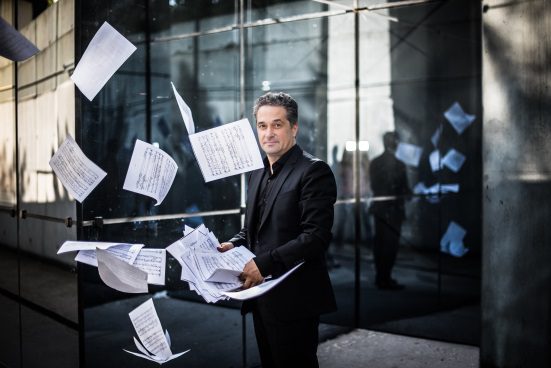 În septembrie 2017, în cadrul Festivalului Enescu, dirijorul de origine română stabilit în Franța CHRISTIAN CIUCA dirija un concert extraordinar pe scena Ateneului, cu Marea Mesă în do minor de Mozart. Evenimentul a fost susținut de Ansamblul Instrumental din Paris (Ensemble Instrumental de Paris) – formație pe care a fondat-o în 1998 – şi de Corul Naţional de Cameră Madrigal, cu participarea a patru  solişti vocali de talie mondială.
Miercuri, 7 noiembrie (19.00), CHRISTIAN CIUCA este invitat pe scena Sălii Radio, unde va dirija un concert Bach/ Händel/Puccini, la pupitrul Orchestrei de Cameră Radio și cu participarea Corului Academic Radio (dirijor: Ciprian Țuțu).
Pasiunea dirijorului Christian Ciuca pentru muzica vocal-simfonică l-a condus către repertoriul oratoriului, domeniu în care excelează, fiind apreciat în Franţa ca specialist. A dirijat în Europa lucrări de Händel (Messiah, Dixit Dominus), Bach (Magnificat, Oratoriul de Crăciun), Mozart (Marea Misă în do minor, Requiem), Brahms, Verdi, Puccini (Messa di Gloria), Rossini (Mica Misă solemnă, Stabat Mater). La doar 21 ani dirija la Berlin Messa di Gloria de Puccini, lucrare pe care o veți asculta și în concertul de la Sala Radio, cu participarea soliștilor vocali Nicolae Simonov (tenor) și Cristian Ruja (bariton).
Evenimentul este un prilej de a-l aprecia și pe organistul STEFFEN SCHLANDT, care a  concertat în numeroase țări din Europa, precum Germania, Franța, Elveția, Suedia, Italia etc. A obţinut în Germania premiul al II-lea la Concursul Internaţional de orgă Schramberg – 2001 şi premiul pentru acompaniament de lied la Concursul din Würzburg – 2003.
Orga Sălii Radio este cea mai mare din țară şi din sud-estul Europei – 7.600 de tuburi – și a fost realizată în Cehia, în 1960. În prima parte a serii, veți asculta două lucrări interpretate cu participarea organistului STEFFEN SCHLANDT: Bach – Concertul nr. 1 în re minor (variantă pentru orgă și orchestră) și Händel  – Concertul nr. 13  în Fa major, The Cuckoo and the Nightingale (Cucul și privighetoarea).
Cetăţean francez, născut în România, Christian Ciuca a început studiul viorii la vârsta de 6 ani la Liceul "George Enescu" din Bucureşti. Şi-a continuat studiile în România și în Germania, unde a studiat în paralel dirijat coral şi orchestral. Fiind concertmaestru al Orchestrei Filarmonice din Rostock (Germania), a lucrat cu mari artişti precum Menuhin, Jordan sau Maazel.
Ajuns la Paris, a creat Corul Jubilate în 1996, ansamblu pe care l-a condus aproape 20 de ani. A colaborat cu artişti importanţi precum Charlotte Rampling, Brigitte Fossey şi Patrick Poivre d'Arvor. A fost invitat în mod regulat să dirijeze concertele de gală la Cadre Noir de Saumur, dintre care amintim concertul susţinut alături de Hungarian Symphony Orchestra din Budapesta, eveniment ce a avut parte de un public numeros de peste 10.000 de persoane. Din 2002 este director artistic al Musiques au Pic Blanc – centru de stagii și cusuri de măiestrie, la Alpe d'Huez în Franţa.
Născut la Brașov, în 1975, STEFFEN SCHALNDT, a început educaţia muzicală cu tatăl său Eckart Schlandt, alături de care a studiat pianul şi orga. A urmat apoi cursurile Facultăţii de Muzică din Cluj la secţia orgă și pe cele de muzică bisericească la Facultatea de Muzică din Trossingen (Germania) şi dirijat coral şi de orchestră la Würzburg. Între anii 2001-2004 a fost corepetitorul societăţii "Bach" din Würzburg. Este iniţiatorul Festivalului de Muzică Sacră "Diletto musicale" din Prejmer care se desfăşoară  în luna august din anul 1999. Din septembrie 2004 este dirijorul corului "Bach" şi organist la Biserica Neagră (Brașov).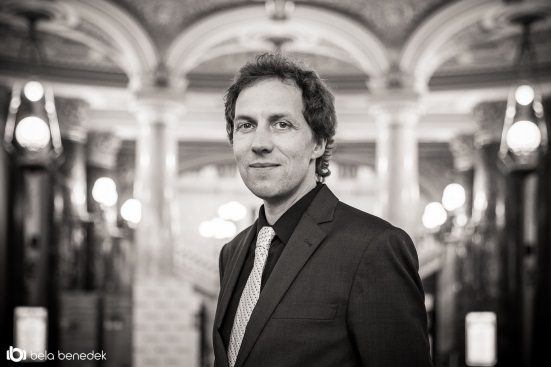 Concertele pot fi ascultate în direct pe toate frecvenţele Radio România Cultural şi Radio România Muzical din ţară şi în streaming live pe Internet, pe www.radioromaniacultural.ro și www.romania-muzical.ro.
Biletele la concertele Orchestrelor şi Corurilor Radio sunt disponibile pe www.bilete.ro, în oficiile Poştei Române, în magazinele Inmedio semnalizate bilete.ro şi la Casa de bilete a Sălii Radio.
Pentru alte informaţii legate de Orchestrele şi Corurile Radio vă rugăm să consultaţi site-ul www.orchestreradio.ro.
Sursă foto: Astrid di Crollalanza / Bela Benedek