VIVA! Shopping with Stars: reduceri și oferte speciale la sute de produse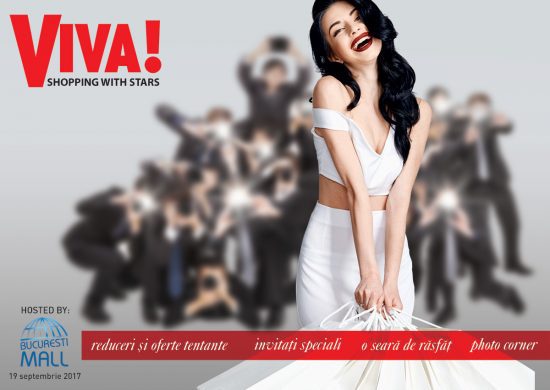 Toamna se numără noile colecții dedicate sezonului rece, prilej cu care VIVA! și București Mall invită toate fashionistele la o seară specială, plină de reduceri tentante și surprize, de la care nu vor lipsi vedetele tale preferate.
Nu doar vedetele îți vor fi aproape în acest demers, ci și magazinele din București Mall, care te vor întâmpina cu oferte speciale, astfel încât garderoba la care visezi să devină realitate: la 18 ani de București Mall, magazinele partenere vor oferi discounturi speciale de 18% la o gamă selectată de produse!
Lista magazinelor participante: ANNA CORI, CRIDO KIDS, CATALEYA, CELLINI, COCCODRILLO, COLLECTIVE, DELUXE CARDS, DIVERTA, FLORMAR, GETT'S, GNC LIVE WELL, HIPPOLAND, IL PASSO, ISTYLE, LAVA&CUCE, LAVAZZA, LEE COOPER, NIKE, NISSA, NOMASVELLO, NORIEL, OFFICE SHOES, OPTICRIS, OPTIPLAZA, OTTER, SAMSONITE, SEPHORA, TEILOR, THE BODY SHOP, TIMEOUT, TOMMY HILFIGER, TOMMY HILFIGER KIDS, TRIUMPH, VODAFONE (ARSIS).
Așadar, pe 19 septembrie, între orele 17.00 și 21.00, pregătește-te pentru o sesiune de cumpărături marca VIVA!. Te așteptăm să petreci cu noi o seară strălucitoare, unde vei întâlni vedetele pe care le admiri și din al căror stil te poți inspira chiar la fața locului în alegerea unei garderobe de toamnă așa cum ți-ai dorit.
Citește întregul articol AICI.