Fii cea mai bună versiune a ta în 2022!

Noul an reprezintă pentru mulți dintre noi un prilej foarte bun pentru a stabili obiective noi și pentru a demara punerea acestora în practică. De ce? Pentru că un an nou reprezintă un nou început și astfel avem o motivație mai bună pentru îndeplinirea acestora.
Pentru atingerea obiectivelor anului 2022, Dr. Kent Bradley, Chief Health and Nutrition Officer, Herbalife Nutrition, recomandă ca primul pas să fie stabilirea unui scop, care să fie afișat la vedere pentru a te simți motivată să respecți promisiunea. Un al doilea pas constă în realizarea unui plan cu obiective realizabile, care sunt ușor de atins și te pot ajuta să faci modificări în stilul de viață zilnic.
Fii realistă
Fă o listă cu pro și contra
Vorbește despre obiective
Urmărește-ți progresul
Oferă-ți recompense
Fii consecventă
Adaptează-ți planul pe parcurs.
Nu trebuie să te descurajezi dacă doar unele dintre obiectivele tale propuse vor fi realizate, iar altele se vor pierde pe drum sau le vei schimba pe parcursul anului.
O atenție mai mare îngrijirii personale alături de o alimentație mai sănătoasă și a face mișcare mai des sunt primele 3 obiective propuse pentru 2022 de respondenții români participanți la cel de-al patrulea sondaj anual One Poll "Writing Off the End of the Year", realizat pentru Herbalife Nutrition.
Această grijă pentru propria persoană poate începe prin a-ți aloca mai mult timp pentru tine, pentru o stare de bine generală. Ți s-a întâmplat vreodată să ai una din acele zile în care te simți copleșită și tânjești după puțină odihnă și relaxare? Oricine are nevoie de timp pentru propria persoană din când în când. Poate că s-au strâns atât de multe rufe de spălat încât nu mai poți face față sau prezentarea online pe care o aveai de făcut nu a mers conform planului. După o zi stresantă, cel mai bun remediu este să îți aloci timp pentru a avea grijă de tine. O zi la spa este o modalitate bună să te odihnești, să te relaxezi și să îți eliberezi mintea de toate grijile.
Spa-ul este un loc de deconectare și răsfăț, dar știai că îți poți crea propriul spa în confortul locuinței tale? Iată câteva sugestii ale Laurei Chacon- Garbato, Director, Worldwide Nutrition Education and Training, Herbalife Nutrition pentru a-ți crea o experiență spa, fără măcar să pleci de acasă: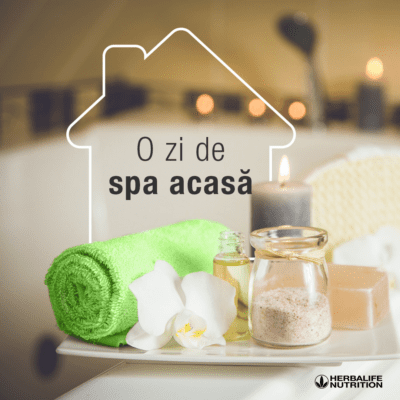 Fă o baie relaxantă cu spumă.
Adaugă în apă produsul tău de baie preferat, aprinde câteva lumânări, pune muzică și relaxează-te. Nu există ceva mai bun decât să te cufunzi în apa caldă pentru a-ți relaxa mușchii, pentru a-ți deschide porii și pentru a lăsa grijile deoparte. Ca alternativă, în caz că nu ai cadă acasă, poți face un duș fierbinte cu aburi – găsește idei creative pentru a te răsfăța și relaxa.
Aplică o mască facială.
Nu doar la spa găsești o mască facială bună. Poți avea aceeași experiență de calitate și la tine acasă. Alege o mască facială cu o aromă revigorantă, precum rozmarin sau mentă. Aplică masca pe față și las-o să acționeze conform instrucțiunilor, iar rezultatele nu vor întârzia să apară.
Poți să aplici masca în timp ce te relaxezi în cadă. Aburul din baie, spuma, mirosurile parfumate și relaxarea sunt ingredientele perfecte. Măștile cu argilă de bentonită au proprietăți uimitoare de tonifiere a pielii și absorbție. În plus, senzația de argilă mătăsoasă și fină pe piele îți oferă un adevărat răsfăț.
Nu uita masca de păr.
Nu doar îngrijirea pielii este importantă, ci și a părului. Măștile ajută la hidratarea și hrănirea părului. Cu atât mai mult dacă ai părul deteriorat, uscat sau rebel. Asigură-te că folosești o mască potrivită pentru tipul tău de păr sau creează-ți propria mască cum ar fi cea după rețeta de mai jos:
Ingrediente:
Instrucțiuni:
Amestecă toate ingredientele și adaugă mai mult ulei de cocos dacă ai păr foarte lung sau gros.
Aplică pe părul umed, începând de la vârfuri până sus.
Prinde-ți părul în coc sau acoperă-l cu o bonetă timp de 30 sau 40 de minute.
Vitaminele din uleiul de cocos și avocado hrănesc părul, pentru hidratare și strălucire, în timp ce gelul de aloe hidratează și calmează pielea scalpului.
Clătește cu apă călduță, iar apoi aplică un șampon fără sulfați și balsam.
Fă-ți un scrub pentru a elimina impuritățile.
Sunt zile în care vrei pur și simplu să te cureți de toate problemele. Și atunci, de ce să nu faci din asta o experiență de răsfăț, folosind un scrub de exfoliere care miroase nemaipomenit și conține particule care îndepărtează celulele moarte ale pielii? Odată ce îți vei simți pielea catifelată și fină, vei uita de toate grijile.
Hidratează-te din cap până-n picioare.
Nu e nimic mai grozav decât să aplici o cremă hidratantă de corp imediat după exfoliere sau o baie cu spumă. Folosește o loțiune hidratantă și răsfață-ți tot corpul! Aplică loțiunea pe pielea umedă pentru a sigila hidratarea atât de necesară. Pielea ta va arăta mai tânără și cu siguranță se va simți catifelată și fină la atingere. Alocă-ți câteva minute în plus pentru a te relaxa și nu uita de degetele de la picioare, picioare și brațe. Un mic masaj și o cremă hidratantă bună vor atenua cu siguranță stresul acumulat peste zi.
Puțin răsfăț contează foarte mult și este benefic pentru tine și starea ta de bine. Poate însemna o baie cu spumă, aplicarea unei măști, citirea unei cărți sau pur și simplu 5 minute savurând o ceașcă de ceai. Orice faci, alocă-ți timpul atât de necesar să te răsfeți. Nu uita, ai nevoie să ai grijă de tine și să te iubești. Meriți!
Fii cea mai bună versiune a ta în 2022 și investește în ceea ce este mai bun pentru tine! Spune DA noilor obiective, fă-ți noi prieteni, alăturându-te comunității noastre globale prin intermediul Distribuitorilor Independenți Herbalife Nutrition. Pentru a contacta un Distribuitor Independent Herbalife Nutrition click aici.