Anglia nebănuită. Povești din Cornwall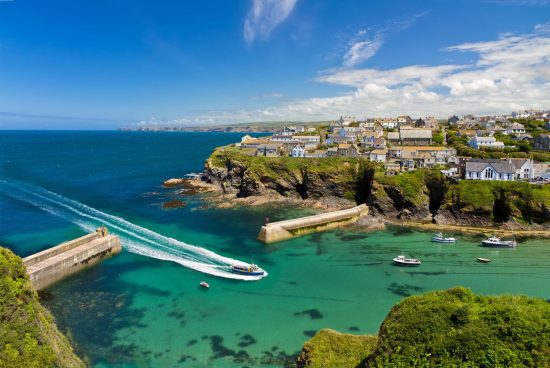 Față de restul Angliei, Cornwall este o regiune cu soare și temperaturi prietenoase. Iar mirajul acesteia a fost sursa de inspirație a unor cărți celebre. Iată de ce trebuie să incluzi Cornwall pe lista destinațiilor de călătorie.
Citește și:
Turism în SUA. Culorile din Colorado
Cipru, insula pe care s-a născut Afrodita
Chiar și englezii sătui de ceața și ploaia care predomină alte regiuni ale Angliei se refugiază în Cornwall unde se pot bucura de soare și temperaturi mai prietenoase.
Prin anii '30 ai secolului trecut, Great Western Railway promova intens zona de coastă englezească din Cornwall, prin intermediul unor cărți poștale ilustrate cu imaginile idilice ale unor plaje scăldate de soare.
Publicitatea regiunii, susținută de căile feroviare și de clima temperată, au convertit acest colț al regatului britanic într-un refugiu de succes pentru toți turiștii englezi ai acelei epoci, pe care l-au și botezat, de altfel, drept Cornish  Riviera.
În prezent, exact ca pe vremuri, locuitori ai altor regiuni din Anglia, sătui de atâta ploaie și ceață, fac regulat drumuri în Cornwall, pentru a se bucura de soare și temperaturi ceva mai calde.
Looe, aflat pe coasta sudică, este unul dintre cele mai renumite locuri din zonă. Mai mult decât soare, nisip fin și grade în plus, (pentru care toți ce iubesc Cornwallul vin aici vara), regiunea oferă și activități sportive și pescărești.
Plimbarea pe chei este o binecuvântare, pentru că peisajul care ți se oferă la fiecare pas nu are seamăn: familii cu copii frumoși relaxându-se la soare, perechi de îndrăgostiți mergând, mână în mână, printre pescărușii guralivi de la țărm…
Adevărul este că întreaga atmosferă a acestei așezări ne creionează parcă în minte imaginea unei pelicule semnată Hitchcock și ne umple de o senzație ciudată, ca o neliniște interioară.
O percepție bazată pe o explicație extrem de logică, dacă ținem cont că Daphne du Maurier, autoarea operei care a inspirat celebra peliculă cinematografică a regizorului englez "Păsările" (1963), și-a situat geografic multe dintre scrieri în pitorescul Cornwall.
În afară de "Păsările", Maurier a mai plasat în acest loc și alte povești, ecranizate ulterior de Hitchcock, cum ar fi "Rebecca" sau "Jamaica Inn".
Dacă ținem drumul mai departe, spre vest, ajungem repede la Polperro, un sat de pescari ascuns în spatele unei coline.
Cu căsuțele pictate în alb, ulicioarele înguste și cu micuțul port înțesat de ambarcațiuni pescărești, satul se umple până la refuz în timpul zilei, cu toți acei vizitatori veniți din Looe, pe calea apei.
La ultima oră a zilei, atunci când tot zumzăitul străzii încetează, peisajul pare căzut într-un somn adânc.
Este cel mai bun moment în care poate fi apreciată atmosfera serenă a locului, atmosferă ce caracterizează Polperro încă de acum mulți ani, când aici orele din zi presupuneau pescuit de sardine, iar noaptea, activități comerciale ilicite.
În apropierea portului (un fapt ușor ironic) vechea fabrică de sardine este astăzi transformată în muzeu dedicat istoriei contrabandei.
Următoarea oprire, dacă mergem în continuare spre vest, este Fowey, o localitate liniștită de coastă, implicată în comerțul argilei, care a captat în timp atenția, iar astăzi aduce un punct în plus pe lista turismului local.
Aici a trăit Daphne du Maurier, iar numele fostei ei reședințe, Readymoney, a dat numele uneia dintre plajele din zonă.
În fața estuarului din Fowey se află Polruan, alt orășel ancorat în mirajul unui timp care parcă aici nu se schimbă.
În anul 1901, Guillermo Marconi, călăuzit de dorința de a putea transmite unde radioelectrice prin Atlantic, a ajuns la Terranova, unde, pe data de 12 decembrie a aceluiași an, a reușit să primească prima literă, și anume S, prin semnal Morse.
Semnalul transmis de la Podhu, situat în peninsula Lizard, de către unul dintre ajutoarele lui Marconi, pe o distanță de 3.360 km de ocean, a presupun începutul comunicării fără cablu.
Aproape un secol mai târziu, în același loc, recunoscut ca fiind cel mai sudic punct din arhipelagul britanic, existau 60 de antene parabolice gigant, în ceea ce acum este cea mai mare stație operațională de sateliți de comunicare din lume (Goonhilly Earth Station).
Sateliții au nume legendare, cum ar fi Merlin, Artur sau Lancelot, și sunt capabili să transmită până la 600.000 de apeluri telefonice simultan, în toată lumea; ceea ce nu e rău deloc.
Pornind de la stație către sud, ajungi la Lizzard, ultimul nucleu urban înainte de Lizzard's Point, cel mai sudic punct al insulelor britanice.
Peisajul este superb: stânci de un colorit intens, în nuanțe de verde și roșu, datorate unui tip de rocă ce se întâlnește frecvent în această regiune; valurile zbătându-se de țărm și șuieratul vântului drept unic companion.
Mulți vizitatori rămân hipnotizați în fața infinitului albastru de apă, poate pentru că încearcă să vadă până departe în zare sau poate pentru că își imaginează cum trecerea timpului a lăsat intacte aceste locuri îndepărtate, scăldate de ocean.
La dreapta, se găsește vechea stație de salvamontiști marini, iar la stânga se află farul din Lizard, al cărei fascicul luminos bate până la 21 mile marine depărtare.
Mergând mai departe, spre vest, ajungi la Land's End, cel mai sudic punct al Angliei, pe un drum ce șerpuiește greoi printre câmpii cultivate și coasta sălbatică.
Complexitatea drumului și faptul că aici se conduce cu volanul pe dreapta, fac necesare opririle dese, pentru o mică relaxare. Și oricum, este o scuză mai mult decât plauzibilă cea referitoare la admirarea peisajului, pentru că litoralul oferă pe acest traseu surprize plăcute la fiecare pas.
Câteva sate sunt ascunse în locuri aproape imposibile, în care casele par a fi construite unele peste altele și unde mareele schimbă peisajul aproape la fiecare 12 ore.
Așa sunt Mousehole, Sennen's Cove, sau Porthcurno, locuri unde găsești câteva dintre cele mai frumoase plaje englezești.
Din acest loc, trecând prin câteva curbe ascendente ale drumului, ajungi în sfârșit la Minack's Theatre, un amfiteatru spectaculos de inspirație greacă, situat la marginea falezei ce încununează  micuțul golf. Acesta a fost construit în 1931 de Rowena Cade, o iubitoare excentrică a teatrului, care a ridicat această construcție în curtea grădinii sale, la 62 m deasupra mării.
Alte puncte emblematice în această regiune din Cornwall sunt  Muntele Sf. Mihai (Saint Michael's Mount), succesor al muntelui cu același nume (Mont Saint-Michel), situat de cealaltă parte a canalului, în Normandia.
Mănăstirea engleză se află în vârful unor stânci, pe o insulă situată la 500m distanță de plaja Marazion, loc accesibil cu piciorul atunci când marea se retrage.
Dar când nivelul mării crește, traseul acesta este parcurs cu ajutorul unui bac până pe insulă, de unde poți începe ascensiunea (asiduă, de altfel!) spre vârf.
Ce trebuie văzut
Coasta sudică. O regiune plină de sătucuri pescărești în care parcă timpul s-a oprit în loc. Looe, Polperro și Fowey sunt câteva dintre cele mai pitorești.
Peninsula Lizard. Locul de naștere al comunicațiilor fără cablu, pentru care răspunzător este Guillermo Marconi (1901).
Astăzi găsești aici Goonhilly Earth Station, cea mai mare stație operațională de sateliți de comunicare din lume. Tot aici se află și Lizard's Point, cel mai sudic punct al insulelor britanice și un autentic colț de rai al regiunii Cornwall.
Coasta de vest. Între Lizard's Point și Land's End, coasta e poziționată în pantă, iar vegetația este sălbatică.
În această zonă se află locuri foarte frumoase, cum ar fi sătucurile Mousehole sau Sennen's Cove, spectaculosul Minack's Theatre sau Saint Michael's Mount.
Saint Ives și Padstow. Două sătucuri de pe coasta nordică ce acaparează toată atenția vizitatorilor în orice perioadă a anului. în Saint Ives, plină de artiști,  se află galeria Tate Saint Ives, replică a celebrei galerii londoneze Tate.
În Padstow, un alt fel de artă atrage mulțimea – arta culinară. Aici, celebrul bucătar șef britanic, Rick Stein, și-a ridicat propriul imperiu gastronomic. Un adevărat deliciu!
Proiectul Eden. Una dintre cele mai mari grădini botanice din lume, situată în două formațiuni naturale, ca două cupole gigant ce ies din craterul unei vechi mine de argilă abandonată.
Structurată pe o zonă de peste 1 km lățime și 50 m înălțime, grădina include și o pădure tropicală și un grup de arbuști mediteraneeni.
Bodmin Moor. În centrul Cornwallului, printre construcții monolitice și arbuști, se găsesc locurile în care au trăit primii locuitori ai regiunii.
Laguna Dozmary Pool și palatul aflat în apropiere, Tintagel, sunt locurile legendare ale Cavalerilor Mesei Rotunde și a Regelui Artur.
Insulele Scilly. Acest arhipelag situat la 45 km sud vest de Land's End e compus din 140 de insule stâncoase.
Insulele locuite sunt St Mary, Tresco, St Martin's, St Angel's și Bryher. Curse zilnice de elicoptere fac legătura între insule și orașul Penzance.
Ce hoteluri să vizitezi în Cornwall
The Fowey Hotel. The Esplanade. Fowey. Binecuvântat cu unele dintre cele mai frumoase priveliști asupra estuarului Fowey, acest elegant hotel a fost utilizat drept spital în timpul Primului Război Mondial și apoi, în timpul celui de-al Doilea Război Mondial, drept reședință a oficialilor din Marina Navală Americană. – www.thefoweyhotel.co.uk
The Boskerris. Strada Boskerris.Golful Carbis. Saint Ives. Hotel intim, situat pe plaja din golful Carbis, la aproximativ 2 km de centrul Saint Ives, și la vreo 3 minute de mers pe jos de la Southwest Coastal Path. – www.boskerrishhotel.co.uk
Pebble Hotel B&B. Park Avenue, nr. 4, Saint Ives. Recent renovat, situat la câțiva metri de stația de tren și autobuz. – www.pebble-hotel.co.uk
The Metropol. Padstow. O elegantă reședință în stil victorian, așezată pe o colină, cu vedere către portul din Padstow. Se află la 5 minute de mers pe jos din centrul orașului și chiar lângă restaurantul Seafood, al lui Rick Stein. – www.richardsonhotels.co.uk
The Fifteen Cornwall. Golful Watergate. Restaurant modern cu vedere spre plaja Watergate, proprietatea cunoscutului bucătar și vedetă tv, Jamie Oliver. – www.fifteencornwall.co.uk
Alba Restaurant. În cheiul din Saint Ives. Vechea locație a bărcilor de salvare. Bucătărie modernă bazată pe feluri de mâncare cu specific tradițional englez. – www.thealbarestaurant.com
The seafood Restaurant. În Padstow. Lângă râu. Maestrul gastronomiei englezești, Rick Stein, are aici, în orașul său natal, nouă afaceri bazate pe bucătărie marină. Acest restaurant este cel mai cunoscut dintre toate și rezervările trebuie făcute cu câteva luni înainte. – www.rickstein.com
St. Petroc's Hotel și Bistro. New Street nr. 4, Padstow. Tot una dintre proprietățilr lui Stein, cu specialități culinare de influență franceză. – www.rickstein.com
În estuarul râului Camel, se odihnește Padstow, un port liniștit, condiționat de maree, în care bărcile se odihnesc pe uscat, atunci când apele se retrag.
Acest oraș micuț este locul de naștere al lui Rick Stein, unul dintre cei mai recunoscuți bucătari ai Marii Britanii.
Faimos datorită emisiunilor sale de la BBC și de pe numeroasele canale internaționale de televiziune, Stein a pus Padstow pe hartă și sunt mulți cei care vin până aici doar pentru a cina într-unul dintre restaurantele locului.
În afară de felurile de mâncare oferite de Stein (și bazate aproape mereu pe fructe de mare), în Padstow, la fel ca în orice alt loc din Marea Britanie, e indicat să încerci peștele și chipsurile, așezat comod într-un colț liniștit, cu vedere la port. și nu uita să fii mereu atent la pescărușii nesătui din zonă.
Ceva mai la sud de Cornwall, se află golful Watergate, un adevărat paradis pentru iubitorii sporturilor acvatice, cum ar fi windsurf sau kitesurf.
Aici se află și The Fifteen Cornwall, proprietatea altei personalități tv, bucătar șef de renume internațional, Jamie Oliver.
Cu un design inspirat din scenele cu surferi și cu o bucătărie bazată mai degrabă pe o dietă mediteraneeană decât pe piureul cu cartofi și carne specific englezesc, Oliver îi învață în bucătăria sa pe tinerii defavorizați de soartă arta gătitului.
Proiectul său social a avut un impact foarte mare în Marea Britanie și restaurantul din Cornwall este ultimul deschis din seria celor de la Fifteen Foundation, cu filiale și la Londra, Amsterdam, Melbourne.
De Iuliana Alexa
Foto: 123rf.com