Superclișee diluzionale culturale – CREDINȚELE, Mitul Păcatului Originar

Cum s-a născut micul Ghilgameş, zeii l-au înzestrat cu haruri. Şamaş a revărsat asupră-i o frumuseţe fără seamăn. Enlil, zeul pământului străbun şi al văzduhului albastru, i-a dăruit statura mândră, 'naltă de  unsprezece coţi şi pieptul larg de nouă palme. La rândul său, nici asprul Adad, zeul furtunii îndârjite, n-a vrut să rămână dator. L-a hărăzit cu-o vitejie ce nu putea fi înfrânată nici chiar de forţele zeieşti.  Şi Ea, cel şerpuitor, i-a dăruit înţelepciune.
 Extrem de interesante și semnificative, părinte, mi s-au părut lucrurile prezentate în Geneză, în această parte. Am aflat atunci că cei doi oameni creați de Dumnezeu erau într-o stare de naivitate, inocență, precum copiii de acum, fără să fie conștienți pe deplin de ei și de lume. Erau într-o stare psihică deosebită, pe care o vedem peste tot în jurul nostru la vlăstarele umane, care deși văd lumea și pe ei înșiși totuși nu o văd cu adevărat, decât mult mai târziu, atunci când propria lor minte "suferă" un salt calitativ, de cele mai multe ori într-adevăr, în momentul sexualizării, și odată cu "rușinea goliciunii" descoperă și conștiința explicită. Dar în povestea biblică ni se arată că animalele pământului puteau comunica cu oamenii. Ori ele vorbeau ca și ei, fapt ce nu mira nici pe Adam, nici pe consoarta sa, ori cumva exista o comunicare la un alt nivel, deci putem presupune că într-un fel oamenii "vorbeau" cu toate animalele, care posedau un nivel de conștiință explicită mai înalt. Și astfel aflăm că șarpele, care vedem că era cel mai "viclean" dintre toate viețuitoarele făcute de Dumnezeu, începe o conversație cu femeia. Nu știusem până în acel moment că animalele posedau capacități atribuite în mod normal oamenilor, cum ar fi viclenia, și o intenționalitate clară, precum și interese "politice". Pentru că gestul "șarpelui" mi s-a părut absolut nemotivat, din punct de vedere al beneficiilor sale personale. În mod evident acesta știa că fructele mâncate din pomul cunoașterii vor "deschide ochii" și oamenilor, apropiindu-i potențial de statutul Domnului, după cum Acesta și recunoaște în final. Și "șarpele" știa de asemenea că oamenilor li se "interzisese" aparent să consume fructele din pomul cunoașterii dar nu ca o "poruncă" explicită, ci ca o recomandare, pentru că "interdicția" Domnului este justificativă și nu are forma unui ordin, a unei porunci reale.
A dat apoi Domnul Dumnezeu lui Adam poruncă şi a zis: "Din toţi pomii din rai poţi să mănânci,
Iar din pomul cunoştinţei binelui şi răului să nu mănânci, căci, în ziua în care vei mânca din el, vei muri negreşit!
Un ordin autentic, o "poruncă" nu are niciodată o componentă justificativă, pentru că o transformă imediat în altceva, răpindu-i caracterul de obligativitate, anume o transformă într-o recomandare, pe care o poți sau nu respecta, așa cum dorești, în funcție de interesele sau limitele tale. Dar, lucru care nu pare să fie sesizat de Domnul Dumnezeu și aparent nici de slujitorii ulteriori ai Acestuia, o astfel de recomandare anulează caracterul obligatoriu al execuției și lasă loc liber "liberului arbitru", adică alegerii, cel în cauză având libertatea de a decide dacă ține cont de "sfat" sau nu, ne mai având cum să-i fie imputată "încălcarea poruncii".
Dacă Domnul ar fi dorit să emită o "poruncă" pentru oameni, aceasta ar fi trebuit să sune așa:
"Din toţi pomii din rai poţi să mănânci,  iar din pomul cunoştinţei binelui şi răului să nu mănânci!"
Imperativ și fără "căci…."
Iar femeia a sesizat că de fapt Domnul îi mințise și că nu puteau sub nicio formă să fie în pericol să "moară" dacă consumau fructul pe care ea îl considera atât de valoros "şi vrednic de dorit, pentru că dă ştiinţă", ceea ce ne arată clar din partea ei o decizie rațională și nu una impulsională, și în plus, datorită formulării așa zisei porunci care era de fapt o recomandare, nu erau obligați să o respecte și de fapt nici nu puteau să fie culpabilizați că nu au respectat-o, lucru pe care în mod direct Domnul nici nu o face, sesizând prea târziu "eroarea de comunicare".
Prin urmare întregul fundament al religiei creștine, care se bazează pe "încălcarea Poruncii Divine" denumită "Păcatul Originar", motiv pentru care "a venit" și Iisus, anume pentru "răscumpărarea Păcatului", este întemeiat pe un fals, cu ușurință de depistat din însuși textul fundamental care-i stă la bază.
În aceasta este dragostea, nu fiindcă noi am iubit pe Dumnezeu, ci fiindcă El ne-a iubit pe noi şi a trimis pe Fiul Său jertfă de ispăşire pentru păcatele noastre.
Dar în același timp "șarpele", despre care ni se spune abia în Apocalipsă că nu este de fapt un animal, cum în mod mincinos din nou ne-a fost prezentat, ci "balaurul cel mare, şarpele de demult, care se cheamă diavol şi satana, cel ce înşeală pe toată lumea, aruncat a fost pe pământ şi îngerii lui au fost aruncaţi cu el." deci acela cu care "Mihail şi îngerii lui au pornit război cu balaurul. Şi se războia şi balaurul şi îngerii lui.", prin urmare "cineva" care avea proprii săi îngeri, resursele și tehnologia care să-i permită să se opună Domnului, ei bine, sesizase ceea ce și un copil ar putea, cum că Domnul Dumnezeu se bazase în această situație pe ascultarea pe care oamenii o acordau cuvintelor sale, însușindu-și autoritatea pe care o avea asupra lor. Nu protejase fizic în niciun fel acest pom al cunoașterii, așa cum ar fi fost cazul dacă ar fi vrut neapărat ca oamenii să nu aibă vreodată acces la efectele "mortale" generate în structura lor de aceste fructe. Eu însumi, cu mintea puțină pe care o am, îmi dau perfect seama că situația este aproape identică cu cea în care unor copii li s-ar interzice să se apropie de chibriturile lăsate la îndemână, pe masa din bucătărie. În mod aproape sigur, curiozitatea generată chiar de interdicție și lipsa unei protecții reale, fizice, va duce în marea majoritate a cazurilor fix acolo unde cică, teoretic, nu se dorește de către adulți, și anume în situațiile oribile prezentate în debutul filmelor ce rulau în cinematografe, realizate de Miliție și Pompieri, așa cum a fost cazul și aici.
Personal nu aș putea să nu mă gândesc că cineva care a creat lumea așa cum o știm și chiar și oamenii să nu știe un lucru atât de elementar și să pună totul pe cartea obedienței totale și a unui mesaj foarte prost construit. Mai degrabă ne putem gândi că ori într-un fel, așa cum procedează chiar și adulții adesea, pentru a obține un ascendent și mai mare asupra propriilor copii, îi lasă intenționat să greșească ori prin încălcarea unei interdicții, ori prin permiterea confruntării copiilor cu consecințele propriilor lor alegeri "încăpățânate", pentru ca astfel să se poată arăta "supărați" și să poată mișca "în mod justificat și natural" situația într-o nouă paradigmă psihologică și socială, ori Domnul chiar a fost prin "pe picior greșit" de un intelect superior, speculativ.
Altfel nu prea îmi pot explica cum o entitate capabilă să creeze lumi poate părea apoi atât de proastă încât să plece la plimbare după ce lasă chibriturile pe masă și apoi să spere că cei doi, rămași singuri acasă, nu se vor repezi din prima fix acolo unde li s-a interzis accesul. Pentru că, părinte, mi se pare clar, din prezentarea lucrurilor, că Dumnezeu, care se preumbla după ce plecase prin grădină, habar nu avea de ceea ce se întâmplase în lipsa sa. Deci în mod evident Dumnezeu nu este nici omniprezent și nici omniștient. Este tot ca orice om, adică limitat, dar evident cu puteri "tehnologice" mult mai mari decât ale oamenilor. Dar asta este complet altceva decât ființa atot-știitoare, atot-cunoscătoare și omni-prezentă pe care încearcă să ne-o prezinte religia creștină.
The Last Temptation of Christ (Ultima ispită a lui Iisus 1988)
Film realizat de regizorul Martin Scorsese după nuvela omonimă a grecului Nikos Kazantzakis (autor al lui Zorba grecul), anulat inițial de studiourile Paramount și reluat cu jumătate de buget de Universal, care a dus la proteste de stradă și excomunicări, ne prezintă o viziune "alternativă" asupra vieții lui Iisus, care este văzut și dintr-un punct de vedere mai puțin fundamentalist, demn de rațiunea umană, care poate să treacă de fervoarea psihotică religioasă și să pună întrebări sau să conceapă că o anumită "realitate" care ne este predicată cu obstinație de milenii poate să fie o minciună sau cel puțin o interpretare specioasă a unei realități care să nu aibă nimic comun cu cea autentică, istorică.
Dorința omului de a avea un sens în această lume aparent pierdută în imensitatea unui Univers rece și indiferent la soarta ființelor simțitoare au determinat generații întregi să susțină cu fanatism o simplă poveste "evanghelică", care nu este atestată în niciun fel de istoria reală, referitoare la existența și viața lui Iisus Hristos, pe care au ridicat-o la nivel de cuvânt al Domnului și adevăr absolut, deși chiar scrierile canonice sunt în mod evident pline de contradicții și erori, unele chiar de-a dreptul ridicole chiar și pentru un intelect mediu. Însă fervoarea cu care lumea creștină a impus timp de secole "litera de lege" a cuvântului evanghelic, evident trunchiat și scos din context, a generat urcarea la nivel de simbol a personajului christic, orice "atingere", chiar și sub forma unei întrebări sau ipoteze care să dea senzația unei ÎNDOIELI legate de versiunea oficială a acelor evenimente, fiind imediat socotită o blasfemie și o încercare de "terfelire" a lui Dumnezeu însuși.
Pentru mințile mai puțin scăldate în negura groasă a îndoctrinării religioase, filmul reprezintă un exercițiu imaginativ absolut minunat asupra trăirilor contradictorii ale unui om ridicat de semenii săi la rang de Dumnezeu cu mult după ce a fost omorât cu indiferență și chiar furie de aceeași semeni, și care surprinde în mod grandios ipocriziile, minciunile, inerțiile sociale și personale ale oamenilor și ale societății, tendințele și dorințele ce variază între limita de jos a mundanului și cea de sus a divinului. Focalizarea excesivă pe faptul că personajul Iisus este văzut mai mult ca un om contradictoriu și ezitant, de fapt chiar așa cum îl prezintă chiar evangheliile canonice și anatemizarea relației sale cu Maria Magdalena, ne arată că și la milenii distanță de acele presupuse evenimente mințile noastre operează mai mult cu imagini iconoclastice și percepții gata formate de propaganda religioasă decât cu concepte reale și ipoteze raționale prin care să încercăm să înțelegem adevărul sau o formă mai puțin "edulcorată" a realității acestei planete.
Alegerea dintre firele de realitate alternative a lui Iisus de a urma "traseul christic", în detrimentul celui personal, prin întemeierea unei familii alături de Maria Magdalena, în care fir narativ ni se arată că oricum legenda morții și învierii sale era prezentă fără să se desfășurat și în realitate, ne indică o încercare mai mult de a lua în propriile mâini o "realitate" care oricum ar fi fost prezentată în același mod umanității de forțe mult mai mari și complet neinteresate de "realitatea factuală". După mine o încercare de a trăi în mod personal o experiență și un destin pe care dorea cu disperare să nu îi fi fost impus, urcarea pe cruce și parcurgerea etapelor "evanghelice" reprezintă și în film expresia unei neputințe conceptuale momentane de a spune în clar și fără frică faptul că din ce în ce mai mulți vedem cu proprii ochi și cu propria minte că timp de secole ni s-a furnizat și predicat o poveste "fantastică" care a condus la prăbușirea umanității în întunericul deplin al Evului Mediu și ale căror "valori" ne caracterizează existența la nivel de mental colectiv și valori sociale chiar și în ziua de astăzi.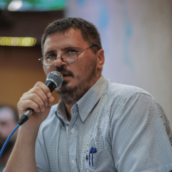 Bogdan Brumă
Bogdan Brumă, născut în Botoșani, a absolvit ca șef de promoție liceul Economic în anul 1995. Olimpic național la disciplina filozofie, a continuat studiile la Facultatea de Filozofie din Iași și apoi la Facultatea de Psihologie și Științele Comunicării din București. A fost consilierul personal al ministrului culturii și cultelor, dl. Răzvan Theodorescu pe probleme de imagine și comunicare, coordonând activitatea de Relații Publice și Comunicare a Ministerului Culturii. Activitatea desfășurată în această poziție a fost apreciată prin decorarea sa cu Ordinul Meritul Cultural de către Președintele României. După anul 2004 a înființat propria firmă de Relații Publice și Publicitate, acordând în același timp atenție și zonei de dezvoltare personală, devenind instructor de AIKIDO și coordonatorul unor proiecte culturale diverse. Printre acestea se numără și activitatea de traducător, care s-a concretizat la Editura Herald prin apariția cărților Zen-Poarta Autentică, de Koun Yamada (lansată oficial în cadrul târgului de carte Gaudeamus 2015), În căutarea Ființei, de G.I. Gurdjieff (2016), Realitatea Ființei, de Jeanne de Salzmann (2016), editor pentru Acționează cu dragoste (Herald 2017), Tulburarea de Spectru Autist (Herald 2017), și traducător al cărții Experiența Vidului de Sri Nisargadatta Maharaj pentru Editura Mix (2017). Traducător al operei principale a lui G.I.Gurdjieff, "Povestirile lui Belzebut către nepotul său", este interesat de realizarea unui cadru în care oamenii să își poată depăși limitările și să își poată dezvolta abilitățile de comunicare cu sine și cu ceilalți.