O de la Orgasm: Fericire autentică și orgasm mimat?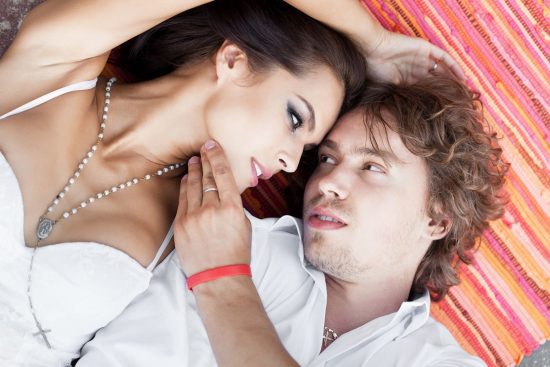 Să ai orgasm în timpul sexului este un bonus pentru femei, nu un scop în sine. Pentru bărbați însă, este premiul pe care îl vânează. Oare putem împăca așteptările și fără să mimăm?
Citește și:
O de la Orgasm. Când lui nu-i place cunnilingus
O de la Orgasm. De ce e atât de plăcut orgasmul? Pentru că seamănă cu spasmul epileptic
Când ne gândim la toate lucrurile pe care Mama Natură le-a dăruit sexului frumos, ne simțim cu adevărat recunoscătoare. Printre ele trebuie menționat orgasmul, această necunoscută învăluită în mister din ecuația erotică a relațiilor.
Poate că ceva din acest mister s-ar mai disipa, dacă bărbații ar urma un curs de biologie și ar înțelege dinamica fizică și chimică ce ne tulbură mințile. Spre deosebire de orgasmul masculin care are alura unui vulcan pe cale să explodeze, la noi lucrurile se desfășoară mai ceva ca în spatele ușilor de la guvern.
Adică acțiunea are loc mai degrabă behind closed doors și dacă nu știi pe ce butone să apeși, părăsești scena destul de repede lăsând o femeie nesatisfacută, furioasă și gata de protest.
Sexul, o nevoie sau o dorință?
Psihologii au identificat un numar elaborat de nevoi psihologice, dar în realitate acestea pot fi reduse la patru forme fundamentale: securitate, stimă de sine, autonomie și conectare.
Există în modul de abordare al relațiilor diferite tendințe care ne afectează uneori în mod profund viețile intime.
Bărbații au tendința de a presupune că sexul este o nevoie, indiferent de la cine și cum o obțin. Femeile au tendința de a presupune că sexul nu poate fi decât o formă de intimitate sau dragoste. Ambii greșesc, iar locul unde presupunerile se ciocnesc cel mai delicat este în dormitor.
Poate că sexul nu este o nevoie de bază, dar este baza unei relații sănătoase și mature. Iar a fi capabil să vorbești despre dorințele și comportamentele erotice este premisa autenticității și longevității acesteia.
Sex, the city and the orgasm
O problemă care îi împiedică pe cercetători să afle mai multe despre psihologia femeilor care mimează orgasmul este că un astfel de studiu se bazează pe declarațiile persoanelor despre niște comportamente față de care au  – cu o mare probabilitate –  sentimente absolut contradictorii. Suntem contruiți în așa fel încât să mințim în legătură cu lucrurile care nu ne fac să ne simțim bine în pielea noastră.
Un studiu american menționează faptul că o treime dintre femei mimează orgasmul. Șansele sunt ca 1 din 3 femei care citesc acest articol chiar în acest moment să fi simulat orgasmul cu partenerul lor azi dimineață în pat.
Și bărbații fac același lucru, dar asupra lor atenția e mai puțin focusată, deoarece orgasmul e mai ușor de obținut și mai greu de simulat. Noi femeile suntem mai imprevizibile și ne manifestăm ambiguu, pe când partenerii noștri sunt mult mai transparenți în exprimarea lor fiziologică, dar și comportamentală.
Din toate studiile prezentate pe acest subiect, ce mi-a atras cel mai mult curiozitatea a fost faptul că femeile tind să simuleze orgasmul mai degrabă în relațiile de lungă durată și cu parteneri stabili, decât în cele ocazionale.
Poate că în cazul one-night-stand-urilor ne dezbrăcăm cu viteză nu doar de haine ci și de inhibiții și propriile limite, permițându-ne să simțim în mod natural o plăcere asumată. În cuplu, unde intimitatea și iubirea sunt miza esențială, este mai dificil să ți-l imaginezi pe Channing Tatum chiar de fiecare dată când faci sex cu partenerul tău…
Cu alte cuvinte, cei care aleg să se prefacă nu o fac pentru că în general sunt mai puțin capabili de a resimți plăcerea intens, ci pentru că în acel moment, fie nu au fost capabili, pregătiți, dornici etc, dar nu au putut să recunoască acest lucru din varii motive, explicate mai jos.
Motivele?
Cam aceleași la ambele sexe: să se termine mai repede partida de sex, deoarece unul din parteneri realizează că orgasmul nu e pe cale să se întâmple, sau pentru că interesul și energia în actul sexual s-au epuizat.
Diferența dintre sexe? Când un bărbat mimează, sexul s-a încheiat. Cand o femeie o face, se întâmplă acest lucru ca să-i atragă atenția acestuia să finalizeze și astfel sexul să se încheie.
Iar cel mai interesant este faptul ca ambii parteneri o fac ca să protejeze sentimentele celuilalt. Cu alte cuvinte, este vorba de emoție și nu de  acțiune. Ca de obicei, logica emotională primează într-un context biologic.
Totul se reduce la Ego, mai ales în privința femeilor care presupun, în mod eronat, că egoul masculin este mai fragil și nu ar tolera o asemenea jignire, precum incapacitatea de a oferi partenerei lor plăcerea.
Dar poate că totuși explicația evolutionistă în această situație are și ea un scop. Studiile recente oferă informații despre logica acestui comportament: femeile mimează orgasmul mai mult atunci când se simt amenințate și se tem că partenerul lor ar dori să părăsească relația.
Studiile ne vorbesc despre orgasm ca facilitator al concepției. Pe durata orgasmului, anumiți hormoni se eliberează, apar contracțiile, schimbările interne, toate fiind elemente care facilitează concepția.
Un orgasm real semnalizează masculului ca sperma sa a fost aleasă pentru fertilizare, astfel că se reduce dorința lui de a zbura din floare în floare. Același lucru este valabil și în cazul orgasmului fals.
Descoperirile despre motivele simulării oragsmului nu scutură deloc lumea din temelii. Atât în societate cât și în rețeaua socială personală, oamenii mint zi de zi și folosesc minciuna ca pe un mecanism de interacțiune.
Cu toate acestea, când e vorba de știință, minciunile dezvăluie informații interesante. Când mințim, fără voia noastră, dezvăluim adevaratele noastre așteptări și schemele/scenariile sociale care ne structurează comportamentele și dorințele.
Dacă faci asta ca să atingi un anumit scop, de exemplu să încetezi partida pentru că nu poți comunica direct acest lucru, atunci realizezi că nu ai o relație onestă, și că tu și partenerul tău aveți o așteptare comună, aceea că orgasmul înseamnă încheierea partidei. Ceea ce, într-o viață sexuală armonioasă și echilibrată, nu este întotdeauna  – complet – adevărat.
Scenariile sociale ale sexului
Alte adevăruri care ne incomodează relația au legătură cu faptul că manifestăm comportamente care nu sunt libere, spontane sau arbitrare. Sunt dictate de reguli puternice, de moravuri și obiceiuri sociale achiziționate pe parcursul socializării.
Dinamica noastră în acest spațiu social este concepută conform unui scenariu. Chiar și în dormitor ne comportăm conform unui scenariu, numit "scenariul atracției sexuale și al orgasmului" care integrează norme sociale generale alături de preferințe personale bazate pe experiențe și pe temperament.
Dacă pe mine mă tulbură în mod deosebit atunci când partenerul îmi mușcă degetele de la picioare, acest scenariul va deveni la nivel cognitiv o schemă mentală asociată cu orgasmul pe care voi căuta să o repet de câte ori este posibil.
Oricât de mult ai crede că scenariul vieții tale este spontan și arbitrar, sau original, în realitate, este direcționat și bazat pe un sistem subteran de reguli și obișnuinte. Felul în care mimăm orgasmul ne oferă o privire mai profundă.
O mică parte din acest scenariu contemporan ne spune că o femeie trebuie să atingă orgasmul înaintea bărbatului. Această așteptare poate avea consecințe, iar o femeie care simte că bărbatul urmează să finalizeze se va simți obligată să mimeze orgasmul ca să mențină acest script, deși în realitate, renunță la momentul său de glorie.
Adaugă la asta scenariul conform căruia bărbatul nu trebuie să termine înaintea femeii, că trebuie să fie pregătit de sex oricând și oricum, și să aibă erecție la comandă… și întelegeți dilema?
Un bărbat care recunoaște sincer că nu are chef de sex, își va pune în pericol propria masculinitate, așa cum o femeie care nu are orgasm nu se va simți complet femeie, iar imaginea de sine în privința propriei sexualități va avea de suferit, declanșând frustrări care se vor manifesta agresiv în alte momente sau zone ale vieții…
De Mariejeane Rizea
Psiholog clinician, consilier de cuplu, copil si familie
Tel.: 0744.817.136
Foto: 123rf.com