GLAMOUR de februarie: tendințele primăverii în avanpremieră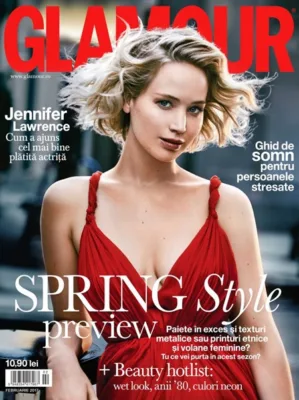 Descoperă în avanpremieră tendințele de fashion și beauty ale sezonului de primăvară-vară 2017 în numărul de februarie GLAMOUR!
Trenduri și colecții noi, cele mai eficiente produse de beauty, dar și cele mai cool locuri din București, povești ale femeilor care ne inspiră și un interviu excelent cu cel mai bine plătită actriță a momentului: Jennifer Lawrence.
Toate acestea te așteaptă în paginile numărului de februarie GLAMOUR, din 20 ianuarie la punctele de distribuție a presei.
Jennifer Lawrence, vedeta de pe coperta ediției de februarie, povestește despre cum și-a dobândit încrederea în sine, despre prietenie, presiunile de la Hollywood și ce înseamnă intimitatea într-o lume a internetului și rețelelor de socializare.
Vei găsi în paginile revistei informații vitale pentru lunile care urmează: produsele care îți vor reda luminozitatea tenului dar și cele mai râvnite noutăți pentru un make-up glam.
Nu rata nici sfaturile lui Eduard Dăbîcan: specialistul nostru din această lună îți va răspunde la toate întrebările despre cum îți poți ajuta părul să depășească provocările iernii.
Răsfoiește secțiunea de Glamourisme și inspiră-te din fotografiile realizate de Peter Lindbergh pentru Calendarul Pirelli 2017, cu 12 femei (11 dintre ele de la Hollywood) care nu cred în tinerețe veșnică și perfecțiune.
Citește despre cea mai nouă editură românească, proiectul a trei femei îndrăznețe și elegante.  Și urmărește în timp real revoluția din modă: află detalii despre fenomenul see now, buy now.
Apoi te îndemnăm să îți alegi un trend actual: fie stilul atletic sau cel clasic. Ce va fi? Un hanorac cu cercei supradimensionați sau un costum à la Jackie Kennedy.
Dacă nu te tentează niciuna, go big și ia drept exemplu nemuritorul stil al lui Lady Di, o adevărată sursă de inspirație pentru designerii acestui sezon.
Până se ivesc primele adevărate raze de soare și vom putea purta topurile pe care le-am pierdut prin dulap, ne aducem aminte de trendurile care vor rămâne întotdeauna în preferințele designerilor: tartan&tweed, cele mai cool pulovere tricotate sau piesele din vinil.
Poate că a nins mai târziu, dar iată că am avut ocazia să ne inspirăm look-ul din spiritul alpin și să facem cele mai jucăușe combinații: puloverul tricotat cu cea mai lejeră fustă midi.
Dar dacă îți dorești o apariție mai îndrăzneață, mergi pe mâna vinilului. Ce arată mai bine decât o fustă din piele lăcuită și o cămașă în carouri?
Dacă tot vorbim de materiale cu farmec etern, ne întoarcem la dragostea noastră: denimul.
Pictorialul acestui număr, realizat de Oana Vasilache și Tibi Clenci, vine cu o provocare: cum creezi ținute din denim care să întoarcă toate privirile?  You just have fun with your jeans! Găsești idei inspirate în shootinul Cool Denim. 
Iar pentru că dorim să-ți dăm de gândit până ne revedem luna viitoare, Alexandra Buligescu mărturisește toate motivele pentru care nu s-ar mai întoarce în adolescență: 30 este noul 30, spune ea și noi suntem categoric de acord!
Și pentru că atunci când schimbi prefixul, se înmulțesc responsabilitățile, ți-am pregătit un ghid de somn: 10 pași care îți vor aduce odihna meritată.
Probabil că te-ar ajuta și curățenia de primăvară. Ia calea noii ordini și scapă de lucrurile care nu îți mai trebuie, cu ajutorul trucurilor noastre din secțiunea Living. 
Revista ta preferată te așteaptă la toate punctele de distribuție, începând cu 2o ianuarie, la prețul de 10,90 lei!