Supliment special VIVA! dedicat victimelor tragediei de la Colectiv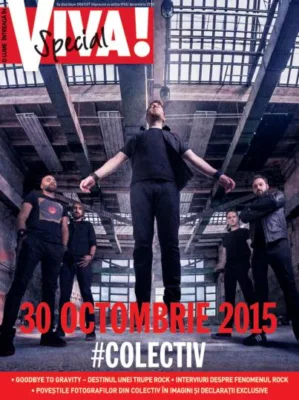 Cu totii am fost afectati de tragedia de la Colectiv. Am trait, pe rand, spaima, durere, compasiune, neputinta, indignare, ura, revolta.
Am ramas muti in fata curajului lui Adrian Rugina si Claudiu Petre care au salvat vieti sacrificandu-si-o pe a lor, i-am multumit lui Adrian Despot care a scos cu mainile lui oameni din flacari. Apoi am dat vina pe soarta, coruptie, sistem, lipsa de profesionalism, nepasarea autoritatilor si a noastra.
In tot acest timp, familiile si prietenii celor care nu mai sunt cauta o mangaiere si un raspuns si vor sa se faca dreptate, iar cei care se afla inca in spitale au rani fizice si psihice greu de vindecat…
Tot acum, co-CEO-ul celebrei companii Oracle, Safra Catz, una dintre cele mai puternice femei din lume, a venit special in Romania pentru a oferi sprijin familiilor angajatilor afectati de incendiu.
Prin suplimentul special realizat, se aduce un omagiu trupei Goodbye to Gravity si artistilor fotografi prezenti la concertul lor de lansare.
Marturiile si interviurile prietenilor lor demonstreaza ca avem de-a face cu oameni speciali, pasionati de munca lor.
https://www.youtube.com/watch?v=5k8wYLwkrdw
Pentru cei aflati in proces de recuperare, conturile deschise special pentru ei va stau la dispozitie in paginile acestui supliment.
De asemenea, Universal Music Romania a anuntat ca va dona victimelor tragediei toate incasarile obtinute din vanzarea albumelor Goodbye to Gravity – "Mantras of War" si Up to Eleven – "Ce simti".
Pe colectiv.info, gasesti toate informatiile prin care poti sa ajuti sau sa fii ajutat, inclusiv sprijin financiar sau consiliere gratuita.
Foto coperta: STEFAN DAN / UNIVERSAL MUSIC ROMANIA
Suplimentul #colectiv apare in data de 4 decembrie impreuna cu revista VIVA! decembrie