Postul și sănătatea fizică, mintală și spirituală

Sănătatea, așa cum a fost definită începând cu 1946 de Organizația Mondială a Sănătății, este "Bunăstare completă fizică, mintală și socială și nu doar absența bolii sau infirmității." [1]
Ulterior, realizând necesitatea includerii în această definiție a celei de-a patra dimensiuni, cea spirituală, OMS propune o amendare, în 1998, astfel: "Sănătatea este o stare dinamică de bine fizic, mintal, spiritual și social și nu doar absența bolii sau infirmității."[2]
Saltul făcut de umanitate prin această nouă definiție reflectă evoluția rapidă a omului din aceste decenii, conștientizarea complexității întregului care este omul.
Dar ce este sănătatea spirituală? În scopul acestui articol, ne vom opri la definiția[3] propusă de National Institute of Health and Family Welfare, New Delhi, India = Sănătatea spirituală este o stare de a fi în care individul se poate descurca cu viața de zi cu zi într-o manieră care conduce la realizarea întregului său potențial; sensului și scopului vieții; și fericirii din interior."[4]
Definițiile sunt bune în măsura în care le găsim aplicare în activitățile noastre zilnice. De aceea merită să luăm un exemplu și, în această perioadă, ne-am oprit asupra postului.
O practică – la modă, ar spune unii – a cărei includere în viața noastră reflectă, în mod divers:
–  nevoia de apropiere de ceva care este mai presus de înțelegerea noastră
–  dorința unui stil de viață sănătos din perspectiva alimentației
–  o speranță în confruntarea cu anumite boli
–  un mod de a găsi un echilibru în abundența alimentară absurdă din anumite părți ale lumii
–  o cale directă și profundă de autocunoaștere și deschidere spirituală
Cum anume putem folosi, în mod conștient, această practică ce ne poate aduce multe beneficii? Iată o secvență utilă, indiferent dacă te afli la început sau ai experiență în practicarea postului.
Înainte de toate, merită conștientizat care este scopul lui
–  fizic? Cu alte cuvinte, are legătură cu o nevoie de a fi mai sănătos fizic și mintal?
–   mintal? Cu alte cuvinte, are legătură cu o nevoie de "așezare" a minții într-un spațiu mai simplu, eliberat de pofte? Un spațiu care permite auto-cunoaștere în profunzime?
–   social? Cu alte cuvinte, are legătură cu nevoia de a fi în mijlocul unui grup de oameni cu același interes?
–   spiritual? Cu alte cuvinte, are legătură cu nevoia de a căuta ceva care este mai presus de înțelegerea omului?
Desigur, postul poate include toate aceste scopuri. Dar, în funcție de etapa de viață în care ne aflăm, unul dintre ele va predomina.
Apoi, odată așezat scopul principal pentru care practicăm postul, merită să luăm în considerare cele trei arii propuse de OMS în aprecierea sănătății:
–    alimentația
–    mișcarea
–     somnul
 Cu alte cuvinte, în ce măsură practica postului ne ajută în:
–   a ne hrăni mai sănătos prin alegerea alimentelor potrivite
–   a ne activa corpul prin alegerea mișcărilor adecvate perioadei de post
–    a ne îmbunătăți calitatea somnului prin alegeri conștiente îndreptate spre odihnă fizică și mintală
Fie că practici postul intermitent sau cel negru de 1 zi sau mai lung, răspunde-ți la întrebările de mai sus și cu siguranță vei simți o aliniere interioară și o așezare conștientă în acest demers al tău de mare valoare. Succes și pe curând! 
[1] "A state of complete physical, mental, and social well-being and not merely the absence of disease or infirmity."
[2] "Health is a dynamic state of complete physical, mental, spiritual and social well being and not merely the absence of disease or infirmity."
[3] https://www.ncbi.nlm.nih.gov/pmc/articles/PMC3263147/
[4] Spiritual health is a: State of being where an individual is able to deal with day-to-day life in a manner which leads to the realization of one's full potential; meaning and purpose of life; and happiness from within.
"Am scris acest articol deoarece, atunci când m-am apropiat mai mult de practica postului, pierdusem persoane dragi, a căror prezență îmi completa frumos viața; nu mi-a fost ușor și, în plus, nu aveam explicații pentru alegerile mele. Am descoperit, în acea perioadă, că nu mâncam mai nimic, dormeam 2-3 ore pe noapte și cu toate acestea eram activă în mod obișnuit. Acest lucru m-a surprins și m-a ajutat să mă deschid către gânduri, trăiri și comportamente noi, legate de dimensiunea spirituală a sănătății și existenței noastre. Am înțeles lucrurile de mai sus înainte de toate trăindu-le dar am avut nevoie de ani de zile ca să le așez cu sens în experiența mea. Sper ca reperele de mai sus să fie de ajutor tuturor celor care se află în căutarea propriei stări de sănătate și vitalitate."
Lucia Popescu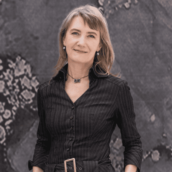 Lucia Popescu
Lucia este Psihoterapeut, Coach, Trainer NLPt. Este singurul specialist din țară care a parcurs formarea Health Certification Training sub îndrumarea lui Robert Dilts, Suzi Smith, Tim Hallbom, discipoli ai binecunoscutului Milton Erickson. Interesul ei față de educație și sănătate a condus-o la crearea mai multor cursuri și programe de dezvoltare pentru tinerii și adulții care își doresc bună(-)stare prin a trăi autonom, conștient, sănătos, contribuind activ la bunăstarea lor și a celor din jur.