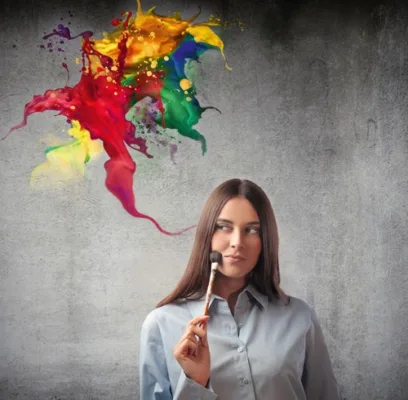 Cand eram mici, construiam avioane sau castele din te miri ce! Apoi am scris niste versuri sau am pictat in acuarela ceva ce credeam ca ne va duce pe drumul drept spre o cariera de mare designer vestimentar. Apoi am devenit ingineri, medici, profesori. Intre timp, ne-am pierdut creativitatea… De ce?
Chiar asa, de ce? Copiii sunt aproape toti foarte creativi. Decupeaza, desfac ceasuri vechi si diverse alt mecanisme, le reasambleaza, traiesc povesti cu printi si cu printese. Baietii creeaza propriile lor scenarii pornind de la roboteii-jucarie, fetele – de la papusi. Copiii deseneaza cu un chef nebun, mototolesc plastilina, fac si desfac. Se joaca si in aceasta joaca isi exerseaza creativitatea, inainte ca scoala sa ii structureze, sa ii cuminteasca si sa ii calmeze, punandu-i pe drumul sigur al rentabilitatii de care va fi nevoie cand vor fi oameni mari…
De ce nu mai suntem creativi?
In general, asociem ideea de creativitate cu cea de artist, de scriitor, designer vestimentar etc. Dar e fals: creativitatea e necesara in toate domeniile vietii si mai sunt insi care raman creativi. Ca manager, de exemplu, e necesar sa fii prezent si inventiv atunci cand esti responsabil de un produs, de vanzari…
Nu v-ati gandit vreodata la tehnici creative de vanzare, de persuasiune, fortati fiind de inertia celor cu care dialogati? Suntem creativi cand inventam o noua reteta de prajitura, cand inventam un joc nou pentru a-i stimula pe copii sau cand rezolvam o problema de matematica de gimnaziu altfel decat facand uz de teoremele cele mai la indemana.
Tot ceea ce iese din tiparele zilnice, din rutina, ceea ce pune sub semnul intrebarii lucrurile batute in cuie, necesita (si uneori are parte) de o gandire creativa. E acea faimoasa gandire outside the box, doar ca ceea ce nu stie lumea e ca, cel mai adesea, gandirea outside the box e teribil de greu de obtinut (asta, daca nu ai ceva antrenament).
Just Do It
Creativitatea ar trebui sa fie ceva placut. Altfel nu suntem motivati sa ne apucam de un text nou de fictiune (sa zicem ca mai scrii in timpul liber, dupa ce se culca copiii), de pictat ceva sau de zdranganit la chitara din studentie vreun refren nou. Numai ca, din pacate, in perioada dintre copilarie si varsta adulta invatam sa ne cenzuram. Si asta ne face mult mai putin inclinati spre a da frau liber impulsului de a crea ceva.
Ellen Langer este profesoara de psihologie la Harvard iar in timpul liber este o pictorita pasionata. Picteaza cu placrere, isi expune tablourile in care catelul ei, personajul care ii pozeaza cel mai des, e destul de frecvent reprezentat in 2D, desi poate ca intentia artistei era una mai realista.
Dar, cu umorul ei caracteristic, Ellen Langer face o pledoarie convingatoare pentru joc: "Angajamentul creativ si complet in ceea ce facem este raspunsul natural al omului in fata lumii. Este experienta pe care o avem atunci cand ne jucam", scrie ea in cartea On Becoming an Artist.
Cu alte cuvinte, apuca-te de cantat, de pictat sau de scris romanul acela la care te tot gandesti de ani de zile si nu mai adasta. Lasa deoparte autocenzura si da-ti drumul. Vei regasi placerea copilului care creeaza spontan, fara grile de evaluare (pe care le va deprinde mai tarziu si de care nu va mai scapa usor), iar starea de spirit ti se va imbunatati considerabil.
Asta, pentru ca a crea ceva ne da sens in viata. Sigur, nu e obligatoriu sa fim toti poeti sau pictori, dar sa inventam ceva nou zi de zi, la orice nivel, putem si poate fi foarte nostim. Dar cum? Dupa ani de zile de cenzura a scolii (care ne spune ca matematica e mai utila si mai importanta decat desenul, si lasam desenul deoparte, desi ne placea…), sau de autocenzura ("sunt om matur, ce sa ma apuc eu acum de pictat…"), nu e deloc simplu.
Tot Ellen Langer vine cu cateva idei: sa invatam sa privim din nou, cu toata curiozitatea, sa contemplam cateva minute bune ceva peste care trecem nepasatori (o frunza minunata), cu alte cuvinte, sa ne antrenam perceptia mai bine. Sa observam lucruri noi, sa lasam deoparte ideile primite, ochelarii prin care privim lumea de ani de zile.
De exemplu, daca te gandesti de ceva vreme sa te apuci de scris pentru ca simti ca ai ceva de povestit, dar ai pierdut motivatia si te indoiesti ca forma ar fi la inaltimea fondului si a mesajului, aminteste-ti de procedeele scriitorilor favoriti si incepe prin a le imita stilul, pana cand iti vei gasi vocea proprie. Nu e nicio rusine, cata vreme e doar un exercitiu.
Important e sa deblochezi creativitatea care e in tine si care iti poate aduce un plus de bucurie in viata. Ceea ce Ellen Langer numeste mindfulness, este atentia acordata contextului, adoptarea altei perspective asupra lucrurilor (chestie valabila si in viata de zi cu zi, e mereu util sa ai si o alta perspectiva asupra unei situatii, altfel de ce ar cere oamenii parerea altcuiva?).
Sa public, sa nu public…
Poate vrei sa iti vezi "numele adunat pe o carte". Validarea sociala a productiilor noastre este, pana la urma, scopul. Nimeni nu scrie cu adevarat "pentru sine". Din copilarie ne dorim sa fim vazuti, apreciati, laudati pentru desenele noastre sau pentru orice alta productie proprie. Alt mare nume in domeniul psihologiei creativitatii, Mihaly Csikszentmihalyi, spunea ca valoarea se naste din interiorizarea intregului background cultural, care iese la suprafata in propria creatie si ii da valoare. Cu alte cuvinte, ca sa fii sigur ca scrii poezie buna, citeste multa poezie. Daca vrei sa sculptezi ceva expresiv, priveste multe opere de gen. Si tot asa.
Cateva idei
Apuca-te de scris, de pictat sau de orice te trage inima sa faci, fara mula amanare.
Nu te lasa intimidat de ganduri precum "nu cred ca pot scrie ceva de calitate…". Nu stii, pana nu vezi ce iese.
Nu te lasa intimidat de lipsa de inspiratie. Poti fi in the mood intr-o zi sau nu. Mari scriitori se plangeau mereu de inhibitia in fata foii albe.
Da-ti timp sa observi, sa vezi lucrurile altfel. Renunta la ideile primite.
Greseste fara frica. Numai cine nu incearca, nu greseste. Greseala inseamna informatie. Vei sti ce sa eviti. Uneori, greseala, accidentul (o tusa mai groasa etc.) inseamna o alta linie de creatie, duce spre alt rezultat, care poate fi la fel de interesant.
Reevalueaza. Priveste atent lucrurile marunte si fara importanta si descrie-le.
Descrie acelasi lucru cu alte si alte cuvinte. Exerseaza si schimba perspectivele.
Citeste mai mult pentru ca arta altora sa o structureze pe a ta, pana cand iti vei gasi "vocea". Viziteaza muzee, expune-te cat mai mult la forma de arta pe care o preferi.
Uita, o perioada, de orice evaluare. Scrie, scrie, scrie (sau picteaza etc.).
Fii disciplinat/a. Exerseaza scrisul, desenul etc. macar o ora pe zi.
Gaseste-ti un grup cu acelasi pasiuni. Nimic nu motiveaza creativitatea decat competitia cu cei care au aceeasi sensibilitate si, respectiv, evaluarea pozitiva a acestora.
Trateaza creativitatea ca pe un joc. Aminteste-ti de placerea din copilarie atunci cand modelai ceva. Cata vreme nu iei lucrurile prea in serios, ele raman placute, gratuite, dau senzatia de libertate.
Schimba uneori mediul, calatoreste. Schimbarea mediului ne reordoneaza informatia din cap si poate da inspiratia peste noi.
Ai incredere in tine, in ceea ce ai de spus, in "vocea" pe care o vei gasi la un moment dat. Nu te lasa intimidat de critici, ia-le ca pe informatie utila, dar nu renunta. Creativitatea cere si ea efort, ca orice altceva e bun in viata.
…si nu uita ce spunea Ellen Langer: "Orice talent nu e decat o abilitate anume, insa bine si indelung exersata".
Iuliana Alexa
Iuliana Alexa a fost redactorul-sef al revistei Psychologies de la aparitia primei editii a revistei până în anul 2019. Iuliana a absolvit Facultatea de Litere si este coach.