Dan Negru: "The Floor" după succesul din Spania, urmează România!
"The Floor", formatul internațional de succes de care se vor bucura și românii, la Kanal D, s-a lansat recent, cu succes uriaș, în Spania. Purtând semnătura creatorului unor formate legendare precum "Big Brother" și "The Voice", John the Mol, acest show este o combinație puternică de entertainment și test de cunoștințe generale,  într-un platou cu totul spectaculos. O competiție unu la unu, în care concurenții își pun la bătaie cunoștințele și spontaneitatea, sub presiunea timpului.
Difuzat la televiziunea spaniolă Antena 3, show-ul "The Floor" a captivat publicul încă de la prima ediție, cumulând cifre impresionante și poziționând stația ca lider de audiență pe toate targeturile monitorizate. Lider incontestabil de piață, televiziunea spaniolă s-a clasat pe primul loc pe podiumul audiențelor, la o diferență foarte mare de următorul clasat, de 8,2 puncte de rating.  Pe parcursul difuzării primei ediții, show-ul a crescut spectaculos în audiențe, de la 14,5% cota de piață la 19,3% cota de piață la nivel național. Cifrele au fost considerate un adevărat record pe piață de televiziunea spaniolă.
Cel mai așteptat show, "The Floor", se pregătește să cucerească și publicul de la Kanal D, avându-l ca prezentator pe Dan Negru, un adevărat maestru de ceremonii al quiz-urilor de succes. Castingul pentru emisiunea televizată, de la Kanal D, este acum în plină desfășurare și toți cei interesați să participe la show-ul televizat și să câștige premiul de 50.000 de lei pus la bătaie sunt invitați să se înscrie pe pagina 
casting.kanald.ro
 .
"The floor este nouă fiță în televiziunea europeană, în televiziune mondială, așa că pe noi ne bucură mult că spaniolii au avut incredere în acest format TV. Spaniolii se aseamănă cu noi mult cu privire la gusturile de televiziune.  Mă bucură mult că noi, cei de la Kanal D, venim pe acest trend european, cu Jocul cuvintelor, The Floor, Tu urmezi!. Sunt produse care caută publicul de calitate pentru că noul slogan în televiziunea mondială spune că este mai importantă calitatea decât cantitatea; noua cantitate este calitatea", a spus Dan Negru.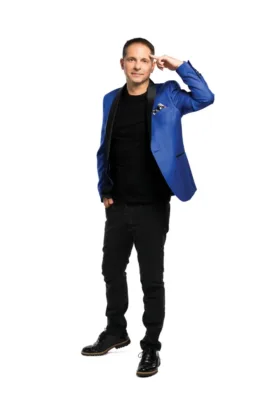 Cât de simplu este să câștigi
Combinație de test de cunoștințe generale și spectacol de televiziune, formatul va aduce în competiție câte 49 de concurenți pentru un joc complet, derulat pe parcursul a patru ediții. Mecanismul show-ului cucerește prin simplitate, dar și prin accesibilitatea domeniilor, fiecare concurent își alege pentru careul sau domeniul la care se pricepe cel mai bine (exemple: corpul uman, georgrafia României, cinema, actori, plante, univers, animale sălbatice etc). Mecanismul jocului este foarte simplu, iar competiția se desfășoară unu la unu.
Un concurent selectat aleatoriu de pe The Floor, deschide jocul alegând-ul pe unul dintre adversarii vecini pentru a se confrunta cu acesta într-un duel al cunoștințelor, în categoria adversarului. Concurentul selectat random și oponentul merg la pupitrul prezentatorului și acolo are loc duelul cunoștințelor, contratimp.
Pe un ecran se succed fotografii ilustrând elemente din domeniul de competiție, iar cei doi competitori identifică, pe rând, sub presiunea timpului, ceea ce văd în fotografie. Concurentul cu cele mai multe răspunsuri corecte oferite până la expirarea timpului câștigă runda. Acesta preia careul învinsului și alege mai departe pe unul dintre concurenții vecini, cu tot cu domeniul acestuia. Și jocul continuă astfel, în domeniul celui ales.
Scopul fiecărui concurent este acela de a cuceri întreaga podea cu răspunsurile corecte la întrebări şi de a obţine marele premiu. Concurenții se duelează pe parcursul unui joc complet, derulat în patru ediții de emisiune, la capătul cărora doar unul dintre concurenți devine stăpânul The Floor și câștigătorul celor 50.000 de lei. De asemenea, la fiecare ediție există un câștigător care intră în posesia unui premiu de 5.000 de lei.
Nu mai este mult până show-ul își va dechide porțile și în România, la Kanal D, nu pierdeți experiență de a deveni concurent în show-ul televizat, înscriindu-vă la casting, pe 
casting.kanald.ro
; este foarte simplu să câștigi dacă ai doi aliați: spontaneitatea și cunoștințele generale.  De asemenea, telespectatorii vor putea intra în atmosfera jocului din fața micilor ecrane, exersându-și cunoștințele și fiind alături de concurenții din emisiune.
Nu pierdeți în această toamnă, la Kanal D, "The Floor" format internațional prezentat de Dan Negru, care duce la un alt nivel modalitatea de a face quiz în România!