O sâmbătă seara în compania unei cărţi e mai bună decât o sâmbătă seara cu ceva pahare de alcool, cu o partidă mediocră de sex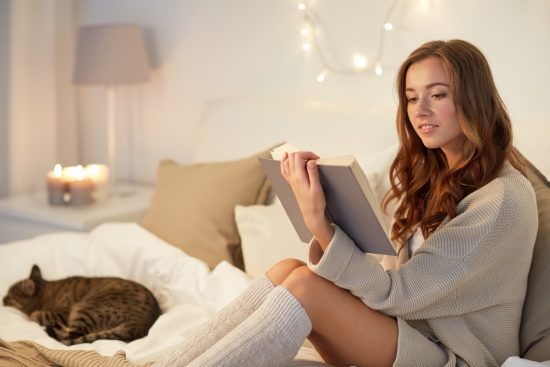 Am constatat că femeile sunt tot mai ieftine, iar bărbaţii profită de o partidă de sex oferită prea lejer. Am decis să vă scriu despre mâhnirea mea cu privire la aceste realităţi.
Citește și:
Chiar nu vreau să mă mărit! De ce să risc un divorț pentru un bărbat care acum îmi place, dar peste trei ani s-ar putea să nu?!
Mă bate pentru că este gelos și nu știu cum să îl fac să aibă încredere în mine…
Sunt o cititoare a revistei şi apreciez faptul că faceţi psihoeducaţie oamenilor. Că le spuneţi despre soluţiile pe care ei le pot găsi problemelor vieţii şi că îi învăţaţi ce e sexualitatea sănătoasă şi fără tabuuri. E foarte bine, oamenii au nevoie de aşa ceva.
Cu toate acestea, nu pot să nu remarc un fenomen social, care mă mâhneşte. L-am spus mai sus: femeile devin tot mai ieftine iar bărbaţii profită tot mai mult de asta. Sexul a devenit monedă calpă.
Ce mă face să spun aşa ceva? Faptul că văd în jur lucrurile astea. O fată de la mine din departament s-a cuplat cu un coleg, foarte bine. După 3 luni de relaţie, el i-a dat papucii.
Ea s-a cuplat cu alt coleg, cu care primul era prieten bun, poate ca să se răzbune. Primului nu i-a păsat nici cât negru sub unghie.
Răzbunarea ei a fost scurtă, pentru că o a treia a intervenit şi în doi timpi şi trei mişcări a rămas gravidă cu al doilea donjuan, deci el a luat-o de nevastă, şi colega mea de birou a rămas în afara cursei. Acum plânge în pumni şi vrea să plece la altă filială a băncii.
Ce vă spune vouă asta? Mie îmi spune, vorba lui Trahanache, că oamenii nu mai au prinţipuri. Nu zic, e bine că femeile sunt libere să se culce cu cine vor, nu asta e problema. Ideea e însă că ele tot aşteaptă o relaţie de la cel cu care se culcă.
Sunt puţine cele care cred că sexul se face de dragul sexului, fără obligaţii…. Iar după 30 de ani nu cred că nu vrea fiecare să se aşeze la casa ei. Pur şi simplu femeile nu sunt aşa, degeaba ni se spune că avem dreptul să ne culcăm cu oricine, că suntem egale cu bărbaţii, etc.
Suntem egale, şi?! Asta ne dă nişte drepturi, da, dar nu ne măreşte şansele la fericire nouă, femeilor. Ba chiar cred că această egalitate ne scade şansele la fericire.
De ce spun asta? Nu pentru că îmi doresc din nou drepturi îngrădite pentru femei, Doamne fereşte. Dimpotrivă, feminismul a câştigat nişte lupte necesare. Dar spun că ne scade şansa la fericire pentru că femeile nu au înţeles încă ce pot face ele cu aceste libertăţi.
Sigur că se pot culca cu cine vor ele, dar asta le aduce vreun folos? Orice femeie vrea, de fapt, să aparţină cuiva. Să nu îmi spună mie Ionela de la Contabilitate că ea vrea să aibă un palmares de Samantha din "Sex and the City"… Că nu o cred.
Mai ales că faima de femeie cu experienţă erotică nu dă bine la CV-ul social, orice am spune.
E ceva care îndepărtează oamenii, poate doar prietenii vechi şi care te cunosc să nu se simtă inhibaţi de o femeie prea …experimentată.  Să nu fim ipocriţi, una e ceea ce declară oamenii ("Noooo, nu mă interesează cu câţi şi-a pus-o aia") alta e ceea ce fac, felul cum reacţionează.
Mai cred că femeile renunţă prea uşor la demnitatea lor. Eu am o fetiţă de 7 ani şi când va mai creşte, am să îi spun aşa: "Draga mea, tratează-te pe tine aşa cum vrei să fii tratată de bărbaţii din viaţa ta. Dacă te vei trata cu lipsă de respect, dacă vei fi ieftină, băieţii vor simţi asta.
Dacă îţi vei ţine fruntea sus şi te vei trata ca pe o floare preţioasă şi rară, şi ei o vor face. Pentru că băieţii iau ce li se permite. Dacă le permiţi totul, e ca şi cum tu nu ai avea prea multe de oferit. În loc să fii o floare preţioasă şi rară, pari izma creaţă de pe marginea drumului."
Repet, cu asta nu vreau să spun că femeile nu au voie să se bucure de sexualitatea lor. Vreau doar să zic că există o diferenţă între a fi o femeie senzuală şi a fi ieftină.
Ieftină e o femeie care face sex doar pentru că există o presiune socială (şi aici îmi voi pune fata în gardă la adolescenţă, cu privire la presiunea de a-şi pierde repede virginitatea, şi îi voi spune că e bine să o facă atunci când se simte pregătită, pentru că sexualitatea vine la pachet cu vulnerabilitate, dăruire, emoţii, ataşament, şi e bine să aleagă băiatul care o iubeşte, eu aşa am făcut).
Ieftină e o femeie care aleargă după un bărbat sau altul ca să se mărite, se culcă cu cine apucă în speranţa că îl va convinge pe El să o aleagă pe ea.
Experienţa arată că nu se întâmplă astfel, fetelor dragi. Ci arată că bărbaţii iau ce li se oferă şi trec mai departe, pentru că ei nu apreciază darul.
Vă sfătuiesc aşa: gândiţi-vă dacă Ionel sau Georgică pe care aţi pus ochii chiar e un posibil partener pe termen lung. Studiaţi-i viaţa amoroasă şi comportamentul. Merge el din floare în floare? Dacă da, chiar credeţi că se va opri la floarea voastră?
Dacă vă doriţi de la Georgică doar o noapte de amor, nu e nimic rău în asta, dar asumaţi-vă consecinţele. Adică dacă veţi da ochii cu el la braţul altei flori nu veţi simţi gelozie? Regret că nu aţi fost cea aleasă?
Dacă răspunsul la aceste întrebări vă pune pe voi însevă pe gânduri, atunci mai bine staţi acasă sâmbătă seara, refuzaţi invitaţia la film sau la restaurant (unde e posibil să plătiţi nemţeşte, căci, mai nou, bărbaţii nu mai nici măcar acest cavalerism, să plătească ei nota de la întâlnire) şi citiţi o carte.
Staţi în linişte şi meditaţi la propria valoare. O sâmbătă seara în compania unei cărţi e mai bună decât o sâmbătă seara cu ceva pahare de alcool, cu o partidă mediocră de sex (că sincer acum, cine poate spune că sexul prima dată cu cineva e cel mai grozav?
De obicei e plin de jene, de inhibiţii, de temeri de genul: "O să fie bine, oare? O să-mi remarce celulita?"  – sau el, dacă are ceva grijă de parteneră, se va întreba dacă e la înălţime şi performează cum trebuie).
Revin: sunt în favoarea sexualităţii libere a femeilor. Să se iubească cu cine vor, cu condiţia să fie respectate. Sau termenii relaţiei să fie clari: Georgică, noi doi facem sex şi în afara relaţiei noastre, de acord?
Veţi fi suprinşi câţi de Georgică nu sunt de acord cu asta. Adică, la ideea că partenera e la fel de liberă ca ei strâmbă din nas. "Eu am voie, tu n-ai voie…"
Sunt în favoarea egalităţii în drepturi a femeilor cu bărbaţii, dar realitatea arată că aceste noi drepturi au consecinţe mai degrabă nefaste pentru ele. Poate că mai au nevoie de timp femeile să vadă ce pot face cu această libertate.
Biologic, bărbaţii care vor o familie vor alege cel mai adesea o femeie cu un comportament sexual mai conservator, mai cuminţică, pentru că îi sperie una prea experimentată şi pentru că strămoşii lor (din care ei au evoluat, iar creierul lor a păstrat această preferinţă) voiau astfel să se asigure că descendenţii, copiii rezultaţi, sunt ai lor, nu ai altor bărbaţi. Nu e o regulă generală, e însă ceva ce observ frecvent.
Cam asta am eu de spus fetelor şi femeilor. Şi le-aş mai spune că nu e nicio drama dacă le apucă 35 de ani nemăritate. Că pot face copii şi mai încolo dacă vor. Că au o valoare proprie, nu doar dacă sunt alături de un purtător de izmene.
Că respectul de sine e mai important decât respectul mamei, mătuşii sau vecinei care crede că dacă nu ai deja copii eşti o ratată. Nu mai e aşa.
Le-aş spune că bărbaţii sunt educaţi tot de nişte femei, de nişte mame. Şi că ele sunt responsabile să îi înveţe cum să se comporte cu o femeie (taţii sunt şi ei esenţiali, în felul cum o tratează pe mama şi băiatul învaţă astfel despre cum să trateze cu noua parteneră, dar experienţa arată că deseori taţii lipsesc din peisajul familiei române).
Dar bărbaţii mai sunt educaţi şi de femeile pe care le întâlnesc: felul cum ele se comport cu ei le formează lor comportamentul.
Dacă dă numai de izmă creaţă de pe marginea drumului nu va aprecia femeia. Nu îmi luaţi în nume de rău comparaţia, izma creaţă e frumoasă şi miroase fresh. Şi faci un ceai bun cu ea. O spun doar că e altceva decât o orhidee imperială…înţelegeţi voi.
Foto: shutterstock.com