Ce este starea de flux şi cum putem s-o atingem, cu Bruno Medicina
Se vorbește foarte mult de starea de flux, ca de o stare aproape magică rezervată performerilor de elită, prin care se poate atinge rezultate extraordinare. În realitate, starea de flux nu este decât starea noastră naturală, odată ce am renunțat la blocaje interne și la frici inutile.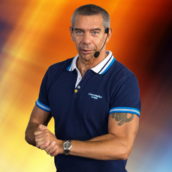 Bruno Medicina
Bruno Medicina este Performance Coach (HPCC), Trainer, Autor şi Speaker, cu aproape 40 de ani de experienţă în a-i ajuta pe oameni să descopere şi să îşi folosească potenţialul lor pentru a obţine performanţe de top în orice domeniu, cu o atenţie specială pe vânzări, leadership, sport şi muzică. Are un background solid în filosofie, muzică clasică, arte marţiale şi psihologie şi o serie de cunoştinţe în domenii mai puţin formale (Programare Neurolingvistică, Hipnoză Ericksoniană, Coaching, Hyper Performance Training, Total Quality Management, Arte marţiale, Firewalking, Boardbreaking, etc.) şi împărtăşeşte cu entuziasm experienţa sa umană şi profesională. Prin urmare, îşi menţine o activitate intensă ca trainer, coach, speaker şi consultant. Dincolo de repertoriul standard de training, Bruno a dezvoltat o serie de seminarii originale care includ experienţe de mare impact, precum Firewalking (Fire Up Your Power Seminar) şi Boardbreaking (FLY – Find the Leader in You Seminar) şi traininguri deosebite de nivel avansat unde se aplică cele mai recente descoperiri în Psihologia Evoluţionistă, Teoria Jocurilor, Neuromarketing şi Fluxogenics. Creaţiile sale mai recente sunt: Effortless Performance Training: The F.L.O.W. System – bazat pe ultimele cercetări privind aşa-numita "stare de flux" şi utilizarea potenţială a acesteia în afaceri, sport şi viaţa personală pentru a obţine rezultate maxime cu efort minim; In flow with the Infinite: the secrets of charisma – un mod complet nou de a se reconecta cu identitatea cea mai profundă şi de a elibera adevărata esenţă a puterii şi a conducerii; HyperCoaching: a multidimensional experience of growth – un model de coaching care abordează toate aspectele unei performanţe, pentru a obţine rezultate excepţionale în orice domeniu, personal şi profesional.