www.shutterstock.com
Ele ne tulbură uneori cu imagini terifiante, ne bucură alteori cu trăiri luminoase, ne incită prin mister și ne intrigă uneori repetându-se iar și iar. Ce-o fi cu aceste poveșți pe care le tot țese mintea noastră în timpul somnului? Inspiratoare sau înfricoșătoare, pline de înțelepciune sau generatore de confuzie, visele au ghidat umanitatea de secole, uimind și incitând să creeze artiști, filozofi, poeți, scriitori, regi.
S.Freud, C.G.Jung, Mircea Eliade, Joseph Campbell sunt parte dintre nenumărații specialiști și cercetători care au intuit importanța viselor pentru sufletul și dezvoltatrea personalității umane, au lucrat cu ele, au descoperit dimensiunea lor transpersonală și au descifrat sensul universal al miturilor și simbolurilor, exprimate în vise. Și totodată cei ce ne inspiră și pe noi în acest proces de descoperire.
Cum înțelegem visele și limbajul inconștientului? Răspunsul care apare spontan e următorul: cu grijă, răbdare și stăruință.
Atitudini necesare în lucrul cu visul
Grijă pentru că e o muncă delicată și de profunzime, iar sensul e unul foarte personal și poate fi revelator de destin și misiune personală.
Răbdare deoarece nu toate sensurile apar imediat. Uneori e nevoie de mai mult timp de reflecție și aşteptare ca sensul cel mai profund al unui vis important să ni se reveleze. Ar fi indicat să ne scriem visele imediat ce ne trezim, pentru a nu le uita.
Stăruință ca să descifrăm temele repetitive și simbolurile care evoluează, cresc, își amplifică și diversifică sensurile. Sunt vise care se dezvăluie rapid propriei conştiințe, sunt altele cărora le descoperim sensul după niște ani. Contează să le ținem aproape pe cele pe care le simțim semnificative. Să nu le lăsăm să se piardă, să ni le reamintim când reapare acel simbol, iar într-un nou vis.
Metode și tehnici
Dintre tehnicile folosite în lucrul cu visele menționăm asociațiile libere, dramatizarea și jocul de rol, continuarea visului, visul lucid, desenul, modelajul în lut, imaginația activă.
Metoda asociaţiilor libere a fost generată şi intens folosită și descrisă de Freud. Este una din tehnicile de bază în orice travaliu analitic. Constă în a spune ce îți trece prin minte, în mod spontan, apropo de diverse elemente din vis şi a nota care sunt aceste asocieri, pentru a descoperi ce simbolizează în corelație cu restul visului.
Singur sau ghidat?
Unele sensuri le putem descoperi individual. Condițiile cele mai prielnice pentru a ajunge cât mai rapid la înțelegerea integrală a unui vis sunt: ochi care să te vadă, urechi ca să te audă, inimă care să te primească, o conștiință care să te oglindească. Deoarece cu un ghid bine antrenat care a dus o muncă de ani de zile în lucrul cu propriile vise, e mult mai ușor să descifrezi înțelesurile și să știi ce să faci cu ele în viața concretă.
Este o muncă de decodificare în care sensul e revelat și se revelează conștiinței atente și treze. Nu există înțelesuri prestabilite care să poată fi găsite în dicţionarul de vise. Descoperim pas cu pas ce dorește să ne spună inconştientul și, în final, apare un Mesaj clar și corent. Când nu e doar interpretare, ci găsirea acelui Sens profund, atunci apare un Aha!, o stare de iluminare interioară. Acesta e semnul că interpretarea e corectă și am integrat și energetic un conținut ce a trecut pragul dinspre inconștient spre conștiință și nu e doar un joc al minții.
De ce să caut să înțeleg visul?
Visele ne pot aduce mesaje importante care să corecteze atitudinea conștiinței și să ne orienteze acțiunea. Nu toate mesajele ne sunt pe plac, nu toate ne aduc energie. Ne arată o oglindă a noastră: ce simțim, ce gândim, cum ne comportăm, ce nu vedem la noi, cum să ne purtăm?
"Gata, am înțeles!" Și apoi, ce fac cu acest înţeles? Uneori e suficientă conştientizarea deoarece se eliberează o cantitate de energie ce era captivă în subconștient datorită reprimării. Alteori e nevoie de o schimbare conștientă de atitudine şi comportament. Trebuie să dăm viață acelui mesaj, să fie adus în concret, prin efort voluntar.
Recomandări pentru a-ți înțelege visele
Nu recomandăm folosirea dicționarelor de vise care spun că dacă visezi o stea înseamnă că o să ai noroc sau altceva similar. Pot fi utile dicționarele de simboluri care dau acces la niște sensuri universale, ce pot completa semnificația dată de mintea care interpretează. Dacă rezonezi interior cu acel sens! Nu te uita în dicţionar înainte de a face asociațiile libere personale. E mult mai valoros ceea ce apare spontan în tine, decât ce scrie într-o carte.
Câteva cărți pe care le recomandăm: Amintiri, vise, reflecții – C.G. Jung, The way of the Dream – Marie Louise von Franz, Introducere în psihoterapie analitică – Mihaela Minulescu, Dreambody – Arnold Mindell, Semne și simboluri – Clare Gibson, The dynamics of symbols – Verena Cast, Le reve: cle de l'identite – Georges Colleuil, Psihologie și alchimie – C.G. Jung.
Limbajul viselor e limba sufletului. Dacă vrei să-l urmezi, pentru a fi mulţumit și în pace cu tine, descifrează-i codurile şi adu mesajul în viața ta.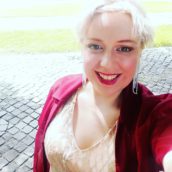 Cristina Eremia
Cristina Eremia este abolventa Facultăţii de Psihologie şi Ştiinţele Educaţiei, Universitatea Bucureşti. Şi-a început formarea în terapie încă din primul an de facultate în cadrul atelierelor de dezvoltare personală organizate de membrii Societăţii de Psihoterapie Experienţială Română (SPER) pentru studenţii Universităţii Bucureşti. A continuat parcursul formativ cu module de Psihoterapie Socio-Somato-Analitică şi Terapie reichiană, a făcut o formare de 5 ani în Gestalt Terapie, 4 ani Programare Neuro Lingvistică (NLP), 2 ani terapie de cuplu şi art terapie Phronetik. Are un stil eclectic, provenind din diversitatea formărilor şi o manieră de lucru psiho-dinamică. Rezultatele şedinţelor de terapie sunt: gestionarea anxietăţii, stresului, atacurilor de panică; soluţionarea depresiei şi condiţiei de "burn out"; ieşirea din crizele existenţiale şi tipare de viaţă repetitive; autocunoaștere si individuare; rezolvarea unor conflicte interne şi externe; optimizarea relaţiilor familiale sau sociale; reducerea unor simptome fizice; depăşirea unor traume emoţionale; descoperirea şi schimbarea scenariilor de viaţă automate; rezolvarea unor conflicte şi răni din copilărie; obţinerea unei stări fizice şi psihice pozitive; creşterea stimei de sine, valorii personale, încrederii în sine şi asertivităţii; realizarea echilibrului şi congruenţei între sinele autentic, imaginea de sine şi percepţia altora. Mai multe detalii: https://www.psychologies.ro/terapii/o-zi-din-viata-unui-terapeut-cu-cristina-eremia-2174737