Turneul SoNoRo Conac continuă în luna iunie

A doua parte a turneul SoNoRo Conac continuă în perioada 22-27 iunie 2023, cu cinci concerte în spații selectate atent, în spiritul proiectului –  acela de a pune în valoare arhitectura de patrimoniu și clădirile excepționale din România. Ediția a XI-a este intitulată "The Fiddler on the Roof" – o trimitere la instrumentele de coarde prezente în turneu, dintre care două viori Stradivarius. Concertele programate în luna iunie vor fi susținute de muzicienii Alexandra Tîrșu (vioară), Kirill Troussov (vioară) și Răzvan Popovici (violă).
Din volumul "Dicționar de instrumente muzicale", de Valeriu Bărbuceanu, aflăm că "Pentru a construi o vioară se folosesc cca 70 de piese din lemn de brad, paltin și arțar […]" și că "[…] în general se construiesc patru categorii de viori: de serie (modele de fabrică); pentru avansați (viori de serie, însă realizate dintr-un lemn mai bun, cu fibră deasă); pentru maeștri (de fabrică, realizate de diferiți lutieri specializați; unii fac fața, alții spatele, alții gâtul); pentru maeștri (realizate de un singur lutier, care își pune semnătura în interiorul instrumentului și data când a fost realizat)". Cât despre Antonio Stradivari (în latină, Stradivarius – 1644?-1737), a fost un lutier italian care a dus meșteșugul fabricării viorii la nivel de perfecțiune și se estimează că a construit în jur de 1100 de instrumente (viori, viole, violoncele ș.a.). În prezent mai există 550 de viori, niciuna identică; așadar, această ediție SoNoRo Conac devine și mai valoroasă prin prezența celor două viori Stradivarius la concertele care urmează.
Violonista Alexandra Tîrșu s-a născut în 1992 și a studiat la Universitatea de Muzică și Artă Dramatică din Viena cu Anton Sorokow, apoi, din 2017, la Universitatea de Muzică și Arte din Viena, cu profesorul Pavel Vernikov. Tânăra muziciană din Moldova este din ce în ce mai apreciată, fiind considerată vârful de lance al generației sale. Laureată a Competiției Internaționale de Muzică din Seul în 2018, interpretările ei au avut parte de aprecieri elogioase în publicații precum The Strad, Classical Music Magazine și Südeutsche Zeitung. A obținut premiul al treilea și premiul publicului la prestigioasa competiție ARD din 2021. Alexandra Tîrșu interpretează la o vioară Stradivarius din 1699, la care a cântat Ida Haendel, o mare violonistă a secolului XX.
Îndrumat de Sir Yehudi Menuhin încă de la o vârstă fragedă, Kirill Troussov este acum recunoscut ca unul dintre cei mai importanți violoniști din prezent. Presa internațională îi descrie interpretarea ca fiind de "…o eleganță impresionantă, o tehnică ireproșabilă, o sensibilitate muzicală excepțională și sonorități de o frumusețe pură…". Kirill Troussov este invitat regulat în săli de concert prestigioase și la festivaluri internaționale de muzică de renume, în întreaga lume. Cântă pe vioara Antonio Stradivari "Brodsky" din 1702, pe care violonistul Adolph Brodsky a interpretat în premieră mondială concertul pentru vioară al lui Ceaikovski, în data de 4 decembrie 1881.
Răzvan Popovici a studiat la Salzburg, Paris şi Freiburg și a cântat ca solist în sala Filarmonicii din Köln, Festspielhaus Baden-Baden, Ateneul Român din București, Prinzregententheater din München şi Théâtre des Champs-Elysées din Paris. Este invitat la festivaluri din întreaga lume, iar printre sălile celebre în care a cântat se numără Carnegie Hall din New York, Musashino Hall din Tokio, Concertgebouw Amsterdam, Konzerthaus şi Musikverein din Viena, South Bank și Wigmore Hall din Londra, YMCA din Ierusalim sau Bozar din Bruxelles. De asemenea, concertează regulat în mediul internațional ca membru al Ansamblului Raro.
De 17 ani, Răzvan Popovici predă tinerilor cursuri de măiestrie, iar în acest an va deveni profesor de violă la Conservatorul Regal din Anvers.
"Am început turneul SoNoRo Conac în luna martie cu trei concerte în Templul Coral din București, Teatrul Național din Caracal și Muzeul Județean de Artă Prahova «Ion Ionescu-Quintus» din Ploiești, iar în iunie vă propunem încă cinci concerte în spații în care ajungem pentru prima dată în istoricul turneului și pe care abia așteptăm să le umplem cu muzică. Locurile pe care le-am ales în acest an constituie repere de arhitectură și cultură națională și ar putea fi oricând incluse într-o listă de superlative arhitectonice și turistice ale României. Sunt încântat că deschidem a doua parte a turneului cu un concert la reședința din Socolari a pictorului Gheorghe Fikl, unul dintre artiştii contemporani cei mai impresionanţi prin ascensiunea de cotă şi interesul din partea colecţionarilor în România postcomunistă. Palatul de Justiție Arad, o clădire cu o vârstă remarcabilă, a avut parte de ample lucrări de reparaţii capitale şi refuncţionalizare a imobilului, în perioada 1996-2002, astfel încât acest monument istoric de mari dimensiuni și-a redobândit frumusețea de altădată. La Biserica și Claustrul Mănăstirii Franciscanilor din Gherla, un exemplu tipic pentru arhitectura barocă a secolului XVIII din Transilvania, s-au încheiat recent noi lucrări de reabilitare, care au avut loc în perioada 2018-2022, iar acest proiect este considerat ca fiind cel mai complex din ultimii ani, pe plan național. Și Castelul Teleki din Posmuş, care se află pe lista monumentelor istorice, a fost redeschis publicului în anul 2022, după un amplu proces de reabilitare şi restaurare. Cât despre spațiul pe care îl constituie Colonia Pictorilor din Baia Mare, un loc în care arta este la ea acasă, ne-am dorit să îl includem în programul SoNoRo Conac din acest an, fiind deja cunoscută apetența noastră pentru pictură și întâlniri fertile dintre arte", declară Răzvan Popovici, Directorul turneului SoNoRo Conac.
"A doua parte a turneului «The Fiddler on the Roof» promite să fie un regal pe toată linia: de la talentul muzicienilor Alexandra Tîrșu, Kirill Troussov și Răzvan Popovici până la cele două viori Stradivarius, de la locurile care vor găzdui concertele și care reprezintă premiere pentru turneu și până la lucrările din repertoriu. BRD și SoNoRo Conac sunt alături de peste un deceniu, însă datorită calității excepționale a acestui eveniment, acești 10 ani par să fi trecut prea repede. Suntem recunoscători celor care ne-au urmat în acest demers, turneul are deja un public în permanentă creștere, rezultat din pariul de a aduce laolaltă cele mai frumoase clădiri de patrimoniu și cele mai frumoase armonii", a declarat Flavia Popa, Secretar General BRD.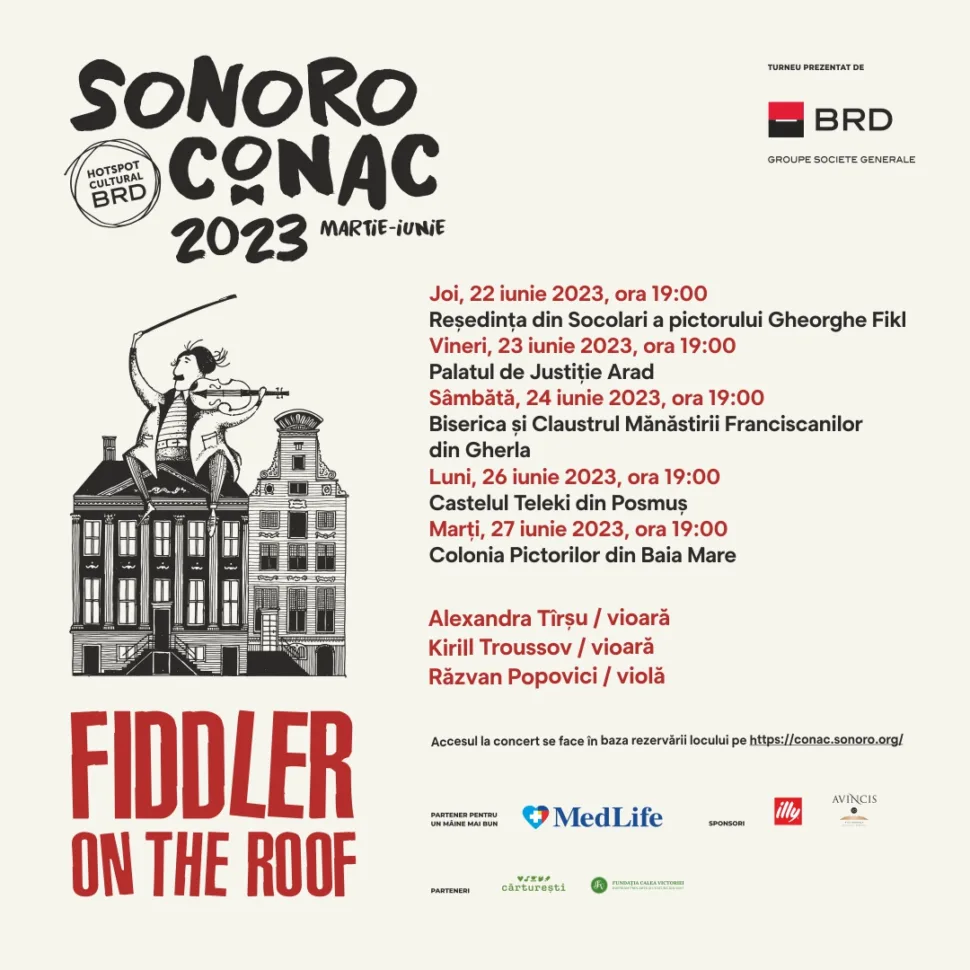 Programul celei de-a doua părți a turneului SoNoRo Conac este următorul:
22 iunie, ora 19:00 – Reședința din Socolari a pictorului Gheorghe Fikl, județul Caraș-Severin
23 iunie, ora 19:00 – Palatul de Justiție Arad, județul Arad
24 iunie, ora 19:00 – Biserica și Claustrul Mănăstirii Franciscanilor, Gherla, județul Cluj
26 iunie, ora 19:00 – Castelul Teleki, Posmuș, județul Bistrița-Năsăud
27 iunie, ora 19:00 – Colonia Pictorilor, Baia Mare, județul Maramureș
Despre spațiile SoNoRo Conac
Reședința din Socolari a pictorului Gheorghe Fikl este un spațiu de creație unde pictorul a amenajat un atelier de pictură și câteva galerii de artă. Gheorghe Fikl își creează aici operele, iar vernisajele sunt urmate de concerte, din dorința acestuia de a îmbina arta vizuală cu muzica. Clădirile vechi, din piatră, se situează între dealuri, în mijlocul naturii, lângă Cheile Nerei. Scenele pentru concerte sunt amplasate în aer liber, în contrast cu natura sălbatică.
Cu expoziţii personale în Timișoara și București, precum și în New York, Luxemburg și Londra, lucrările artistului Gheorghe Fikl fac parte din importante colecții private din țară și străinătate, incluzând colecția Regelui Charles al III-lea. Pictorul a expus și la Muzeul National Ajuda în Portugalia – un spațiu care a prezentat artiști de talia lui Joan Miro sau Joana Vasconcelos. Trăieşte şi lucrează în Timişoara şi Socolari.
Socolari este numit "satul artiștilor timișoreni", acesta fiind repopulat cu artiști încă din anii '90.
Ridicată în anul 1892, clădirea în care Tribunalul Arad îşi desfăşoară activitatea se încadrează în tradiţia edificiilor publice locale, inspirate din stilul neoclasic cu influenţe baroce. Restaurată în exterior de mai multe ori, şi-a păstrat formele iniţiale. Monument istoric de mari dimensiuni, Palatul de Justiţie din Arad a fost realizat în două etape, prima în perioada 1892-1895, când s-a construit o clădire cu 3 niveluri, şi a doua în perioada 1940-1943, când edificiul a fost completat cu aripile laterale şi ridicat la 5 niveluri.
Sala Festivă este cea mai mare sală de judecată din cadrul imobilului, cu o arhitectură şi decoraţiuni desăvârşite. A beneficiat la rândul ei de ample lucrări de recondiţionare, a fost transformată în Sală Festivă, iar acum face parte din patrimoniul cultural naţional.
Biserica și Claustrul Mănăstirii Franciscanilor din Gherla are o importantă culturală și istorică deosebită. La începutul secolului al XVIII-lea comunitatea romano-catolică din Gherla era slujită de preoți mendicanți franciscani ce se deplasau din Dej pentru oficierea slujbelor religioase. Apoi, în anul 1748, încep construcțiile pentru noua biserică, pe un teren donat enoriașilor catolici-franciscani de către primarul de atunci, Daniel Todor. Construcția este finalizată, sființită și dată spre folosință în 1758. În anii următori a fost construită Capela Maria de Loretto (în 1760) și edificată aripa estică a claustrului (1766). În anul următor au fost realizate în stil baroc cele două altare din piatră; acestea au fost amplasate de-o parte și de alta a navei și închinate Sfântului Anton și Sfântului Francisc.
Castelul din Posmuş este constituit dintr-o serie de construcţii datând din secolul al XVIII-lea, ridicate de către familia proprietară, cea a conţilor Teleki de Szek. Satul Posmuş din comitatul medieval Cluj, raionul Teaca, aflat lângă comuna Şieu (de care aparţine în prezent), este menţionat în sursele scrise pentru prima oară în anul 1228. Satul a devenit proprietatea familiei Teleki începând din secolul al XVII-lea. Corpul de locuit de la Posmuş este exemplul tipic al supravieţuirii în secolul al XVIII-lea, cu elemente stilistice baroce, a tipului de curie nobiliară de la sfârşitul secolului al XVII-lea.
Colonia Pictorilor este expresia vie a școlii băimărene de pictură, înființată acum mai bine de 120 de ani, în 1896, de artistul Simon Hollósy. Pornind de la o școală de pictură pentru perioada de vară, în anul 1898, prin Hotărârea Primăriei orașului Baia Mare din 26 martie, demersul primește un caracter permanent. Din 1898 acestor colonizări temporare li s-au asociat colonizările permanente individuale a numeroși creatori care au consumat apoi la Baia Mare perioade mai scurte ori mai îndelungate din biografia lor artistică, contribuind decisiv la constituirea unei autentice structuri instituționale permanente, cunoscute sub numele de "Colonia pictorilor".
*****
SoNoRo Conac este un proiect inițiat de Asociația Sonoro, cu sprijinul partenerului principal BRD – Groupe Societe Generale, cu scopul de a intermedia contexte favorabile salvării unor monumente importante din patrimoniul românesc şi de a aduce în atenția publicului şi al autorităților remarcabile valori româneşti date uitării.
Accesul la concerte este gratuit, în baza invitației sau a rezevării locului. Mai multe detalii despre programul concertelor și a modalității de rezervare a locului sunt disponibile pe https://conac.sonoro.org/.
Despre SoNoRo Conac
Inițiat în 2013, turneul SoNoRo Conac și-a propus încă de la început, prin asocierea muzicii cu diverse opere arhitecturale emblematice din România, să sugereze nevoia de respect, atenție și sprijinire a patrimoniului și a resurselor culturale extraordinare ale României. SoNoRo Conac a pornit de la ideea de a reda muzicii de cameră spațiul originar, de natură intimă, propice dialogului cultural și ascultării active din partea unui public restrâns. Acest proiect își propune să sensibilizeze opinia publică în ceea ce privește multitudinea clădirilor de patrimoniu reabilitate – clădiri spectaculoase și elegante, care trebuie reintroduse în circuitul cultural. În cele zece ediții, turneul SoNoRo Conac a pus pe harta emoțională a țării noastre peste 100 de clădiri de patrimoniu, unele dintre ele complet necunoscute publicului din România, dar a și atras atenția publicului internațional asupra unora dintre cele mai frumoase simboluri arhitectonice de aici.
Turneu prezentat de: BRD – Groupe Societe Generale
Partener pentru un mâine mai bun: MedLife
Sponsori: Illy, Avincis
Parteneri: Cărturești, Fundația Calea Victoriei
Gazde: Fikl ArtStage, Casa Pianului Jacques Faix, Complexul Muzeal Bistrița-Năsăud, Palatul de Justiție din Arad, Biserica și Claustrul Mănăstirii Franciscanilor din Gherla, Complexul Muzeal Bistrița-Năsăud, Colonia Pictorilor din Baia Mare
Parteneri media: RFI România, Radio România Cultural, Radio România Muzical, Zile și Nopți, Igloo, Zeppelin, Arhitectura, Psychologies, Ziarul Metropolis, The Institute, Capital, Evz.ro, Designist.ro, Promenada-culturala.ro, LiterNet.ro, CARIERE, TIMPUL, IQads.ro, Flawless.ro, Aiciastat.ro, Festivalier.ro, Media Image