Superclișee diluzionale naturale – Pierderea 0 sau imposibilitatea pierderii

www.shutterstock.com
"Un băiat de 14 ani din judeţul Vaslui a fost găsit ucis la opt zile după dispariţie. S., cum îi spuneau apropiaţii, a fost omorât cu cruzime de un afacerist local, care nu doar că s-a crezut poliţist, ci a vrut "să-i dea o lecţie" pe care s-o ţină minte.
nu a mai apucat să ţină minte lecţia oferită de patronul din sătucul Guşiţei, din comuna vasluiană Dimitrie Cantemir. A murit sub ploaia de lovituri a afaceristului D. M. (39 ani), despre care comunitatea locală are numai cuvinte frumoase: "om înstărit", "cu o familie superbă". A murit în mijlocul unei păduri, însă dispariţia sa a fost reclamată la Poliţie de bunică abia două zile mai târziu.
Bărbatul de 39 de ani a declarat că pe 23 februarie, la amiază, s-a întâlnit cu S. şi i-a cerut să îi spună cum a acţionat în luna noiembrie, anul trecut, când i-a spart magazinul, şi pe unde a mers. În ciuda anchetei Poliţiei, voia să facă o anchetă pe cont propriu. A invocat în faţa procurorilor că, în urma spargerii din luna noiembrie, i-ar fi dispărut din magazin 3.100 de euro, 2.700 de lei şi diverse produse. Adolescentul, aflat pe o bicicletă, a mers pe un traseu până într-o pădure. Acolo i-a indicat un drum, apoi s-a răzgândit şi a indicat o altă direcţie. Convins că băiatul îl păcăleşte, a luat un par din pădure şi a început să îl lovească cu brutalitate.
"A declarat că a lovit victima cu lemnul respectiv de vreo sută de ori, peste mâini şi picioare. Cadavrul prezintă multiple leziuni, cauzele exacte ale decesului, dinamica şi numărul loviturilor vor fi stabilite cu exactitate de către medicul legist, în urma efectuării necropsiei", a precizat procurorul de caz."
Se pare că fericirea plictisește. Și nimeni nu poate să piardă. Nu degeaba există vorba populară "ți s-a urât cu binele", care surprinde exact această saturație care apare în orice sistem viu, oricât de împlinite i-ar fi nevoile și dorințele sau chiar din acest motiv. Așa cum am văzut până acum, alergarea după un obiectiv poate și chiar este adesea mult mai apetisantă decât atingerea acestuia, care induce aproape imediat, după trăirea "victoriei", o formă de "cădere" depresivă, individul simțind automat o neîmplinire care trebuie compensată cu ceva "superior", sau măcar de aceeași intensitate, intrând aproape automat în "zbaterea" uzuală, în căutarea "împlinirii" evident diluzionale.
Îmi amintesc de multe cazuri în care cei care și-au văzut visele împlinite au suferit "căderi psihice" cu mult mai severe decât cei care au "eșuat", aceștia din urmă având încă niște morcovi după care să alerge. Ne mai zicând de cei care au deja "totul" și care au comportamente complet aberante, agresive, distructive, căutând "excitația" cu obstinație, indiferent de modul în care vine aceasta, evident, de cele mai multe ori prin "violarea" unor norme, senzațiile ce provin din această forțare a celorlalți, în modalități din ce în ce mai "subtile", mai "mentalizate", furnizând "hrana" impulsională-excitativă de care au atâta nevoie pentru "supraviețuire".
Aici un caz "simbolic" care ne arată încă odată că impulsurile declanșate de credințele noastre interioare ne pot duce la dezastru. Deși este în floarea vârstei, are o "familie superbă", un nume în comunitate și un viitor luminos în față, tânărul nostru afacerist nu suportă faptul că a pierdut câțiva lei, care oricum nu ar fi făcut nicio diferență în viața lui sau a familiei sale. Însă nimic din toate acestea nu au contat în fața percepției orgolioase că "a fost deposedat cu forța", "furat", "batjocorit" de un "neica nimeni", care acum îi mai și râdea în față. În loc să se gândească la familie și la viitorul acesteia, care ar fi trebuit să fie niște valori mult mai puternice decât "pierderea câtorva lei", a înclinat irațional în favoarea împlinirii dreptății de unul singur, singurul rezultat fiind, pentru că nu a recuperat absolut nimic din "pierdere", că aceasta a devenit și mai mare, un băiat sărac și rebel pierzându-și viața iar el ajungând în închisoare pentru mulți ani, lăsând și familia victimei și pe a sa fără cele mai importante resurse, și anume prezența noastră în viața celor dragi.
Modul în care a "înfăptuit" pedeapsa" ne indică furie puternică, care a făcut ca pentru o perioadă factorul rațional să dispară complet din ecuație, ceea ce indică activarea programelor diluzionale legate de "pierdere", pentru că evident nu a mai contat cuantumul acesteia, ci totul s-a mutat la "principiu", acolo unde mintea noastră nu mai face distincția între valorile materiale, ci cuantifică totul în "câștig" sau "pierdere".
 All the Money in the World (Toți banii din lume 2017)
Un film de forță marca Ridley Scott, care încearcă să surprindă patologia minții umane care este pusă de realitate în contexte ce ne sunt prezentate de obicei drept "normale", "valoroase" și "dezirabile". Să fii bogat, să ai bani mulți, din ce în ce mai mulți este un fapt privit de către orice om drept un ideal ce se apropie de firesc, așa cum este privită necesitatea tragerii aerului în piept dacă vrei să trăiești. Și în mod evident devine cu timpul din ce în ce mai evident că este cu mult mai dezirabil să ai bani decât să tragi acel aer în piept.
Echilibrul dintre eforturile individului pentru câștigarea existenței și împlinirea pe care o resimte în acest proces în mod evident generator de frustrări și trăiri contradictorii este arareori privit drept un scop care a fost gândit, ca orice în această lume, pentru a menține forțele vitale ale corpului și minții în mișcarea lor atât de complexă și sensibilă, pentru a genera necesitatea aplicării voinței și apariția astfel a impulsurilor-ființă care să conducă în cele din urmă individul la progres și la trăirea satisfacției și împlinirii.
Drept urmare, pornind de la prima lege a minimalizării eforturilor și maximizarea câștigurilor, omul va încerca să șunteze munca, pe care nu o vede drept necesară, ci chiar nocivă, folosind diverse oportunități de a face rost de produsul "final" al acesteia, numit bani.
Astfel, unii care sunt inteligenți și au capacitatea de a specula contexte istorice speciale, cum a fost Getty, ce a fondat un imperiu din afacerile cu petrolul abia descoperit în Orientul Mijlociu, au devenit "nerușinat de bogați", în timp ce alții, cum era cazul și a fiului său, au ajuns muritori de foame și fiind "nevoiți" să implore mila părintelui care, după ani de zile de absență din viața lui, îl reprimește cu brațele deschise și îi oferă funcția de vicepreședinte al imperiului creat. Însă firea pruncului nu era precum a tatălui și curând devine clar că era mai interesat de droguri și sex decât de afaceri, iar divorțul cerut de soția sa nu surprinde pe absolut nimeni, cât insistența sa de a prelua custodia copiilor care și ei, la rândul lor își exprimă dezaprobarea de a se întoarce la viața "obișnuită", în care colindă străzile în căutarea senzațiilor tari pe care le și găsesc atunci când sunt răpiți pentru răscumpărare.
Mapamondul dă în clocot așteptând să vadă reacția bunicului care își spăla singur hainele pentru a face economie de câțiva sfanți, și rămâne înmărmurit când acesta anunță senin că deși este nepotul său preferat nu va plăti absolut nimic pentru răscumpărarea acestuia din suma enormă de 17 milioane de dolari. Dar trimite pe cel mai bun om al său, fost ofițer CIA să încerce să îl găsească pe mititelul idiot, bineînțeles cu cheltuieli minime. Evident că cu doi lei investiți rezultatele sunt de doi lei, chiar și autoritățile fiind neputincioase în a găsi pe răpitori care în cele din urmă, disperați de indiferența "celui mai bogat om din lume" reduc cererile până la 4 milioane din care bătrânul care dădea cu lejeritate zeci pe tablouri și alte artefacte istorice care nu îl dezamăgeau și nu încercau să îl jefuiască ca oamenii, încearcă să dea mai întâi doar unul singur, deductibil în contabilitate, apoi îi virează pe toți, astfel reușind să scoată nepotul din "ghearele" mafiei.
Însă pierderea atâtor bani care fuseseră aruncați pe geam îi este fatală celui ce nu putea să dea nimic și nora sa se trezește pusă în capul bucatelor pe care are grijă în anii care vin să îi doneze în scopuri caritabile, disipând pentru cauze mai bune purcoiul de bănet pe care toată lumea îl dorea și care face dintotdeauna să iasă la suprafață monștrii "neștiuți" din sufletul oamenilor însetați de "mai mult".
Un film de excepție despre forțele neștiute ce bântuie adâncurile minții și sufletului oamenilor și cum "binele" triumfă în mod întâmplător, favorizând slaba conștiință și absența lăcomiei.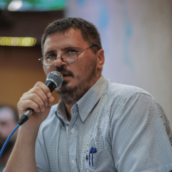 Bogdan Brumă
Bogdan Brumă, născut în Botoșani, a absolvit ca șef de promoție liceul Economic în anul 1995. Olimpic național la disciplina filozofie, a continuat studiile la Facultatea de Filozofie din Iași și apoi la Facultatea de Psihologie și Științele Comunicării din București. A fost consilierul personal al ministrului culturii și cultelor, dl. Răzvan Theodorescu pe probleme de imagine și comunicare, coordonând activitatea de Relații Publice și Comunicare a Ministerului Culturii. Activitatea desfășurată în această poziție a fost apreciată prin decorarea sa cu Ordinul Meritul Cultural de către Președintele României. După anul 2004 a înființat propria firmă de Relații Publice și Publicitate, acordând în același timp atenție și zonei de dezvoltare personală, devenind instructor de AIKIDO și coordonatorul unor proiecte culturale diverse. Printre acestea se numără și activitatea de traducător, care s-a concretizat la Editura Herald prin apariția cărților Zen-Poarta Autentică, de Koun Yamada (lansată oficial în cadrul târgului de carte Gaudeamus 2015), În căutarea Ființei, de G.I. Gurdjieff (2016), Realitatea Ființei, de Jeanne de Salzmann (2016), editor pentru Acționează cu dragoste (Herald 2017), Tulburarea de Spectru Autist (Herald 2017), și traducător al cărții Experiența Vidului de Sri Nisargadatta Maharaj pentru Editura Mix (2017). Traducător al operei principale a lui G.I.Gurdjieff, "Povestirile lui Belzebut către nepotul său", este interesat de realizarea unui cadru în care oamenii să își poată depăși limitările și să își poată dezvolta abilitățile de comunicare cu sine și cu ceilalți.