Atentia, energie pura – de David Servan-Schreiber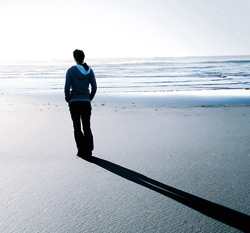 Cand atentia nu ne este distrasa, aproape tuturor ne vin in minte ganduri… negative.
Un barbat vorbeste la telefon cu sora lui de cinci minute. Conversatia se opreste putin. Cum se afla in fata calculatorului, nu poate sa nu profite de ocazie si isi verifica mailul. Dupa ce inchide, simte o usoara insatisfactie. Isi da seama ca nici nu si-a ascultat sora prea bine, si nici nu si-a citit mesajele cum trebuia. Ce s-a intamplat?
La Chicago, profesorul Mihaly Csikszentmihalyi, psihologul ce a descris starea de performanta optima numita si "flux" ("flow" in engleza), a facut un studiu remarcabil. Timp de mai multi ani, a intrerupt, la intamplare, ziua de munca a 100 de persoane. Le intreba ce vroiau sa faca, la ce se gandeau si cum se simteau. Ce s-a descoperit? Atunci cand atentia nu ne este distrasa de o alta activitate, aproape tuturor ne vin in minte ganduri… negative.
Asadar, cautam mereu sa fim "ocupati". Si ne citim e-mail-urile vorbind la telefon, ne uitam la televizor mancand, ascultam radioul facandu-le baie copiilor, etc. O a doua concluzie a cercetarii este ca nu gasim adevarata placere decat atunci cand atentia noastra este investita complet intr-un singur lucru: o conversatie, pregatirea unei mese delicioase, un film care ne fascineaza. Atentia inseamna energie pura care transforma tot ceea ce atinge. Iar animalele si copiii o stiu cel mai bine. Pentru ca atunci cand ei vin la noi, de fapt, cauta atentie, mai mult decat hrana sau bani. si cand o primesc, este minunat sa ii vezi cum se topesc de placere. La fel se intampla si cu pasiunea dintre adulti. Nimic nu este mai intens decat sa te pierzi in ochii celuilalt…
Cea mai buna dovada ca atentia ta valoreaza mult sunt imensele sume de bani care se cheltuiesc pentru publicitate. Totusi, nu esti niciodata destul de constient de aceasta bogatie pe care o posezi. Doar cu ajutorul atentiei poti transforma in aur fiecare clipa, fiecare relatie, asa cum ar fi putut face si alchimia cu plumbul.
Cei mai importanti terapeuti, care au realizat cele mai mari transfor­mari sau descoperiri, aveau cu totii o extraordinara capacitate de atentie orientata catre celalalt. stiau sa se concentreze numai la ceea ce zicea persoana pe care o ascultau, si sa excluda orice alt gand. Este cazul lui Sigmund Freud, Carl Rogers, Milton Erickson. Se spunea despre ei: "Privirea lui era atat de intensa de parca ar fi vazut prin mine." Chiar daca nu ai talentul lor, totusi, poti alege sa investesti aceasta resursa pretioasa intr-o singura persoana, intr-un singur lucru. Incepand, de exemplu, prin a nu-ti mai citi e-mail-urile cand vorbesti la telefon…
Foto: shutterstock.com
✖
Mulțumim pentru că vrei să fim prieteni!
David Servan-Schreiber
Cronicar foarte citit al revistei « Psychologies » inca de la lansarea acesteia, David Servan Schreiber este fiul lui Jean Jaques Servan Screiber, politician si jurnalist francez. Astazi, scriitorul si doctorul David Servan Schreiber este profesor de psihiatrie la University of Pittsburgh School of Medicine. De asemenea, este lector la Facultatea de Medicina Lyon I. David Servan Schreiber este co-fondator al Centrului de Medicina Integrativa de la University of Pittsburgh Medical Center. In 2002 a primit Premiul pentru cariera exceptuionala in psihiatrie al Pennsylvania Psychiatric Society. Intre cartile pe care David Servan Schreiber le-a scris se numara "Vindeca depresia fara psihanaliza sau medicamente" tradusa si in romaneste la Elena Francisc Publishing. Cartile lui cunosc un succes imediat la scara internationala pentur ca ele descriu metode de vindecare accesibile oricui, noninvazive si care respecta dreptul omului la vindecare prin puterea proprie.