Roxana Lupu – Am învățat să sper că ceea ce va veni îmi va surprinde așteptările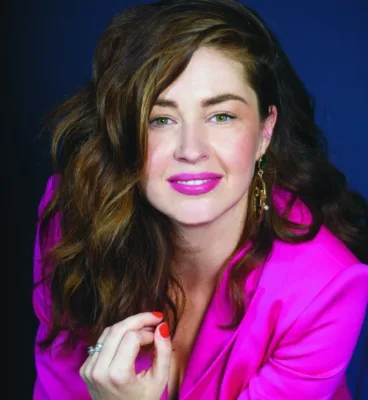 Roxana Lupu o interpretează pe Regina Elisabeta a II-a în documentarul BBC Inside Windsor Castle. Este o performanță, nu? Mai cu seamă că e româncă. Iată ce are de spus această actriță talentată despre englezi, emigrare și regine.
Cum e să o joci pe Regina Elisabeta a II-a?
Roxana Lupu: Pot spune că experiența în sine este una pentru care sunt recunoscătoare. A fost copleșitor inițial, când m-am gândit pe cine voi interpreta, ironia fiind că nici nu sunt britanică!
Am vrut să fac o treabă cât mai bună și, începând să lucrez efectiv cu studiul istoriei, accentului Reginei în sine, emoțiile au trecut și am revenit în concret.
Adică nu stăteam pe platou și mă gândeam ce mare lucru fac eu și pe cine joc. Consider că este o binecuvântare să faci meseria de actor în altă țară, unde ești apreciat, dar sunt conștientă că nu salvez lumea.
Nu sunt nici doctor, nici președinte, nu depinde viața altora de munca mea; ceea ce pot să fac este să inspir pe alții prin munca mea, așa că încerc să păstrez proporțiile și, în general, să mă bucur de proces și de orice minut în care sunt pe platou sau pe scenă.
Mă bucură mai mult ca orice sentimentul că a doua zi mă trezesc la 5 dimineața, mă duc cu mașina spre filmare, îmi beau cafeaua și mă așez la machiaj. Nu simt că muncesc, deși este muncă.
Da, sunt momente în care se așteaptă mult pe platou, poți avea zile în care stai în costum și nu filmezi nimic, pe lângă toată incertitudinea care vine odată cu meseria de actor.
De aceea, atunci când sunt pe platou, simt o mare bucurie. Multă lume nu realizează că este un succes în sine și să fii pe un platou de filmare cu un rol principal. Ai trecut ca actor prin audiții, probe, respingeri.
Dar, revenind, oamenii cu care am lucrat la filmarea aceasta – de la regizor, producător, asistenți, hair and make-up – toată lumea a fost extrem de profesionistă și m-au ajutat în procesul acesta.
Pot spune că până acum, ca echipă, a fost cea mai bună cu care am lucrat, ne-am apropiat unii de alții locuind în zona castelului Leeds, fiind dificilă despărțirea de echipă.
Când mă gândesc acum, pare că a fost ca un vis și, pe undeva, era unul, deoarece nu ai tot timpul ocazia, ca actor, să joci într-un castel adevărat, cu personaje care arată exact ca oamenii pe care îi interpretează și cu o echipă care se mișcă ca un ceas elvețian. Concluzionând, a fost frumos și experiența am simțit-o ușoară, tocmai pentru că m-am bucurat foarte mult.
Citește și:
Monica Petrică – Îmi păstrez partea ludică, inocența sufletului, copilul interior
Melania Medeleanu și Vlad Voiculescu – "Lider este cel care influențează în bine viața altora"
Cum sunt britanicii și cum sunt românii ajunși acolo, dincolo de clișee și stereotipuri?
R.L.: Dincolo de clișee, ar fi așa de multe de spus despre cum sunt ambele naționalități, care sunt două culturi foarte diferite!
Ca să abordez succint subiectul, atât cât ne permite spațiul interviului, în Marea Britanie, deși pare evident, britanicii sunt la ei acasă, comparativ cu cineva care vine din altă țară.
Acest aspect creează o diferență în felul oamenilor de a se raporta unii la alții și la viața în sine.
Britanicii înșiși spun despre ei că sunt percepuți ca fiind reci și neprietenoși, lăsându-se destul de greu de cunoscut, și rezervați.
Asta aduce cu sine și extrema, în momentul în care beau un pahar în plus și devin foarte vorbăreți, prietenoși, extrovertiți.
Le place să zică sorry pentru o varietate de motive: de la a-și cere scuze, până la a însemna exact opusul, adică pasiv agresivul sorry la agresivul sorry.
Iar în mijlocul acestora se află diferitele nuanțe de gri ale lui sorry. Adică nu-și cer scuze, ci pentru a-și face interlocutorul să înțeleagă că trebuie să-și ceară scuze.
A vorbi despre vreme este un subiect conversațional la ordinea zilei și face parte din acel smal talk cu care începe oricine o conversație în Anglia, dar și pentru că vremea este extrem de imprevizibilă.
În 2015, BBC-ul a făcut un studiu și, per ansamblu, în Anglia se vorbește în proporție de 94% în ultimele șase ore despre vreme.
Mai multe detalii și subtilități despre cultura britanică se pot găsi în cartea lui Kate FOX Watching the British, un studiu antropologic amuzant și fascinant, dar și foarte exact, despre cultura britanică.
Românii ajunși acolo, din ce-am cunoscut eu, sunt foarte diverși. Eu, personal, nu sunt de acord cu a clasifica și a pune într-o anumită cutie oamenii: în general, fie români, fie alte naționalități.
Dacă privești un om fără judecăți de valoare, el nu se mai simte criticat și se deschide și de aceea am avut experiențe frumoase cu români pe care i-am întâlnit chiar și pe stradă, dintr-o întâmplare, și care mi-au rămas prieteni foarte buni peste ani.
În străinătate, cu românii se leagă anumite prietenii mult mai profunde decât cele pe care le legi în România, pentru că într-o altă țară întâlnirea cu un alt conațional are o altă putere și pot spune că se simte locul comun de unde provenim.
Pentru mine, cea mai frumoasă zi în Londra este duminica, când sunt liberă și pot vorbi numai românește întâlnindu-mă cu diverșii prieteni români.
Aceste întâlniri m-au făcut să-mi păstrez identitatea, unicitatea, aducându-mi aerul cald de acasă în viață,  mica mea Românie din Londra.
Povestește-ne despre tine, cum ai plecat din România, cum ți-a fost în Londra, etc…
R.L.: La Londra am plecat după ce mi-am terminat studiile de doctorat la Universitatea Națională de Artă Teatrală și Cinematografică "I. L. Caragiale", exact după ce mi-am susținut teza de doctorat, la câteva zile aveam un bilet dus spre Londra.
Asta se întâmpla în iulie, iar în ianuarie al aceluiași an fusesem la Londra cu un film independent românesc, iar primul loc unde am coborât a fost British Museum și m-am simțit acasă.
Apoi am fost în vizită, încă o dată, să-mi validez ideile, și în câteva luni s-a produs mutarea definitivă. Prima parte de adaptare în Londra a fost plină de provocări, deoarece am luat-o efectiv de la zero: nu aveam job, nu aveam nici idee prea clară de unde să încep.
Dar știam că este o provocare, pe care mi-am oferit-o, și îmi doream să o trec cu bucurie și curaj. De aceea, deși aveam încercări, le percepeam ușoare, deoarece îmi doream să fiu acolo și să trăiesc acea experiență.
Nu m-a forțat nimeni să plec din țara mea. A fost o decizie conștientă și asumată, în care nu m-am așteptat să-mi fie ușor și în care, de fapt, nu am avut așteptări, de aceea pot spune că nu mi-a fost extrem de greu.
Au fost și momente în care mă gândeam ce caut la Londra, în care m-am simțit singură și vulnerabilă. Dar cred că așa se creează echilibru în viață și, cu timpul, am învățat că nu este un capăt de lume când lucrurile devin mai grele.
Cum spune Les Brown (unul dintre cei mai importanți speak-eri motivaționali), "am învățat să nu mă las acaparată de lucrurile negative din viața mea, că circumstanțele prezente nu îți definesc viitorul" – într-un cuvânt, am învățat să sper că ceea ce va veni, îmi va surprinde așteptările. Și așa a fost!
Ce a fost greu și ce a fost ușor?
R.L.: Ușor mi-a fost cu limba engleză, cu accentul, cu diversitatea oamenilor, cu mediul profesional, care este într-o continuă schimbare.
Am avut ani în care, în weekend, lucram la proiecte independente de actorie, iar în timpul săptămânii lucram ca business developer pentru o firmă.
Ceea ce m-a ajutat să fiu flexibilă ca mentalitate și să fiu recunoscătoare pentru momentele în care sunt pe platou. M-a ajutat foarte mult faptul că Londra și industria entertainment-ului sunt într-o continuă mișcare și să caut mereu soluții și oportunități.
Adică să nu mă culc pe laurii succesului. Acum câțiva ani, citeam un articol în The Stage, în care o actriță vorbea despre faptul că, după o stagiune de vreo patru luni în care jucase spectacolul respectiv de opt ori pe săptămână (aceasta fiind norma în Londra), începea să realizeze că este nevoie să-și caute un alt proiect, să meargă iar la audiții, și articolul se termina oarecum dur, în sensul că viața merge mai departe și nu prea ai timp să stai și este și o experiență care te trezește la realitatea industriei și a vieții, în general.
Adică nu ai timp să stai, să ai așteptări sau să-ți plângi de milă. Este doar un timp pentru acțiune. Cu siguranță, ce mi-a fost greu a fost și lipsa culturii mele, a oamenilor, a petrecerilor, a mâncării.
Sunt lucruri mici, dar care dau savoare vieții, și după un timp simți că îți lipsește acel ceva, și atunci iau un bilet către București.
Cum e să te adaptezi ca artistă pe o piață atât de competitivă cum e cea britanică?
R.L.: De la început, nu am avut anumite așteptări în particular. Da, absolut, mi-am dorit să fiu "văzută", să creez interes în jurul meu.
Dar, până la urmă, mi-am dat seama că sunt elemente pe care nu le pot controla, iar tot ce pot face eu mai bine este să fiu pregătită, să ofer tot ce pot mai bun pe scenă sau în fața camerei de filmat și să mă eliberez de dorința de a plăcea sau de a fi acceptată, dorință absolut normală, dar pentru un artist poate fi paralizantă.
Este nevoie să fii liber de aceste dorințe ca să poți crea și să fii autentic. Nu este întotdeauna ușor, dar este drumul care aduce cea mai mare satisfacție – fiind atât de mulți oameni care merg la audiții, este imposibil să vrei să te mulezi pe fiecare rol pentru care dai audiție.
Eu cred că, în definitiv, ceea ce te scoate din mulțime, sunt autenticitatea și vulnerabilitatea și te fac să te axezi pe ce ai tu de oferit ca artist, acel ceva fiind de fapt unic.
Atunci competiția nu mai e cu alții, ci doar cu propria persoană. Ușor de spus, uneori mai provocator de făcut.
Ce diferă, din punct de vedere al muncii de actor, în Marea Britanie față de România ?
R.L.: Sunt multe diferențe. În primul rând, industria în sine este una arhaică, sunt actorii, agenții, casting director-ii, regizorii.
Și structura aceasta este foarte bine implementată, iar oricine vrea, ca actor, să lucreze la un nivel decent, este nevoie să o urmeze, adică să aibă agent, să meargă la audiții chemat de casting director și, în cele din urmă, să lucreze cu regizorul pe platou.
De fapt, tot sistemul începe din facultatea de actorie, unde, la sfârșitul celor trei ani de studiu are loc un showcase, adică un spectacol care se joacă de câteva ori și unde agenții artistici vin să vadă viitorii actori pe scenă, urmând să le ofere reprezentare artistică unora dintre ei.
Cu cât facultatea de actorie este mai cunoscută (Royal Academy of Dramatic Arts, Lambda, Mountview), cu atât mai mult agenții care vin sunt de la agenții de top (Independent Artists, Curtis Brown, etc.).
Este evident că a lucra într-un sistem de genul acesta îți oferă o anumită structură și siguranța că lucrurile merg într-o direcție ascendentă.
Ce ai sfătui un actor care vrea să emigreze la…Hollywood?
R.L.: Să emigreze la Hollywood, dacă asta simte că vrea să facă și că are ceva de spus! Important este să crezi în măreția visului tău și, pe măsura credinței, se desfășoară și lucrurile. Iar ca în orice experiență, să se înarmeze cu răbdare, perseverență și încredere.
Ce ai sfătui pe cineva care vrea să emigreze, în general ?
R.L.: Aș sfătui pe oricine de orice vârstă și statut social să emigreze cel puțin un an în altă țară, să trăiască ca localnicii, să-și ia un job, să meargă cu mijloacele de transport în comun, să mănânce mâncarea de acolo, să petreacă ca acolo.
Într-un cuvânt, să demitizeze experiența locuirii în altă țară și că acolo ar fi cumva "mai bine" ca în propria țară. Ceea ce vreau să spun este că, oriunde te-ai duce, ai provocări și bucurii, nicăieri nu e ideal și nici nu umblă câinii cu colacii-n coadă.
Absolut oriunde ai de muncit mult, oriunde ai activa ca profesie, ba aș îndrăzni să spun că, venind din altă cultură, într-o oarecare măsură, este nevoie să demonstrezi că ești profesionist și de încredere.
Este ceva ce, ca imigrant, oricum faci, chiar și la un nivel subtil. Oamenii îmi spun, după ce au stat un weekend la Londra sau la Berlin, că "am văzut cum stau lucrurile acolo", în sensul că sunt net superioare vieții din România.
Or, această abordare este nedreaptă și naivă. Nu ai cum să compari o viață dintr-o țară cu un weekend într-o destinație de vacanță.
Mentalitatea cu care te duci este alta, așteptările diferite și evident că ceea ce vei vedea, când vei ajunge, va fi privit prin ochelari roz.
Dar trăind efectiv într-o cultură cel puțin un an, vălul de miraj începe să se destrame și începi să vezi realitatea dincolo de ceea ce-ți arată ghidurile de turism.
Ce anume din educația ta românească e foarte prețios peste hotare?
R.L.: În primul rând, sunt mândră că mi-am făcut studiile in România și că am avut norocul unui sistem în care nu a trebuit să-mi plătesc o facultate vocațională cu bani foarte mulți, așa cum se practică în Vest.
A putea să te concentrezi pe studii, pe dezvoltarea ta ca viitor profesionist, a nu te gândi de unde îți vei plăti chiriile exorbitante și cum îți vei permite prețurile mari pentru mâncare este un lux pe care l-am realizat abia când am plecat din România și am văzut cum trăiesc studenții din Anglia.
Deci, în primul rând, accesibilitatea studiilor este un atu foarte prețios comparând lucrurile. De aici vine și un fel de relaxare și îndrăznire de a te concentra și pe aspectul creativ al vieții, nu doar pe a termina facultatea și a-ți lua un job pentru a-ți plăti datoriile pentru studiile universitate.
De asemenea, sistemul britanic de învățământ este focusat de obicei pe specializarea într-un anumit domeniu, ceea ce este bine, dar limitează cumva experiențele cu alte domenii, care ajută individul să se dezvolte plurivalent.
Se începe din școala generală în România, unde se așteaptă de la tine să știi și matematică, și chimie, și geografie și să fii și bun la română.
Uneori, poate fi mult, dar se și creează o cultură generală și elevii cunosc un pic din fiecare subiect, ceea ce este bine. Evident că se poate crea și un "lăutărism", cum spunea Noica.
Unde ai deschidere către mai multe lucruri deodată, dar nu ai suficientă acoperire teoretică și nici creativitate și faci lucrurile "după ureche", ca Barbu Lăutaru, care l-a uluit pe Liszt cu ușurința cu care i-a redat o melodie abia auzită.
Dar un asemenea sistem ni-l poate da pe un viitor George Enescu, care, în materie de muzică, i-a uluit și entuziasmat pe americani, el fiind în același timp violonist, pianist, dirijor și compozitor.
Dar i-a pus pe gânduri pe specialiștii din Germania, unde se pare că a fost primit mai cu răceală, deoarece era plurivalent.
În general, această deschidere mentală și "gândirea în afara cutiei" m-au ajutat foarte mult, este o caracteristică care vine din cultură și din societate, și mi-a fost atuul cel mai bun până acum.
Care sunt amintirile tale cele mai dragi despre România ?
R.L.: Sunt așa de multe, dar aș începe cu copilăria la Focșani, la casă, amintirile cu părinții mei; îmi aduc aminte de bunicii mei, pe care îi revăd cu mare drag când revin în țară;
de verile lungi, când ne jucam afară o droaie de copii, fără telefoane mobile și social media; de jocul "rațele și vânătorii" și multe altele, pe care și azi le-aș juca cu același drag și competitivitate.
Par atât de inocente vremurile respective în comparație cu ce trăiesc copiii în ziua de azi, ale căror fețe sunt postate pe Facebook de când s-au născut!
Îmi aduc aminte de începuturile de toamnă și de freamătul în așteptarea primei zile de reîntâlnire cu colegii și profesorii.
Toamna este anotimpul meu preferat și pentru că mie chiar mi-a plăcut școala, dar și pentru promisiunea noului început, pe care o aduce cu nostalgia aferentă căderii frunzelor.
Îmi aduc aminte cu drag de liceu, de colegi, de prietenii pe care încă îi am în țară, de libertatea pe care am simțit-o crescând și de multitudinea de oportunități pe care o aducea cu ea.
Sunt așa de multe amintiri frumoase, încât nu aș mai termina! Consider că sunt binecuvântată să fi avut un început așa de liniștit și vesel, natural, înconjurată de natură, de animale, cu prieteni mulți, și pentru asta mereu am să fiu mulțumitoare, deoarece știu că nu toată lumea a fost așa de norocoasă.
De aceea, simt că am responsabilitatea să dau mai departe ceva din ce am acumulat, din ce am înțeles, atât cât este el în acest moment.
Alți oameni și-au investit timpul lor în mine (părinți, profesori, amici, bunici, oameni simpli) și fluxul nu trebuie să se termine la mine, am și avem, cred, cu toții o responsabilitate:
să dăm mai departe ceea ce ni s-a oferit, deoarece nu este al nostru, vine de la părinți, bunici, moși, strămoși. Și ce mi s-a oferit este că se poate, iar asta vreau să dau mai departe, exemplul meu propriu și ideea că poți mai multe decât ai crede.
Ce ar putea învăța românii de la britanici?
R.L.: Românii pot încorpora de la britanici o anume structură în mentalitatea comună și individuală – asta am aflat, că pe mine m-a ajutat foarte mult și, structurându-mi gândirea, am înțeles câte cunosc, de fapt.
Aveam noțiuni disparate despre diverse domenii, dar, organizându-mi cunoștințele, am început să le și aprofundez, și asta mi-a oferit mai multă încredere în ceea ce știam.
Pe mine m-a ajutat structura, în primul rând, în viața personală, și de aici am început să lucrez și mai organizat la viața mea profesională. Asta cred că putem învăța din punct de vedere cultural.
Pentru că realizez că există o infuzie de talent și posibilități în România, dar în lipsa unui sistem și social și personal sunt pierdute talentele oamenilor. Și este mare păcat!
Or, o bază solidă și structurată poate ajuta un om cu mai puține daruri naturale să meargă înainte (iar aici mă gândesc cât beneficiu aduce acesta cuiva cu daruri native bogate).
Spunând acestea aș vrea să menționez că orice cultură are de învățat de la alte culturi. Iar britanicii nu fac excepție și cred că și ei ar putea învăța de la români o anume bucurie de a trăi și o deschidere spre celălalt.
O anume naturalețe în raporturile cu alții. Structura este foarte bună, dar când intră și în viața indivizilor, în cum se raportează unul la celălalt, se duce spontanul, greșeala, hazul de necaz, iar aici e savoarea vieții.
Foto: Andreea Goia