Ce joburi vor avea copiii noștri și cum îi pregătim pentru un viitor plin de oportunităţi?

www.shutterstock.com
Pentru generaţia Alpha – elevii de gimnaziu, însăși noţiunea de meserie este în plină și continuă schimbare.
Ce vrei să devii când vei fi mare? Proiectant de orașe inteligente? Designer de personalităţi A.I? Sau poate specialist în terapii de detoxifiere digitală? În doar câteva luni începe din nou școala și constatăm că întrebarea pe care o știm de generaţii și generaţii are astăzi răspunsuri cu totul noi.
Conform ultimului raport Future of Jobs, 65% dintre copiii născuţi după 2010 vor avea joburi care încă nu există. Raportul realizat de World Economic Forum explorează schimbările anticipate pe piaţa muncii pe măsură ce tehnologiile digitale și alte inovaţii continuă să evolueze. Tehnologiile emergente, cum ar fi inteligenţa artificială, robotica, blockchain și IoT pot schimba cererea de competenţe și pot da naștere unor noi meserii în domenii precum ingineria robotică, analiza datelor, dezvoltarea de software, securitatea cibernetică sau asistenţa medicală bazată pe tehnologie.
În același timp, hipertehnologizarea, hiperconectivitatea și necesitatea colaborării între oameni și inteligenţele artificiale, pot genera supra-domenii în care tinerii vor activa, precum noi ramuri ale psihoterapiei sau noi autorităţi de reglementare a relaţiilor dintre resursele umane și inteligenţele artificiale. Competenţele cheie anticipate pentru viitor sunt gândirea analitică, rezolvarea problemelor complexe, creativitatea, abilităţile sociale și + competenţele digitale.
Rămâne deschisă întrebarea pentru educatori. Cum pregătim noile generaţii pentru viitor? În această nouă paradigmă în care 2 din 3 copii vor avea meserii despre care nu știm încă prea multe, cum le asigurăm nu o direcţie fixă, ci deschiderea către o plajă largă de oportunităţi?
Acești tineri s-au născut într-o eră digitală în care tehnologia este omniprezentă. Crescând într-un mediu în care dispozitivele inteligente și reţelele sociale sunt parte integrantă a vieţii lor, membrii Generaţiei Alpha manifestă o familiaritate și o abilitate nativă în utilizarea tehnologiei. Instinctul lor este de a consuma informaţie prin căutare și descoperire, comunică în moduri inovatoare și demonstrează o adaptabilitate excepţională la tehnologiile și conceptele sociale care continuă să apară. Cu un spirit explorator și o minte deschisă, Generaţia Alpha este pregătită nativ să se adapteze și să inoveze într-un viitor în continuă schimbare, dar cum îi susţine școala în dezvoltarea lor?
Cu gândul la această perspectivă provocatoare, AmSchool s-a dedicat dezvoltării unui sistem educaţional inovator, având la bază conceptul flipped education, adaptat la abilităţile și nevoile de învăţare ale fiecărui elev. Acest model revoluţionar încurajează interactivitatea, învăţarea activă și vine cu o nouă viziune asupra rolurilor de elev și profesor, elevii fiind încurajaţi să exploreze proactiv subiectul de studiu, în timp ce profesorul este alături de ei în calitate de ghid ce oferă îndrumare în procesul de descoperire și învăţare fiecărui elev.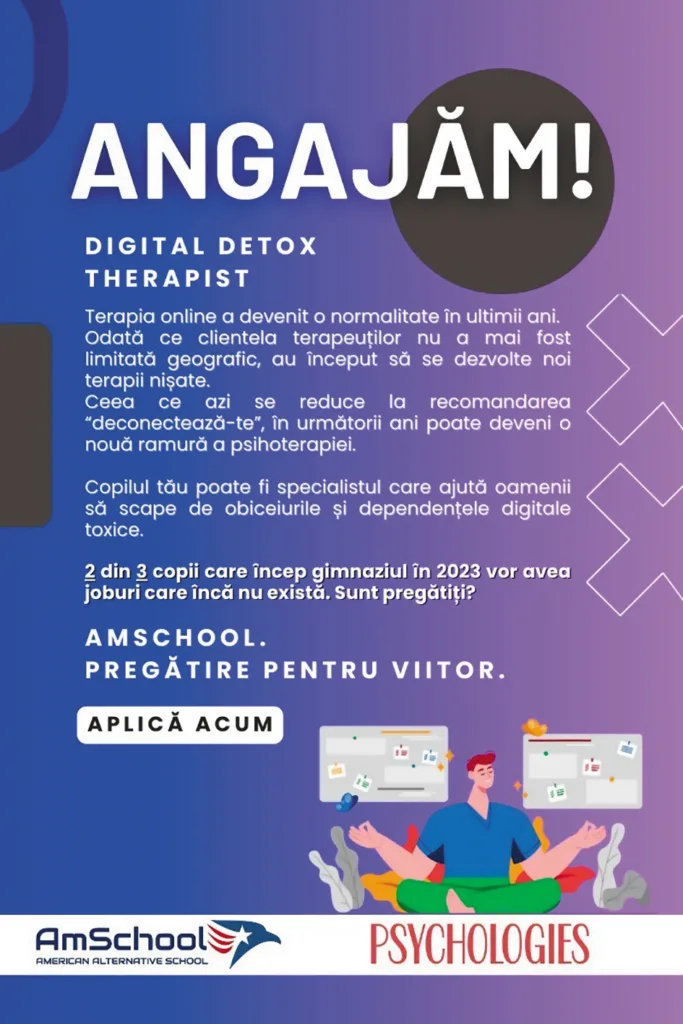 Studiul și învăţarea sunt activităţi sociale
AmSchool a îmbogăţit modelul flipped education cu noi elemente de inovaţie inspirate din feedback-ul tinerilor. De exemplu transformarea studiului, dintr-un proces individual, într-o activitate socială. Concluzionând că o parte importantă din bucuria mersului la școală este întâlnirea și interacţiunea cu colegii, a devenit clar că dimensiunea socială trebuie să se regăsească în timpul de studiu pentru ca acesta să devină punctul central de interes al tinerilor. Astfel, elevii AmSchool sunt încurajaţi să colaboreze în timpul studiului și să exploreze subiectele împreună, dezvoltându-și astfel gândirea critică, creativitatea, dar și abilităţile sociale. Mai mult, clasele de gimnaziu și, în paralel, cele de liceu își petrec timpul de studiu împreună, astfel încât, în mod natural, elevii din clasele superioare au ocazia de a-și dezvolta aptitudinile de leadership venind în ajutorul celor mai mici, iar cei mici își dezvoltă încrederea în sine prin susţinerea și validarea primită de la cei mai mari.
Noua relaţie elev-profesor
Pentru tinerii nativi digitali, felul în care consumă informaţia s-a schimbat fundamental în raport cu generaţiile anterioare. Accesul instant la informaţie în diferite formate, din care ei le pot alege pe cele mai potrivite și eficiente pentru stilul și nevoile proprii, i-a orientat pe tinerii Alpha către un mod de studiu bazat pe descoperire și explorare. În sistemul de educaţie clasic, profesorul are rolul de a transmite informaţie prin predare către un grup de elevi care ascultă, singurul moment în care elevul este ascultat fiind în etapa de evaluare. Modelul flipped education gândit pentru noua generaţie și implementat la AmSchool presupune un nou rol pentru profesor, acela de tutor – ghidul care oferă îndrumare individualizată fiecărui elev în procesul său de explorare a subiectelor de studiu. La AmSchool, tutorii nu predau, ci ascultă. Ascultă concluziile, întrebările și curiozităţile elevilor în raport cu subiectele pe care le-au studiat împreună. Le oferă elevilor răspunsuri, îndrumare și noi direcţii de explorat.
Curriculum internaţional
Programul educaţional AmSchool dezvoltat în parteneriat cu Mizzou – University of Missouri le oferă tinerilor peste 200 de cursuri din cele mai variate domenii pe lângă cele de bază – limba engleză, matematică și stiinţe sociale (istorie și geografie) ce fac și obiectul evaluării prin examene parţiale și finale aplicate la fiecare modul de studiu. Toate examinările sunt supravegheate și evaluate de către profesori ai universităţii din Missouri, până la finalul studiilor la AmShool ce se încheie cu testul SAT ("bacalaureatul american"). Însă misiunea AmSchool nu se încheie odată cu cursurile, ci continuă până la admiterea elevilor în instiuţiile de învăţământ superior pe care și le doresc, oferindu-le îndrumare în tot procesul de aplicaţie și admitere.