F-SIDES – cineclubul care vrea să vadă mai multe filme făcute de femei în România

Doar 17,5% dintre filmele lansate în cinematografele din România în 2019 au fost regizate sau co-regizate de femei
F-SIDES va debuta pe 13 iulie cu "The HolyGirl", filmul cineastei argentiniene Lucrecia Martel
Lansarea Cineclubului F-SIDES este însoțită de un manifest dedicat conceptului "female gaze"
F-SIDES este primul cineclub românesc dedicat exclusiv filmelor făcute de femei și modurilor alternative de a privi și reprezenta feminități în cinematografie și societate. Având o frecvență bilunară, cineclubul va debuta pe 13 iulie la Spațiul M60 din București și va continua timp de 5 luni cu o serie de proiecții în grădinile de vară ale Bucureștiului.
Pornind de la film ca instrument de reprezentare și dialog, F-SIDES își propune să construiască o platformă online și offline și un spațiu sigur de discuție și educație. În cuvintele Ioanei Diaconu, cofondatoarea F-SIDES, "filmele caută să aducă în prim plan o perspectivă feminină și să fie un punct de pornire pentru subiecte precum sororitate, libertatea asupra propriului corp, educația fetelor, violența împotriva femeii, explorarea sexualității, maternitate sau comunicarea intergenerațională."
Proiecțiile de film vor fi dublate de dezbateri care vor aprofunda tema lunară a cineclubului propunând subiecte de referință, discuție și acțiune împreună cu invitați speciali. "Vrem astfel să ne întoarcem mereu către realitatea și comunitatea din România, oferind o voce și un spațiu de expresie pentru experiențele cât mai multor femei", a continuat Ioana Diaconu. "Cineclubul va căuta să ofere publicului un set de instrumente prin care să analizeze propriile experiențe și un spațiu în care acestea să fie împărtășite, inclusiv un newsletter lunar cu informații și resurse adiționale."
Seria de evenimente F-SIDES va începe cu proiecția filmului The HolyGirl / La niñasanta, o introducere curajoasă în tematica socializării de gen și a educației oferite fetelor. Al doilea lungmetraj regizat de Lucrecia Martel și parte din trilogia Salta, La niñasanta / The HolyGirl urmărește întâmplările cotidiene prin care trec Amalia (María Alche) și mama ei, Helena (Mercedes Morán), de-a lungul unei săptămâni agitate, când hotelul în care locuiesc găzduiește o conferință medicală reunind zeci de specialiști. Fără a ști una de cealaltă, Amalia și Helena ajung să-l cunoască pe Dr. Jano (Carlos Belloso), care devine pentru câteva zile centrul de interes al acțiunilor lor, stârnind fie dileme de natură religioasă, fie pasiuni tăcute, consumate în conversație politicoasă sau în priviri furate pe culoarele clădirii. Pentru Amalia, apariția doctorului și tumultul de stări pe care i le provoacă devin testul suprem al credinței catolice, adolescenta asumându-și față de el o misiune divină – este felul ei de a pune în practică învățăturile scolastice abstracte, pline de tâlcuri nedeslușite.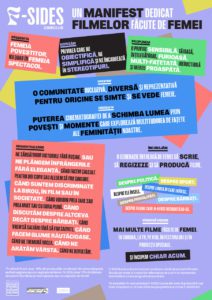 Conform unei analize realizate de F-SIDES*, 17.5% dintre filmele lansate în 2019 în cinematografele din România au fost regizate sau co-regizate de femei, ceea ce reflectă cifrele la nivel european și mondial. În ultimii 10 ani, 19% dintre producțiile românești din cinematografe au fost regizate sau co-regizate de femei. De asemenea, European Audiovisual Observatory, atrage atenția că la nivel european numai unul din cinci filme este regizat de o femeie.
Proiectul F-SIDES este construit în jurul conceptului "female gaze", un termen care provine din teoria de film feministă, reprezentând perspectiva privitorului de gen feminin. Acesta a apărut ca răspuns la termenul "male gaze", adus în atenția publică în 1975 de teoreticiana feministă de film Laura Mulvey, care spune că filmul Hollywoodian prezintă cu precădere perspectiva unui personaj sau regizor bărbat, în care personajul feminin îndeplinește o singură funcție, pe două nivele: obiect erotic pentru personajele din film și obiect erotic pentru spectator. Conceptul de "female gaze" urmărește să redea autonomia și inițiativa privirii feminine și să o scoată din statutul de obiect al dorinței. Susținând această idee, lansarea Cineclubului F-SIDES este însoțită de un manifest dedicat conceptului female gaze și a necesității imperative a unei comunități care caută, discută, vede și dă publicului mai multe filme făcute de femei.
Proiect cultural co-finanţat de Administraţia Fondului Cultural Naţional. Proiectul nu reprezintă în mod necesar poziţia Administrației Fondului Cultural Național. AFCN nu este responsabilă de conținutul proiectului sau de modul în care rezultatele proiectului pot fi folosite. Acestea sunt în întregime responsabilitatea beneficiarului finanțării.
Mai multe detalii despre Cineclub F-SIDES:
https://www.facebook.com/FSidesCineclub/
https://www.instagram.com/f_sides_cineclub/
*Analiza a fost făcută conform listelor de boxoffice din România pentru perioada 2009-2019.
✖
Mulțumim pentru că vrei să fim prieteni!