Cei mai mici supereroi Marvel se văd pe cele mai mari ecrane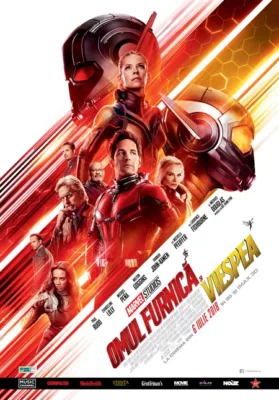 Cei mai mici supereroi Marvel se văd pe cele mai mari ecrane. Vara aceasta facem echipă cu Omul Furnică şi Viespea din 6 iulie, la cinema, pentru o nouă aventură alături de cei mai simpatici eroi din Universul Cinematografic Marvel.
În "Ant Man and The Wasp / Omul Furnică şi Viespea" – cea mai recentă producţie Marvel – îi reîntâlnim pe Scott Lang, infractorul devenit super-erou în primul film "Ant Man", care a apărut în 2015, şi pe Hope van Dyne, Viespea care ne va surprinde cu tenacitatea şi abilităţile ei.
"Ce e foarte palpitant la acest nou film este faptul că apare după confruntarea dezastruoasă din «Război Civil». Pentru mine este minunat că putem să spunem astfel de poveşti şi avem libertatea să ne jucăm cu personajele din benzile desenate, aducându-le pe marile ecrane, în faţa publicului. Asta am făcut şi cu «Omul Furnică», iar personajul său de după «Război Civil» a fost astfel expus unui public şi mai mare", spune producătorul Kevin Feige.
Explorarea noilor lumi din acest film a început în anul 2017, atunci când s-a filmat o mare parte din poveste în Atlanta, Georgia. Echipa şi actorii s-au mutat ulterior în San Francisco, pentru a filma în zona de coastă. Pentru Feige, explorarea unor noi lumi şi dimensiuni este regula generală de bază pentru fiecare film.
"Scopul filmelor Marvel este să ne transporte în alte dimensiuni, pe tărâmuri pe care nu le-am mai văzut până acum. Asta livrăm cu fiecare film pe care îl lansăm, fie că este vorba despre «Gardienii Galaxiei» sau «Captain America: Război Civil»", mărturiseşte Feige.
Efectele vizuale fantastice de micşorare şi mărire a personajelor şi a împrejurimilor au fost realizate de Stephane Ceretti şi Dan Sudick şi vă vor ţine lipiţi de scaunele din cinema, cu sufletul la gură, în aşteptarea deznodământului.
✖
Mulțumim pentru că vrei să fim prieteni!