Practica mindfulness – principala metodă de educare a copiilor la Verita International School of Bucharest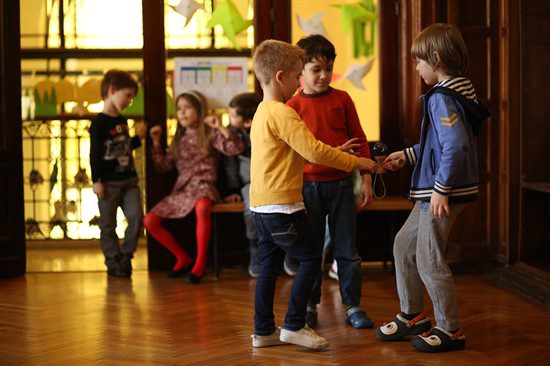 La Verita International School of Bucharest practica mindfulness face parte din programul mai larg de învăţare socio-emoţională. Iată ce impact are acest tip de educație în dezvoltarea copiilor.
Ce aplicații are?
Iniţial (sfârşitul anilor '70) practica mindfulness a fost folosită în domeniul medical. Dr. Jon Kabat-Zinn, în încercarea de a uşura suferinţa pacienţilor cu dureri cronice, a creat un program – mai târziu numit Mindfulness Based Stress Reduction – ce utiliza tehnici de mindfulness pentru a micşora disconfortul psihologic al pacienţilor. Ulterior programul a fost extins şi investigat ştiinţific. Pe baza dovezilor ştiinţifice apărute în ultimele două decenii practica mindfulness a fost aplicată şi în alte domenii:
intervenţii psihoterapeutice (e.g. Mindfulness Based Cognitive Therapy)
educaţie (e.g. Mindful Schools)
parenting
sport
business
sprijin pentru veteranii de armată şi detinuţi
Ceea ce este important de reţinut este că în cele mai multe cazuri practica mindfulness are rolul să completeze, şi NU să înlocuiască tehnicile specifice domeniilor de aplicare.
Este încă nevoie de cercetări minuţioase pentru înţelegerea mai în profunzime a felului în care mindfulness intervine şi creează efecte în planurile fizic, emoţional şi mental.
Ceea ce se ştie însă este că beneficiile sunt multiple şi, în unele cazuri chiar semnificative (de ex.  tratamentul depresiei, reducerea stresului, susţinerea sistemului imunitar, dezvoltarea atenţiei/concentrării, creşterea abilităţii de a acţiona cu compasiune în relaţie cu noi înşine şi ceilalţi).
Care este feedbackul de la copii și de la părinții acestora?
La Şcoala Verita practica mindfulness face parte din programul mai larg de învăţare socio-emoţională (SEL).
SEL reprezintă procesul prin care copiii şi adulţii deprind şi pun în practică cunoştinţele, atitudinile şi abilităţile necesare pentru gestionarea emoţiilor, stabilesc şi urmăresc scopuri benefice, simt şi manifestă empatie pentru ceilalţi, stabilesc şi menţin relaţii constructive şi îşi asumă decizii responsabile.
Practica este adaptată vârstei copiilor şi de multe ori este sub formă de jocuri şi provocări (e.g. în decursul unui minut de linişte în clasă copiii sunt invitaţi să detecteze trei – cinci sunete distincte din mediul înconjurător).
Feedback-ul primit de la copiii şi părinţi este favorabil, nu de puţine ori copiii au adus acasă ceea ce au învăţat la şcoală, atrăgând curiozitatea şi uneori amuzamentul părinţilor.
Îmi aduc aminte că o mamică mi-a povestit cum aflată în toiul unei conversaţii aprinse, a fost trasă de mânecă de fetiţa ei care i-a spus: "ai face bine să respiri de trei ori, mami".
În ce fel învață copiii să relaționeze cu viața de zi cu zi aceste informații?
Cel mai important aspect pentru ca elevii să preia un model sănătos de dezvoltare umană este ca adulţii din viaţa lor (părinţi, rude, profesori) să fie ei înşişi ceea ce doresc pentru copiii lor.
Acesta este punctul de referinţă pentru tot ceea ce facem la şcoală şi influenţează felul în care facem angajările, felul în care setăm aşteptările profesorilor şi educatorilor, alegerea programelor şi activităţilor şcolare la care elevii iau parte etc.
Creăm aşadar spaţiul sigur şi suportiv pentru ca prezenţa copiilor la şcoală să genereze experienţele de învăţare dorite.
Prezenţa copiilor la şcoală devine astfel o expunere continuă la un comportament uman inteligent, empatic, relaţional, generos, responsabil, bazat pe bunăvoinţă şi compasiune.
Ce rol are antrenamentul de mindfulness în educația copiilor?
Mindfulness este această incredibilă unealtă pe care copiii o pot folosi ca să se conecteze cu emoțiile pe care le trăiesc zi de zi și să observe ce se întâmplă în corpul lor când simt aceste emoții.
Ei pot experimenta cum în acele momente, prin punerea atenției asupra respirației de exemplu, pot trece mai usor prin situații care îi fac să se simtă furioși, triști sau agitați.
Rolul acestei practici este de a le oferi copiilor o alternativă la reactivitatea impulsivă în fața provocărilor de zi cu zi și de a le arăta că avem mereu cu noi oportunitatea de a răspunde mai înțelept acestor provocări emoționale cu beneficii atât pentru noi în mod direct direct cât și pentru cei din jurul nostru.
Este foarte important de menționat că acest antrenament trebuie să fie modelat de adulții din jurul lor pentru că altfel nu putem vorbi de o integrare sănătoasă și eficientă a acestei practici, nu îi putem învăța pe copiii noștri ceva ce nu cunoaștem noi înşine.
Prin această practică, copiii învață să își direcționeze atenția acolo unde momentul prezent le-o cere, și acest lucru aduce multe beneficii atât în școală din punct de vedere al dezvoltării lor academice, emoționale și sociale cât și în toate interacțiunile lor din afara școlii.
Un copil care observă că are nevoie să se miște puțin înainte să poată fi atent la ora de matematică sau recunoaște că se simte furios când un coleg îl împinge chiar și din greseală și observă că se poate calma mai repede și mai ușor dacă respiră profund de cateva ori sau dacă își verbalizează frustrarea – exemplu de rol si beneficiu adus de practica de mindfulness în școli dar și acasă.
De la ce vârstă trebuie începută această educație?
Cred că oricând se începe este un moment bun! Noi lucrăm la școală cu toate grupele de vârstă, de la cei mici de doi ani jumătate până la cei mari de zece, unsprezece ani.
Exercițiile din programa cu care lucrăm noi sunt adaptate în funcție de vârstă astfel încât conceptele să fie accesibile tuturor.
Revin însă la cel mai important aspect: înainte de a începe cu copiii, invitația și recomandarea este de începe noi în calitate de părinți și educatori această practică pentru că starea noastră de bine va fi cel mai ușor transmisă prin exemplul propriul.
A lua cina împreună în tihnă concentrându-ne pe gustul mâncării, a ne opri în parc să ne jucăm în zăpadă și să simțim cum se topesc fulgii de nea în palma noastră sunt toate exemple de practică informală de mindfulness.
Prin urmare nu contează neapărat vârsta cât intenția și eu sper să intenționeze cât mai mulți părinți să încerce măcar să experimenteze această minunată practică
Ce efecte are antrenamentul acesta in rezolvarea de probleme?
Dacă ne referim la probleme emoționale, mindfulness ne ajută în primul rând să fim conștienți de ele, să le recunoaștem când apar și să știm că avem opțiunea de a răspunde astfel încât rezolvarea problemei să vină într-un mod blând și benefic pentru toată lumea.
Mindfulness are un impact mare la nivelul relaționării întrucât viața noastră înseamnă o interacțiune constantă cu diverse situații și oameni. Și aceste interacțiuni pot genera probleme.
Când învățăm că gândurile noastre generează emoții uneori greu de controlat dar știm și că acele emoții vin și trec și nu trebuie să ne identificăm cu ele, avem deja soluția la multe din problemele cu care ne putem confrunta ca adulți sau copii.
Sunt tatăl a 3 băieți și dacă e să îmi doresc ceva nespus de mult pentru ei, fiind conștient că nu voi fi acolo pentru toate bătăliile pe care le vor duce ei cu viața, pot spune că mi-aș dori să le întăresc acest mușchi al rezilienței și să îi învăț că în orice moment pot accesa acest loc din ei în care se vor simți mereu în siguranță și mereu acasă.
Pentru că aceasta este partea incredibil de frumoasă legată de mindfulness, ne învață de fapt cum să fim cu noi înșine, în echilibru și pace, acceptând obstacolele care apar și învățând cum să navigăm pe marea vieții astfel încât să fim în armonie cu noi înșine și cu cei din jurul nostru, limitând pe cât posibil suferința interioară și cea din lumea în care trăim.
De asemenea, multe probleme apar din cauza stresului de la școală sau acasă și este deja confirmat științific ca mindfulness contribuie la:
Scăderea nivelului de stres și anxietate
Reacții mai temperate în fața emoțiilor puternice
Creșterea gradului de empatie și întelegere față de alți colegi
Dezvoltarea naturală a aptitudinilor de rezolvare a conflictelor
Richard Joannides, Founder & Head of Emotional Intelligence la Verita International School of Bucharest
✖
Mulțumim pentru că vrei să fim prieteni!