Grupul Folli Follie la Expozitia Baselworld 2012



Grupul Folli Follie a fost prezent la targ cu un stand modern, de aproximativ 500 de metri patrati, pe doua niveluri, ce a impresionat publicul.
Pastrand identitatea fiecarui brand, Grupul Folli Follie a creat un spatiu de expunere cu un design distinctiv, in armonie cu filosofia grupului.
La standul Folli Follie, accentul a fost pus pe noua campanie de brand, ce o are protagonista pe Gaile Lai, ambasador international al brandului.
Fanii Folli Follie au fost invitati sa intre in atmosfera de vara prin intermediul unei platforme video interactive, un spot video tip "vanatoare de comori" cu ajutorul caruia fiecare femeie isi poate descoperi stilul personal.
In cadrul standului au fost expuse produse reprezentative Folli Follie atat pentru femei, cat si pentru barbati.
Culorile corporate ale Folli Follie – alb si portocaliu, precum si layouturi ale noii campanii de vara au scos in evidenta noile colectii lansate in cadrul expozitiei.
O masa rotunda de dimensiuni mari si display-uri de culoare alba au facilitat vizionarea produselor expuse.
Colectiei reprezentative de ceasuri Heart4Heart i-a fost dedicat un spatiu special, cu o piramida digitala unde a fost prezentat spotul video al acestei colectii.
Standul din acest an al Links of London de la Baselworld 2012 a adus un tribut orasului Londra prin prezentarea unei scene traditionale din parcurile londoneze.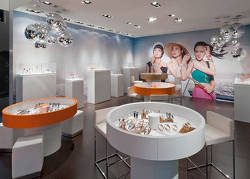 Decoruri impresionante, iarba falsa, sezlonguri, patura de picnic, replici ale balustradelor din fier si panouri de semnalizare negre, toate aceste elemente au contribuit la recrearea unei scene din parcurile londoneze, standul fiind remarcat de catre vizitatori datorita felului deosebit de prezentare.
Mii de vizitatori ai standului au avut posibilitatea de a admira noile colectii de ceasuri pentru femei si barbati de la Folli Follie, precum si colectii ale brandului Links of London, care apartine Grupului Folli Follie din 2006.
✖
Mulțumim pentru că vrei să fim prieteni!