Cea de-a șasea ediție Notorious Stories: Despre autenticitate și parfumerie de nișă

Cea de-a șasea ediție "Notorious Stories" a avut loc săptămâna aceasta, la Opera Română, și a reunit oameni de afaceri, jurnaliști, branduri de lux, dar și iubitori de frumos, eleganță, stil și parfumuri de nișă. Izabela Corina Juncu, fondatoarea proiectului Notorious Stories – un brand 100% românesc – este printre puținii consultanți în parfumerie de nișă din România.
Tematica evenimentului s-a axat pe autenticitate și parfumerie de nisă. În atmosfera elegantă a Operei Române, care a găzduit pentru a doua oară acest tip de eveniment, casa de parfumuri Chopard a lansat două noi arome, iar binecunoscutul brand Freywille și-a etalat cea mai nouă colecție de bijuterii.
La eveniment a fost prezent și Moth and Rabbit, un brand de parfumuri experimental, din Berlin, ce își propune să transcrie în experiențe olfactive emoții și povești, dar și Grown Alchimist cu produse revoluționare în materie de formule anti-aging.
"Parfumeria este domeniul meu de suflet, consider că parfumul este un puternic diferențiator, un «statement», este cel care creează prima impresie, chiar înainte de a oferi o carte de vizită. În plus, acesta împreună cu îmbrăcămintea bespoke și bijuteriile de calitate contribuie la consolidarea unui brand personal pe care fiecare membru al comunității noastre și-l poate construi în felul său, astfel încât să rămână întipărit în memoria interlocutorii săi. Am creat acest club pentru persoanele care cunosc importanța acestor aspecte atât în viața cotidiană, cât și în cea de business, care pun accent pe autenticitate și calitate" , a declarat Izabela Juncu, fondatoarea Notorious Stories.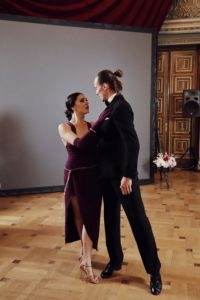 Aromele îmbietoare ale parfumurilor de nișă s-au îmbinat perfect cu eleganța locației, dar și cu dansul.
Atmosfera de gală a fost marcată și de un moment de tango, fondatoarea proiectului venind de fiecare dată cu un moment artistic unic, plin de rafinament, iar invitații s-au putut delecta cu prăjituri vegane delicioase și băuturi fine de la Remy Martin și Cointreau.
Izabela Juncu, gazda acestui eveniment și brand ambassador, a purtat un set de bijuterii Micri Gold, realizat din diamante de mină și diamante realizate în laborator, o noutate pentru piața din România, acestea având o claritate superioară pietrelor naturale.
La eveniment a fost prezentă și doamna doctor Dana Jianu, un nume sonor în chirurgia plastică-estetică din Romania și din străinatate, care a vorbit despre trenduri și autenticitate în chirurgia estetică.
Accesul la eveniment s-a putut face doar în baza unei invitații nominale, clubul Notorious stories fiind unul exclusivist, adresat iubitorilor de parfumurie de nisă și branduri de lux.
În toamna anului trecut, tot în cadrul Operei Române, s-a lansat și cardul Notorious Stories, un card în ediție limitată ce oferă acces la case de parfumuri din Paris, dar și prețuri speciale și beneficii la o mulțime de produse și servicii de lux din mai multe domenii.
Printre partenerii care oferă beneficii membrilor comunității se numără: Chopard, Courtyard by Marriott, Moxy, Sheraton, Athenée Palace Hilton, Elementals, MOTH and RABBIT, Ivatherm, Jolidon, Prelude Milano, Marius Musat, Institut Esthederm, Authentiq Institut de Beaute, Evess Beauty, Restaurant Bone, Restaurant Roberto's Bucharest, Liberté, Consiglieri, Cristallini, Clinica AS, Atelierul de Slăbit.
Facebook: www.facebook.com/NotoriousStories
Instagram: www.instagram.com/notorious.fragrancestories
Website: www.notoriousstories.ro
✖
Mulțumim pentru că vrei să fim prieteni!