De ce să mergi la spa în Thailanda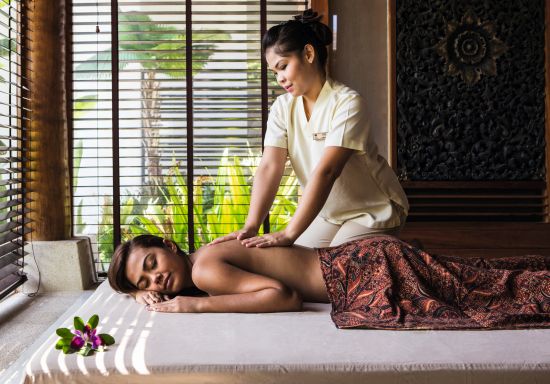 Thailanda este paradisul spa-urilor și al terapiilor.Dacă vrei revigorare de final de iarnă, te sfătuim să faci o excursie în această țară perfectă pentru turiști.
Cele mai frumoase zone pentru a fi vizitate în timpul iernii în Thailanda
În noiembrie, regiunea Andaman, cu Krabi, Phang-nga, Phuket, Trang, apoi coasta estică, unde mertiă văzute Chonburi, Pattaya, Rayong, Trat. Decembrie este cea mai bună lună pentru a vizita oricare dintre zonele Thilandei.
Ianuarie este potrivit pentru Marea Andaman, coasta estică; în februarie și martie, vă recomandăm tot regiunea Andaman, cu Krabi, Phang-nga, Phuket, Trang, precum și Golful Thailandei, cu Phetchaburi, Prachuab Khirikhan, Chum Phorn, insulele Pha-ngan și Samui, Surat Thani.
Citește și:
Și tu poți fi oaspetele prințului Charles în Covasna
Vrei să te limpezești la cap și să învingi depresia? Du-te la schi în Austria
Thailanda este recunoscută pentru turismul de wellness și calitatea celor care lucrează în acest domeniu. Este o destinație potrivită pentru cei care caută o combinație între vacanță și tratament.
Dar se abordează cu succes și probleme din zona ortopediei, chirurgia ochilor, infertilitate, chirurgie cardiacă. Desigur, cele mai plăcute experiențe sunt masajele, medicina holistică, izvoarele termale.
Spa-uri există la toate hotelurile din Thailanda și acolo veți găsi cosmetica tradițională, combinată cu tratamentele moderne. Dacă sunteți amatori, veți găsi chiar și specialiști în horoscop!
Ei vă vor recomanda tratamente potrivite pentru zodiacul dumneavoastră sau pentru elementul căruia îi aparțineți: foc, pământ, aer sau apă.
Ce ar trebui să știe românii despre Thailanda
Că thailandezii își respectă regele, și la fel trebuie să facă și turiștii. Afecțiunea în public este tabu: thailandezii nu se țin de mână și nu se sărută în public. Confruntarea e ceva indezirabil. Thailandezii vorbesc cu voce scăzută și evită confruntarea.
Vestimentația adecvată: îmbrăcați-vă decent când vizitați un templu, de exemplu. Trebuie să purtați pantaloni lungi și mâneci lungi, iar femeile trebuie să știe că nu au voie să atingă un călugăr.
Capul este considerat parte sacră a corpului, iar picioarele sunt partea inferioară. Trebuie să vă descălțați atunci când intrați într-un templu. Nu atingeți pe nimeni pe cap, nu este permis. Nici măcar pe copii.
Relaxare, relaxare. Modul de viață thailandez este despre asta: vă rugăm să aveți răbdare! Zâmbiți! Thailanda este Țara Zâmbetelor. Dacă veți zâmbi, thailandezii vă vor răspunde cu aceeași prietenie.
Anantara Resort & Spa este un spa de lux. Alături, se organizează turneul de polo pentru elefanți. Anantara înseamnă "curgere de apă" – așadar, te poți aștepta la cascade artificiale infinite, piscine lângă fiecare vilă, pentru un plus de confort și intimitate pentru turiști.
Recomandăm tratamentul Shirodhara, un masaj de "deschidere a celui de-al treilea ochi" – de fapt, un flux de uleiuri calde și abur, ce se aplică pe frunte pentru relaxare și dizolvarea tuturor tensiunilor.
Pentru cei care vin aici pentru mai mult decât tratamente spa, sunt disponibile multe trasee de călătorii și trekking împrejur.
Când spui "Thailanda", cel mai probabil te gândești la Phuket. Insula are multe spa-uri, unul mai sofisticat decât altul.
Spa-urile Aman și Amanpuri sunt cele mai frumoase (părerea noastră), pentru că se află într-o insulă de cocotieri, în cadru natural, iar personalul este dedicat răsfățului turiștilor.
Tratamentele includ masaj thailandez, masaj de detoxifiere limfatică, împachetări cu esențe și lemn de santal; toate produsele sunt bio, naturale, organice. Yoga și meditația se desfășoară pe malul Mării Andaman. Să tot vii și să nu mai pleci…
La 30 de kilometri mai la sud, vei ajunge la Pranburi – o regiune care se dezvoltă rapid și unde se construiesc noi spa-uri luxoase.
De exemplu, Evason Hua Hin Six Senses Spa, un complex de tratamente holistice care are grijă, personalizat, de toată familia: de tata, mama, chiar și copiii au tratamentele lor specifice de spa.
Dacă ajungeți acolo, veți avea parte de un consultant personal în tratamente spa și de instructor personal de thai chi și de yoga.
Băi cu lapte de cocos și miere, tratament cu ulei aromatic de alune, precum și un tratament special pentru… jet lag! Deci, dacă sunteți obosiți după zbor, cel mai bine e să ajungeți nu în pat, la somn, ci la spa.
Mai recomandăm, special pentru cupluri, de sfântul Valentin și nu numai, Worabura Resort and Spa, un complex cu 77 de camere, axat pe intimitate și romantism.
Adică plin de petale de trandafir, colțuri ferite pentru "porumbei" și tratamente cu arome și substanțe ce cresc libidoul.
"Bangkok este pe primul loc în Indexul Orașelor care merită vizitate"
"Economia Thailandei continuă să se dezvolte la un pas accelerat. În primul trimestru din 2017, economia s-a dezvoltat cu 3,3 procente, acelerată de la 3, în trimestrul anterior. Rata medie de creștere a PIB în 2016 a fost de 3,2. Cifră care arată succesul (am avut 2,9 % în 2015 și 0,9 în 2014).
În prima jumătate a lui 2017, investițiile în turism au fost o parte esențială a motorului de creștere a Thailandei. Thailanda a adoptat «Thailand 4.0» – un model economic de dezvoltare ce pune accent pe creativitate și inovație.
Modelul va urma direcțiile Strategiei Naționale pe 20 de ani (2017-2036) de construire a forței din interior și de conectare a țării la comunitatea globală, conform Sufficiency Philosophy, îmbrățișată de Națiunile Unite.
Scopul Thailand 4.0 este să scoată țara din modelele trecutului; vom pune accent pe agricultură (Thailand 1.0), industrie ușoară (Thailand 2.0), și industrii avansate (Thailand 3.0).
Modelul acesta se va axa pe inovație, cunoaștere, tehnologie, creativitate, pentru a da naștere venitului mijlociu și se va axa, de asemenea, pe construirea securității sociale, care va duce înainte țara.
Se va crea sustenabilitate pentru de mediu. Pentru a duce Thailanda către «Thailand 4.0», guvernul promovează 10 industrii care au potențial de motor de dezvoltare:
mașini de ultimă generație, electronice, turism medical și de wellness, agricultură și biotehnologie, hrana viitorului, robotică, aviație și logistică, biofuels și produse biochimice, hub-uri digitale și medicale.
Pe scurt, Thailanda a mers înainte în clasamentele internaționale în 2016-2017. Banca Mondială a clasat Thailanda pe locul 46 în 2016, în clasamentul ușurinței cu care se fac afaceri în țara noastră.
Institutul Internațional de Management al Dezvoltării (IMD) a plasat Thailanda cu două puncte înaintea Coreei de Sud în 2017, pe locul 27, și numai cu un punct sub Japonia.
U.S. News plasează Thailanda în topul celor mai bune ecomonii pentru startups, pentru al doilea an la rând, iar Mastercard plasează Bangkok pe primul loc în Indexul Orașelor care merită vizitate."
Miss Sirimit Siripala, ministru consilier și Charge D'affaires în cadrul Ambasadei Regatului Thailandei la București
Foto:  The Racha Phuket
✖
Mulțumim pentru că vrei să fim prieteni!