www.shutterstock.com
M-au interesat dintotdeauna oamenii, relațiile dintre ei, adevărul lor, doza de actorie pe care o presupune tot mecanismul vieții. Poate de aceea am ales un domeniu care e un fel de punte între ei, indiferent de distanțe și fel de a fi. Puntea care apropie. Care deformează uneori. Care dă cu lumină pe unii și cu noroi pe alții. Ta daaa! Televiziunea. M-a interesat acest fenomen, poate și pentru că, dacă-l înțelegeam, mă puteam apropia oarecum de a mă înțelege pe mine.
Sigur că, atunci cînd e meserie, totul se profesionalizează, ai indicatori preciși, ai căi de urmat, aha-urile, to do-urile și to not do-urile, iar instrumentele din dotare îți permit să înțelegi mai mult decît ceilalți tovarăși de existență. Mai capeți și experiență și gata! Știi cu ochii închiși ce e de făcut și poți jongla cu emoțiile oamenilor odată ce propui imagini, programe, campanii care le animă ecranul. Ești o rotiță care face mecanismul să funcționeze. Și, în ultimă instanță, face bani. Vinde. Asta-i televiziunea. Nimic surprinzător. Dar eu am remarcat o anomalie. Oamenii devin televiziuni. Și nu realizează.
Poporul și televizorul
Ce s-o mai ocolesc și răsucesc, știți vorba aia cu "Mințiți poporul cu televizorul!". Erau adevăruri în afirmația aceasta, nu zic o noutate, se învață la școala de film, se știe foarte clar că poți înșirui imagini, relatări, după cum dorești a influența masa de oameni care privește. E un soi de minciună, în fond. Depinde de cine ține acest televizor în brațe, spre a-l oferi publicului lacom să vadă departe.
Minciuna, această vrajă,  se poate insinua tiptil prin intermediul ecranului dirijat de undeva.  De aceea, mulți s-au îndepărtat de tradiționalul mod de comunicare, au renunțat la a se uita la televizor și au căutat alternative, ca să nu fie înșelați, induși în eroare. Oamenii au fugit de perspectiva de a fi vrăjiți. Și s-au apropiat de horele acestea virtuale, pline de oameni cu intenții bune, grupurile vesele legate de aceleași interese, mînate de dorința de împrietenire, numitele rețele de socializare.
Citește continuarea articolului în ediția de februarie 2022 a revistei Psychologies sau abonează-te și primește în dar cartea "Știutorii" cu autograful lui Mircea Cărtărescu.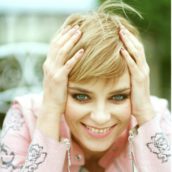 Gianina Corondan
Gianina Corondan este prezentatoare Radio și TV, entertainer, MC, actriță și cântăreață.