Sindromul burnout sau cum sa-ti controlezi emotiile negative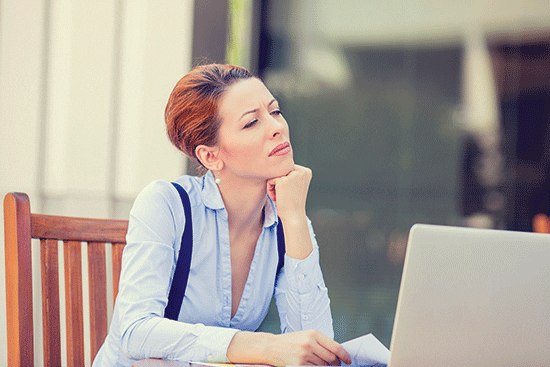 Sindromul burnout este o afectiune emotionala traita in special de cei pe care tindem sa ii catalogam drept workaholics. Efectele acestuia au un impact major asupra sanatatii fizice si mentale, asupra calitatii vietii.
Am ales sa stam de vorba pe aceasta tema cu psihologul Ligia Moise si cu specialistul in comunicare Marian Enache, care au gasit, impreuna, modalitatea de a elimina emotiile negative asociate de obicei acestui sindrom.
Cei doi sunt traineri in cadrul cursului "Managementul emotiilor in context socioprofesional", pe care il recomandam tuturor celor care doresc sa-si controleze emotiile negative si, implicit, sa-si creasca productivitatea la birou.
Psychologies: Ce este sindromul burnout?
Ligia Moise: Sindromul burnout (in engleza: "ars complet/ars pana la capat") reprezinta un cumul de manifestari fizice si psihice aparute in urma suprasolicitarii la locul de munca, manifestari ce consuma energia organismului pana la epuizare si, in cazurile cele mai grave, poate conduce la deces.
Sa ne gandim la un om coplesit de multitudinea sarcinilor de serviciu, dublate de temerile legate de siguranta locului de munca, si obtinem usor imaginea unei persoane extenuate, careia i se ingusteaza campul constiintei pana la a considera ca singurul mod prin care isi poate trai viata este acela de a munci.
Si va continua sa o faca, alimentand sentimentul de teama, care ii va determina manifestarile somatice (ritm cardiac si respirator crescut, palme transpirate, ameteli, greata, tulburari digestive), suprasolicitandu-se, in acelasi timp, si din punct de vedere intelectual.
Este un cerc vicios care va genera un consum excesiv si, in cele din  urma, va  "arde" organismul in focul creat chiar de el.
Cand a fost identificat acest sindrom?
L.M.: Herbert Freudenberger publica, in 1980, lu­cra­rea Burn Out: The High Cost of High Achievement. What It Is and How to Survive It (aprox.: "Epui­zarea completa, costul superperformantelor. Ce este si cum sa-i supravietuim"), in care descrie aceasta tulburare aparuta in urma activitatii profesionale.
Termenul fusese introdus cu cativa ani (inainte) si, daca suntem atenti la contextul socioeconomic al acelei perioade, putem intelege mai lesne de ce a aparut.
Inceputul anilor 1970 este reprezentativ pentru industrializare, pe de o parte, dar si pentru cresterea foarte mare a numarului celor angajati in birouri, in ceea ce, acum, numim "corporatii".
Acest fenomen social a generat, la randul lui, o competitivitate acerba pentru obtinerea de rezultate spectaculoase.
Toate au dus la suprasolicitare, care, pe termen lung, a condus la epuizare.  Astfel, specialistii au putut remarca aparitia unei noi tulburari.
Care sunt, in general, persoanele predispuse sa dezvolte acest sindrom?
L.M.: Intrebarea este foarte buna pentru ca, asa cum este prezentat acest sindrom, se poate crea falsa impresie ca doar angajatorul este raspunzator de cauze.
Metaforic, as spune ca persoanele predispuse la a dezvolta sindromul burnout sunt cele care uita de ele insele, in sensul de a-si oferi acel minim necesar pentru o buna functionare.
Asta inseamna sa manance ceea ce trebuie si cand trebuie, sa se odihneasca (oferindu-si atat ore suficiente de somn, cat si perioade de veghe, in care sa nu munceasca sau sa nu se gandeasca la problemele de serviciu).
Cei orientati doar catre succesul profesional pot fi anxiosi, iar anxietatea lor poate fi data de: teama de esec si/sau teama de a dezamagi persoanele importante (sau nu) din viata lor; credinta – falsa! – ca pierderea acelui loc de munca ar fi o catastrofa (viata oricarui om este o  demonstratie clara ca lucrurile nu stau deloc asa);
mai pune capac un esec in viata personala, care ii determina sa se refugieze in munca, sperand ca astfel vor uita. 
Care este mediul favorizant?
Marian Enache: Cel mai frecvent sunt afectati de acest sindrom fie angajatii din mediile hiper-competitive, fie cei din mediile in care stresul emotional este dublat de munca in schimburi si de lipsa somnului.
Concret, studiile arata o incidenta mare a celor epuizati profesional nu doar in corporatii, ci si in serviciile de terapie intensiva: nevoia de compasiune si atentie acordate pacientilor, respectiv stresul dat de responsabilitatea pentru calitatea actului medical ii suprasolicita pe medici, asistente, infirmiere.
Si, daca in cazul primei categorii (mediul de afaceri) apar mecanisme de compensare (gratie unor remuneratii peste medie), in cazul celei de-a doua salariul mic aduce o frustrare in plus, ceea ce constituie un factor agravant.
Care sunt simptomele acestui sindrom?
L.M.: Primele sunt cele legate de oboseala cronica – odata atinsa, indiferent cat ne odihnim, avem impresia ca nu e suficient.
Vor urma scaderea capacitatii de concentrare si, implicit, a randamentului profesional, tulburari de somn, precum si o senzatie de "gol sufletesc", pentru ca viata personala este invadata de viata profesionala.
In acelasi timp, persoanele care sufera de acest sindrom au manifestari clinice precum ritm cardiac crescut, transpiratie abundenta, senzatie de "gol in stomac", ameteala, lipsa poftei de mancare, insotite de manifestari emotionale (neliniste, angoasa, frica), ce pot merge pana la atacuri de panica.
✖
Mulțumim pentru că vrei să fim prieteni!
Iuliana Alexa
Iuliana Alexa a fost redactorul-sef al revistei Psychologies de la aparitia primei editii a revistei până în anul 2019. Iuliana a absolvit Facultatea de Litere si este coach.