Cursuri introductive in arta si filosofia budista
Cele 5 prelegeri din cadrul cursului vor fi sustinute de doctorul in filosofie RADU BERCEA, care a condus multi ani Institutul de Studii Orientale "Sergiu Al-George" si care este unul dintre putinii experti romani in domeniul indologiei.
Impreuna vom descoperi principalele trasaturi ale gandirii budiste si variatele sale de expresii cultural-artistice, toate acestea in atmosfera primitoare de la Centrul Seeds for Happiness. Cursul este gandit ca un program integrat si va recomandam sa parcurgeti toate cele 5 prelegeri, situatie in care veti primi o diploma pentru participarea completa la eveniment.
Prelegerile vor avea loc MARTI, ora 19:00, o data la doua saptamani, dupa urmatorul program:
Cursul 1 (19 aprilie): Cadrul de civilizatie indiana in care a aparut budismul
Legenda lui Buddha; elementele esentiale ale doctrinei: cele patru "nobile adevaruri", inexistenta Sinelui, cele cinci "agregate" (skandha), "productia dependenta" (pratîtyasamutp¢da); cele trei concilii, difuzarea buddhismului in toata Asia; disparitia buddhismului in India.
Cursul 2 (3 mai): Elemente de arta budista: Arta greco-indiana, iconografia (posturi, gesturi, atribute), stupa, grotele de la Ajanta, mandala.
Cursul 3 (17 mai): Scoala de gandire Mahayana I
Mah¢y¢na 1: Scoala M¢dhyamika. O expunere generala, urmata de lectura comentata a urmatoarelor texte: Praj±¢p¢ramit¢-hrdayas»tra; Praj±¢p¢ramit¢-stotra de R¢hulabhadra; Madhyamaka-k¢rik¢ (XXV) de Nāgārjuna.
Cursul 4 (31 mai): Scoala de gandire Mahayana II
Scoala Yog¢c¢ra. O expunere generala, urmata de lectura comentata a urmatoarelor texte: Lank¢vat¢ra-s»tra (90-96); Yog¢c¢rabh»mi (Param¢rthag¢th¢ 28-41) de Asanga.
Cursul 5 (14 iunie): Buddhismul tantric indo-tibetan
Buddhismul tantric indo-tibetan. O expunere generala, urmata de lectura comentata a urmatoarelor texte: Guhyasam¢ja-tantra (VII); "Cartea tibetana a mortilor" (Bar-do Thos-grol. partea I: 'chi kha'i bar do).
Inscrierile se fac la adresa de e-mail [email protected] sau la telefon 0721260590
Centrul Seeds for Happiness
Str. Fabrica de Chibrituri nr. 16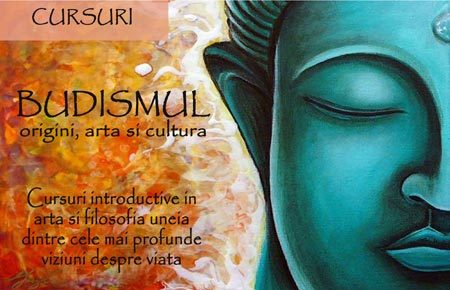 Scurta prezentare a activitatii d-lui RADU BERCEA
Radu Bercea este licentiat in istoria si teoria artei la Institutul de Arte Plastice "N. Grigorescu" din Bucuresti. In paralel a studiat limba sanskrita si cultura indiana sub indrumarea stralucitului indolog roman Sergiu Al-George. A obtinut titlul de doctor in filosofie la Universitatea din Bucuresti, cu teza intitulata "Gandirea simbolica a Upanisadelor, intre religie si filosofie". Este preocupat in special de traducerea din limba sanskrita a primelor texte filosofice indiene si de hermeneutica simbolica a acestora.
Intre 1990 si 2006 a condus Institutul de Studii Orientale Sergiu Al-George din Bucuresti si a editat periodicul Annals of the Sergiu Al-George Institute. In prezent este muzeograf la Muzeul National de Arta al Romaniei, sectia de arta orientala.
A tinut cursuri de civilizatie si filozofie indiana la Universitatea din Bucuresti. In 1993 a publicat "Cele mai vechi Upanisade: Brhadāra yaka-Upanisad, Chāndogya-Upanisad", traducere din limba sanskrita, studiu introductiv, note si comentarii, BucureÅŸti, Ed. Stiintifica. In Annals of the Sergiu Al-George Institute a publicat mai multe articole de specialitate: "L'indologie roumaine de Mircea Eliade   Sergiu Al-George", 1 (1992); "Essais d'herméneutique des Upani ad", 4-5 (1995-1996); "PratirÅ«pa: Prolégom¨nes   une théorie indienne du symbole" 6-8 (1997-1999); "L'enseignement de Prajāpati sur le sommeil profond", 9-11 (2000-2002). Alte articole: "Quelques statuettes lama¯ques du Musée des collections d'art de Bucarest", in Revue roumaine d'histoire de l'art 26 (1989); "On the Composition of the Chāndogya-Upani ad, VIIIth Prapā haka, in a Symbolic Perspective", în Crakow Indological Studies 1 (1995); "Crestinismul în India", în Secolul 20, 373-375 (1996); "K¢ma: le monde indien sous le signe du «désir»", în Romano-Arabica 2 (2002). Traduceri de imnuri vedice, prefeŃe la cărŃi de indologie, recenzii etc.
✖
Mulțumim pentru că vrei să fim prieteni!