www.shutterstock.com
"Sunt un om pe o cale, pe un drum de evoluţie, n-aș putea să spun exact la ce kilometru mă aflu, dar știu ce îmi doresc și unde vreau să ajung."
Psychologies: Cine este Alexandru Răducanu?
Alexandru Răducanu: Din punctul meu de vedere, mai important decât cine sunt este cine voi deveni. Obiectivul meu major, pe termen lung, este să aduc atât de multă valoare, iar oamenii să fie atât de interesaţi de ce am de spus încât să umple stadioane.
Care este mesajul tău sau mesajul The School of Light?
A. R.: Să ajungem la starea de conștienţă și de trăire a divinităţii din noi. Să fim fiinţe complete, cu o dimensiune spirituală, alături de dimensiunea pragmatică și materială, relaţională, socială și așa mai departe. Pentru a avea vieţi împlinite, trebuie să creștem armonios.
Cum vezi spiritualitatea?
A. R.: Din punctul meu de vedere, spiritualitatea este ceva foarte practic și trăit și ţine de o conștienţă a multidimensionalităţii noastre, a faptului că nu suntem doar animale inteligente, ci avem și aspecte non-materiale, care ne conectează cu divinitatea, cu entităţi de lumină, cu alte dimensiuni în care sunt alte fiinţe inteligente sau cu capacităţi superioare oamenilor. E un fel de a vieţui într-o lume în care vedem în mai multe dimensiuni decât cele obișnuite, în care avem mai multe simţuri în afara celor clasice. Ne înrădăcinăm în valorile creștine, dar fără habotnicie, și desigur în niște legi universale. Pot să nu cred în fizică și gravitaţie, dar dacă o să cad de la etaj o să constat că legea gravitaţiei produce efecte. Așa este și în domeniul spiritual. Legile fizicii, din punctul meu de vedere, sunt doar niște reflecţii imperfecte ale unor legi spirituale.
Ai fondat o școală pentru a transmite mai departe această filozofie a spiritualităţii. Cum ai ajuns să creezi școala?
A.R.: Am plecat de la o nevoie foarte pragmatică: de la bani. Aveam deja o iniţiativă, Canal 33, un post de televiziune diferit care aducea multă valoare oamenilor, dar datorită unor aspecte de piaţă, a ajuns într-un impas. Epuizasem posibilităţile de a finanţa televiziunea, când m-am gândit să ţin un curs: Transformarea noului TU. Erau lucruri pe care eu le experimentasem – mă preocupam de spiritualitate de aproape 30 de ani. Preocupările mele erau mai vechi, dar în '93 m-am apucat de cursuri. Am împărtășit câteva lucruri din cunoașterea mea, iar oamenii au apreciat foarte mult. Rata de succes a cursului a fost mult mai mare decât anticipasem, poate și pentru că pe piaţă nu intraseră încă sute de oameni care ţin cursuri. Poate și asta m-a ajutat să îmi fac un nume și să atrag cumva atenţia.
Într-un an și jumătate, în diverse formule de cursuri, am predat cam ce acumulasem eu până atunci. Apoi, vreo doi ani și jumătate, am predat lucruri pe care și eu a trebuit să le accesez – o combinaţie de experienţă, de cercetare, de lecturi, de cursuri.
Citește continuarea articolului în ediția de iunie 2023 a revistei Psychologies sau abonează-te și profită de ofertele speciale!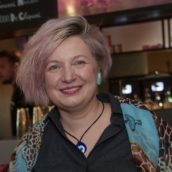 Clementina Anghelache
Clementina Anghelache este antreprenor în dezvoltare personală, learning facilitator, autor și Ontological Coaching Practitioner cu peste 15 ani de experiență. Formările sale cuprind peste 5000 de ore în domenii de business, leadership, vânzări și marketing, 3 programe NLP Practitioner și un Master, 3 școli de coaching cu Alain Cardon, Sir John Whitmore și Inner Game cu Tim Gallwey, PCM, Points of You, Theta Healing și Acces Consciousness. A petrecut două decenii ca antreprenor în publishing în domeniul învățării organizaționale și în urmă cu trei ani a relansat licența revistei Psychologies în România. Este pasionată de scris și acompaniază persoanele care doresc să își transforme viața prin intermediul journaling, prin cursuri create din perspectiva ontologică. Clementina crede că învățarea este un fel de a fi natural al omului și că prin învățare avem acces la transformarea vieții noaștre și atingerea obiectivelor.