Sandra Pralong – "Romancele sa aiba mai mare incredere in ele"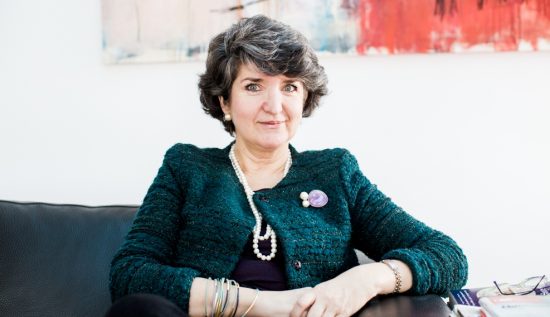 Sandra Pralong considera ca in viata totul are un sens, ne incurajeaza sa nu ne sacrificam viata personala pentru cariera, iar alaturi de ea mediul politic capata stil si rafinament.
Cel mai important sfat primit
Eram la Newsweek, la New York, tanara stagiara. Nu aveam autoritate asupra departamentului de creatie, care nu respecta termenele si imi crea dificultati in a-mi face, la randul meu, treaba.
M-am dus la boss-ul meu de atunci sa ma plang, ceva de genul "sunt prea mic, nu pot nimic" si, dupa ce mi-a ascultat povestea, mi-a zis: "Sandra, e usor sa conduci cu batul. Dar nu tine mult.
Adevarata arta e sa motivezi oamenii sa te urmeze. Citeste cartea asta si, daca ii aplici invatamintele, te vei face ascultata". Cartea era "How to win friends and influence people", de Dale Carnegie.
In esenta cartea te invata sa asculti tu primul, ca sa te faci ascultat, sa te pui mereu in pielea celuilalt, sa nu vezi lucrurile doar din perspectiva ta.
Invatamintele m-au ajutat atat de bine incat am fost angajata la Newsweek dupa acel stagiu de vara si promovata anual, astfel incat in 5 ani am devenit directorul comunicarii pentru toata America de Nord.
Totul pentru ca am reusit sa inteleg ca nu autoritatea formala este importanta, ci pasiunea pe care o pui in a-i asculta pe oameni, a-i ajuta sa inteleaga cum pot sa-si urmareasca propriul interes in acelasi timp in care tu il urmaresti pe al tau.
In alte cuvinte cum pot gasi solutii win-win din care sa castige toata lumea. A propos de solutiile win-win, un alt sfat pe care il aplic mereu si in prietenie si la treaba vine de la bunicul meu, care a fost General, si care repeta mereu: "Nu-ti surprinde niciodata aliatii!"
Caci daca pui oamenii in fata unui fapt implinit, risti sa ti-i transformi repede din aliati in dusmani.
In fine, o ultima povata, din cursurile de la Harvard: un adevarat lider da oamenilor impresia ca ideile inovatoare sunt ale lor, nu ale sale.
In alte cuvinte, un sef bun nu se bate cu pumnul in piept aratand cat este de grozav e, ci imputerniceste creativitatea oamenilor si ii ajuta sa se autodepaseasca – si sa il depaseasca chiar pe el. Sau pe ea.
Un lider bun nu sta in fata oamenilor ci in spatele lor, ca sa-i prinda atunci cand cad… Pe scurt, ca sa-ti traiesti viata cu sens, trebuie sa creezi in jurul tau acel spatiu in care oamenii sa infloreasca si sa contribuie, astfel vei fi si tu implinit si vei crea valoare.
Cum ajuta calitatile tipic feminine in diplomatie
Calitatile feminine sunt importante nu numai in diplomatie ci in toate domeniile – ii ajuta pana si pe barbati!
Am citit undeva ca marii contractori din industria americana de armament ofera cursuri despre valorile feminine barbatilor din companie si isi "feminizeaza" consiliile de administratie, deoarece recunosc beneficiile unei culturi corporatiste bazate pe valorile feminine mai curand decat pe cele uzuale in domeniul lor, care sunt masculine.
Femeile sunt educate sa aiba o alta etica decat cea a barbatilor, ce e bine si ce e rau pentru o femeie este diferit fata de ce e pentru un barbat.
Femeile valorizeaza cooperarea, conlucrarea, ascultarea, pe cand barbatii pun mai mare pret pe competitie si lupta. Femeile gasesc mai usor solutiile "win-win", pe cand barbatii prefera jocurile cu suma nula, in care unul singur castiga in detrimentul celuilalt.
In lumea de azi vedem cum competitia si-a atins limitele. Peste tot in lume accentul se deplaseaza incet spre valorile feminine, de cooperare si conlucrare, din care fiecare castiga.
Tranzitia nu va fi usoara si nici lipsita de traume si crize dar ea se intampla! Economia secolului XXI se bazeaza din ce in ce mai mult pe acest model, al punerii resurselor in comun, al parteneriatului si partajarii: initiative ca Uber, Airbnb, etc, pleaca de la aceeasi filozofie sa-i zicem "feminina", a cooperarii.
Intalniri importante si modele de viata
Parintii si mai ales bunicii, care m-au crescut. Bunicul meu, Generalul Alexandru Budis, care a scris vreo 23 de carti, s-a ocupat numai de mine cand a iesit din inchisoare si, la 5 ani, imi explica deja, pe intelesul meu, relatiile internationale.
De exemplu, ma facea sa inteleg – la nivelul meu rudimentar de copil – de ce De Gaulle nu dorea ca Anglia sa faca parte din piata comuna, precursoarea UE.
A fost un om de o probitate morala exemplara, care m-a invatat ca viata nu ne apartine in totalitate, ea apartine deopotriva meleagurilor in care te-ai nascut si comunitatii in care traiesti. Acestora trebuie sa le fie mai bine datorita trecerii tale prin lumea aceasta decat le-ar fi fost fara tine…
Sfat pentru tinere
Sa nu faca prostia de a ramane singure in viata si sa sacrifice tot pe altarul "realizarii"… Cel mai usor este sa construiesti macar in doi, nu singur.
Vreau ca romancele sa aiba mai mare incredere in ele insele. Sunt capabile, muncitoare, ele au tinut tara asta pe umeri in comunism, si o fac si acum, in capitalism, prin sarguinta si seriozitatea lor – ele sunt mult mai bune decat cred, trebuie sa fie constiente de valoarea lor.
A venit momentul ca ele sa realizeze propria lor forta si sa indrazneasca sa spuna "nu" atunci cand ceva nu le convine. Si Slava Domnului, avem suficiente motive sa nu ne convina ce vedem. Nadejdea mea este ca de la ele va veni schimbarea in societatea romaneasca.
Ce ma motiveaza sa trec peste greutati
Cred cu tarie ca totul are un sens, chiar daca eu nu il inteleg intotdeauna. De aceea este nevoie de un fel anume de credinta – aceea ca exista undeva o ordine adesea inaccesibila noua, dar faptul ca ea exista face absurdul multor situatii mai tolerabil.
Sandra Pralong este Consilier de Stat la Departamentul pentru Relatia cu Romanii din afara Granitelor al Administratiei Prezidentiale. Este autoare de carti, politolog si activist civic.
Foto: Nemethi Barna
A consemnat Iuliana Alexa