American Journal of Psychotherapy in limba romana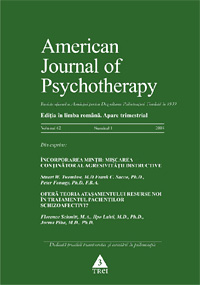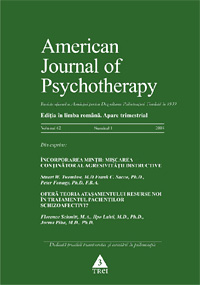 Intemeiata in 1939, American Journal of Psychoteraphy a intrat in cel de-al 70-lea an de existenta neintrerupta. Revista trimestriala ofera informatii, comentarii si dezbateri despre principalele orientari din psihoterapia contemporana (comportamentala, psihodinamica, spirituala si experentiala).
Prezentarile de cazuri abunda, tehnica, dar si teoriile psihologice intemeietoare bucurandu-se de o deosebita atentie.
Prestigiul revistei este ilustrat nu numai de indelungata sa traditie, dar si de personalitatile care ii alcatuiesc board-ul, printre care se numara Aaron T. Beck, Arnold Lazarus, Glen O. Gabbard, Irwin Yalom, Otto Kernberg.
Absenta in limba romana a unei reviste dedicate psihoterapiei ne-a determinat sa preluam integral revista americana, al carei spirit poate constitui un model pentru viitoarele reviste romanesti.
Cele patru numere ale anului 2008 pot fi achizitionate prin abonament in valoare de 100 lei, precum si din comertul de carte (pret pe exemplar 30 lei) sau de la Editura Trei.
Din cuprinsul primului numar:
Incorporarea mintii: Miscarea — continator al agresivitatii distructive. Stuart W. Twemlow, M.D.; Frank C. Sacco, Ph.D.; Peter Fonagy, Ph.D, F.B.A.Traducere din engleza: Stefania D. Nita
Ofera teoria atasamentului resurse noi in tratamentul pacientilor schizoafectivi? Florence Schmitt, M.A.; Ilpo Lahti, M.D., Ph.D.; Jorma Piha, M.D., Ph.D. Traducere din engleza: Simona Reghintovschi
Prezentarile de sine si dinamica statutului in psihoterapie si supervizare. Wynn Schwartz, Ph.D. Traducere din engleza: Stefania D. Nita
Raspunsurile terapeutilor la formarea in psihoterapia de sustinere de scurta durata (PSS). John C. Markowitz, M.D.; Rachel Manber, Ph.D.; Phyllis Rosen, L.C.S.W. Traducere din engleza: Stefania D. Nita
Clientii din psihoterapie ca fenomene umane. Janet L. Etzi, Psy.D. Traducere din engleza: Simona Reghintovschi
Pret pe exemplar – 30 lei
Pret abonament (patru numere) – 100 lei
✖
Mulțumim pentru că vrei să fim prieteni!