Cele mai bune seriale TV filmate în Las Vegas! Pe care nu l-ai văzut încă?

Las Vegas este Paradisul gambling-ului, dar și al divertismentului. Foarte mulți jucători de casino au reușit să obțină aici câștiguri foarte mari, de-a lungul anilor, atât la păcănelele fizice, cât și la ruletă și Poker. Acest oraș este unul dintre locurile în care trebuie să ajungi cel puțin o dată în viață. Diversitatea sa culturală și amploarea surselor și tipurilor de entertainment sunt de neratat, în mod special, dacă îți place să colecționezi cât mai multe momente de neuitat.
Dacă înainte să vizitezi Sin City vrei să exersezi în mediul online, Netbet îți pune la dispoziție o gamă vastă de jocuri la care să îți testezi tehnicile de gambling. Ține cont de faptul că la casino ai nevoie și de noroc pentru a obține câștiguri, așa că nimic nu este sigur. Fiind responsabil cu depunerile pe care le faci, vei diminua riscurile, însă, ele există în continuare. Ele dispar complet când te folosești de o platformă virtuală de bonusuri cu Rotiri Gratuite fără depunere ori când beneficiezi de promoții care îți dau bani în cont.
Las Vegas a găzduit, de-a lungul timpului, numeroase emisiuni și seriale. Dacă vrei să "vizitezi" orașul prin intermediul unor producții TV de succes, iată 5 show-uri populare care te vor transpune în Sin City!
High Stakes Poker
Pasionații jocului de Poker au la dispoziție în mediul online emisiunea High Stakes Poker. Aceasta a avut primul episod lansat pe 16 ianuarie 2006, iar ultimul pe 21 mai 2011. Deși, inițial s-a difuzat pe GSN, în prezent, emisiunea se găsește virtual pe Poker GO.
În primele 5 sezoane, gazdele emisiunii au fost A.J. Benza și Gabe Kaplan, dar în al șaselea, Benza a fost înlocuit de Kara Scott. Odată cu cea de-a șaptea serie, Gabe Kaplan a fost înlocuit cu Norm MacDonald. De-a lungul anilor, au fost schimbate și cazinourile care au găzduit High Stakes Poker. Pornind din Golden Nugget și The Palms, emisiunea a fost filmată și la South Point Casino și Bellagio.
Principalul motiv pentru care show-ul High Stakes Poker a crescut repede în popularitate este că episoadele conțin jocuri cu bani cash, spre deosebire de alte producții de profil care se axează doar pe partidele din turnee și campionate.
Printre jucătorii celebri care au apărut, de-a lungul episoadelor, se află și Phill Hellmuth Jr., Doyle Brunson și Daniel Negreanu.
Deși High Stakes Poker a luat o pauză destul de mare, în 2020, după 9 ani, a revenit cu noi episoade odată cu lansarea celui de-al optulea sezon, exclusiv pe Poker GO.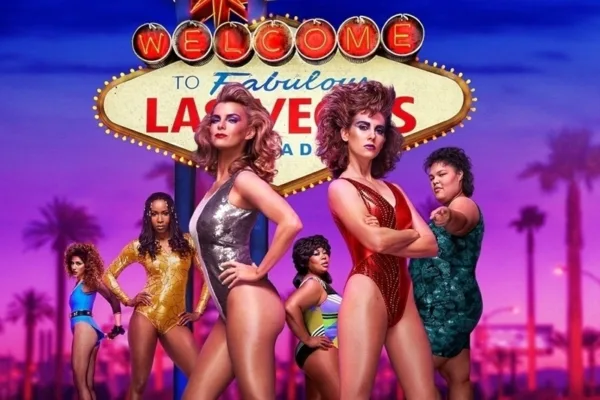 GLOW
Încadrat în genul de comedie-dramă, GLOW este un serial cu doar 3 sezoane, care se poate viziona pe Netflix. Încă de la primul episod lansat pe 23 iunie 2017 și până la ultimul, lansat pe 9 august 2019, acesta s-a făcut remarcat prin subiectul său captivant. GLOW este prescurtarea de la "Gorgeous Ladies of Wrestling" și se axează pe povestea unui grup de femei neconvenționale dornice să se afirme, să fie independente și să își păstreze personalitatea, indiferent de provocările la care sunt supuse. Acțiunea are loc în anii '80 și se desfășoară predominant în California de Sud (Los Angeles) și Nevada de Sud (Las Vegas).
Dacă ți-a plăcut "Orange is the New Black", atunci GLOW, cu siguranță, este un serial pe care trebuie să îl urmărești, fiind o creație a acelorași producători. În cele 30 de episoade apar în rolurile principale Alison Brie, Betty Gilpin și Marc Maron, dar și wrestleri profesioniști.
CSI
Unul dintre cele mai cunoscute seriale polițiste, de acțiune, CSI are câteva episoade care se desfășoară în Sin City. Încă de la lansarea sa din anul 2000 și până la finalul său în 2015, show-ul și-a crescut constant numărul de fani, motiv pentru care a fost creată o franciză a "Crime Scene Investigation", printre care se află și:
CSI Miami
CSI NY
CSI Cyber
Pe lângă acțiunea care se axează pe capturarea infractorilor, există de-a lungul firului narativ, și elemente de soap-opera, legate de viața privată a personajelor.
Succesul serialului CSI a adus în lumina reflectoarelor mai mulți actori, precum William Peterson, Ted Danson, Laurence Fishburne și Elisabeth Shue. De-a lungul celor 365 de episoade, apar ocazional și alte celebrități, precum John Mayer, Ozzy Osbourne și solistul de la The Who, Roger Daltrey.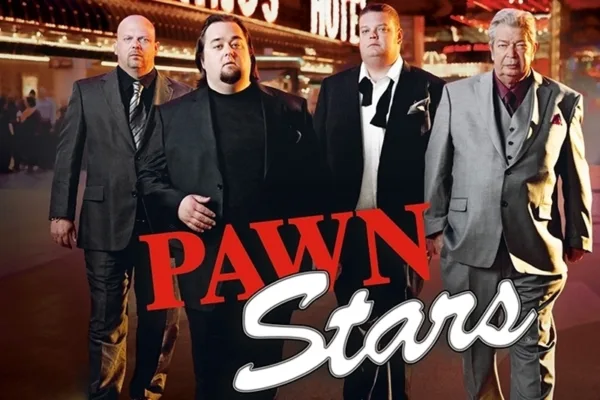 Pawn Stars
Unul dintre cele mai populare reality-show-uri filmate în Las Vegas este Pawn Stars. Lansată în 2009, emisiunea de pe History Channel conține în fiecare episod mai multe povești întâmplate, teoretic, într-unul dintre faimoasele case de amanet non-stop din Sin City. Pawn Stars este la bază o afacere de familie, iar de-a lungul celor 17 sezoane, foarte puține persoane noi au fost introduse în business.
Cu toate acestea, în majoritatea episoadelor se apelează la expertiza unor invitați speciali, unor specialiști, care să determine adevărata valoare a obiectelor amanetate.
Pe lângă subiectul destul de simplu al reality-show-ului, sunt aduse și câteva note personale despre protagoniștii Richard "Old Man" Harrison, Rick, Corey și Austin.
Seria Pawn Stars din Las Vegas stă la baza mai multor emisiuni cu același plot, care se desfășoară în mai multe țări din lume.
American Restoration
Pasionații de auto se pot delecta oricând cu episoade din reality-show-ul American Restoration de la History Channel lansat în 2010. Această producție este o emisiune derivată a seriei Pawn Stars, precum și Counting Cars (Colecția de la Count's Kustoms) și Cajun Pawn Stars. În fiecare episod din cele 7 sezoane, echipa de specialiști auto, formată din Rick și Tyler Dale, Brettly Otterman, Kyle Astorga și Kowboy, redau viața unor autovehicule defecte sau cu o amprentă majoră a trecerii anilor.
Pe parcursul unui episod este documentat procesul de restaurare, inclusiv problemele care apar și alegerile dificile pe care membrii echipei trebuie să le ia. Serialul a devenit celebru pentru "bijuteriile" auto pe care a reușit să le salveze echipa, dar și pentru colaborările cu echipa de la Pawn Stars și alte celebrități din Las Vegas, precum Lance Burton, Sammy Hagar, Billy Joel și David Copperfield.
Concluzie
Fiecare emisiune, serial și film în parte are farmecul său. Las Vegas a fost orașul preferat al autorilor care și-au plasat acțiunea în mijlocul Paradisului Jocurilor de Noroc, dar și al producătorilor care s-au axat pe lux, divertisment și diversitate. Vizionează și tu, cel puțin, câteva episoade din fiecare recomandare de mai sus, luând în considerare să călătorești ulterior în Nevada pentru a descoperi personal faimosul Sin City.
✖
Mulțumim pentru că vrei să fim prieteni!