5 to go lansează paharul Retro, de 650 ml, cu 3 shot-uri de cafea!

Brandul 100% românesc de cafea 5 to go intră pe piață de astăzi, 16 noiembrie, cu un nou pahar, de 650 ml, cel mai mare pahar din portofoliu. Campania de lansare poartă denumirea RETROGRAND, pentru a sublinia caracteristicile importante ale acestei colecții: stilul retro, regăsit în detaliile grafice, asocierea cu horoscopul, fiecare zodie fiind reprezentată pe pahare prin design și mesaje personalizate, precum și sublinierea faptului că este paharul cu cel mai mare gramaj din portofoliu.
Astfel, noul pahar poate fi regăsit în meniu sub denumirea Retro și ia forma unei colecții speciale de 12 pahare, reprezentând cele 12 semne zodiacale. Fiind o ediție concept dedicată zodiilor, Neti Sandu este imaginea acestei campanii. Grafica este realizată de o tânără artistă, Ana Mălăianu. Ea a transpus viziunea și conceptul într-un design cool, fresh și colorat, rezultatul fiind o colecție de pahare în spiritul reprezentativ 5 to go, vibrant și surprinzător.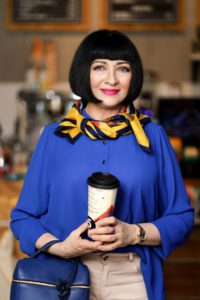 "Am așteptat mult să lansăm acest pahar, în alte condiții am fi făcut lansarea la început de an. Însă, am avut mai mult timp să lucrăm și eu consider că rezultatul este unul spectaculos. Zodiile și cafeaua au multe în comun, așa că le-am adus alături în noua noastră colecție. Îi așteptăm pe toți prietenii 5 to go să vină la un triplu shot de cafea, să o savureze citind mesajele simpatice legate de zodii de pe pahare și să ne spună părerea lor despre această colecție. Ne bucură colaborarea cu Neti Sandu, suntem încântați să prezentăm împreună cele 12 zodii. Am pregătit mai multe surprize în perioada următoare și sper că vom continua să ne surprindem comunitatea cu noutăți și inovații", a declarat Radu Savopol, co-fondator 5 to go.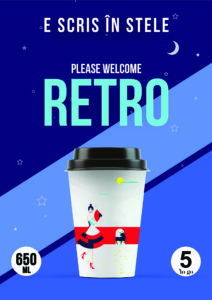 Cafea cu triplu shot de espresso, ciocolată caldă și chai latte: acestea sunt variantele de băuturi care vor putea fi servite în paharul Retro, la un preț de 15 lei. Tot în acest pahar, fondatorii 5 to go au în plan să lanseze pentru prima oară în rețea și cafeaua la filtru, din ce în ce mai iubită de public, la un preț ceva mai mic, de 10 lei, decizie luată și în urma preferinței în creștere pentru acest tip de cafea din ultima perioadă, când oamenii au petrecut mai mult timp în case. Până la finalul acestui an, se preconizează că această variantă va fi disponibilă în locațiile 5 to go din întreaga țară.
Despre 5 to go
5 to go a luat naștere în 2015, iar în prezent a depășit pragul de 200 de locații și este cel mai mare lanț de cafenele din Europa de Est, dar și cea mai accesată franciză din România. Radu Savopol și Lucian Bădilă sunt fondatorii 5 to go, cei care au adus pe piața HoReCa din România conceptul inovator de preț unic pentru toate produsele comercializate. Sub sloganul "Smile, there's coffee!", lanțul de cafenele oferă consumatorilor un spațiu cald și prietenos, unde cafeaua este actorul principal. Cafeaua folosită este una cu o aromă intensă, corpolentă, cremoasă, ce se constituie într-un amestec unic, creat special pentru lanțul de cafenele 5 to go. Pentru că cifra 5 reprezintă elementul de structură a brandului, echipa 5 to go oferă clienților 5 motive principale să revină în una dintre cafenelele din grup: gustul, profesionalismul, rapiditatea, diversitatea și stilul de viață.
✖
Mulțumim pentru că vrei să fim prieteni!