Ce facem cu România? Primul podcast cu premierul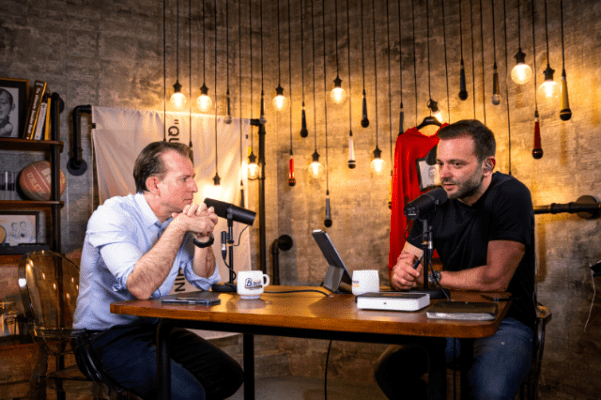 Mihai Morar surprinde și de această dată și creează în episodul 021 al podcastului "Fain&Simplu" un moment neașteptat: partenerul său de dialog este premierul Florin Cîțu. Și cum cafeaua este cea mai scurtă cale între doi oameni, iar primul ministru are o pasiune pentru cafeaua de specialitate, conversația a început relaxat, la un slow coffee. Aflat pentru prima dată într-un studio de podcast, Florin Cîțu a vorbit cu calmul unui adevărat lider atât despre povestea personală, cât și despre determinarea și motivația care duc la o continuă evoluție, dar și despre valorile în care crede: libertate, încredere, relaxare.
Pentru a pătrunde în lumea omului de finanțe care își dorește să fie judecat după ceea ce face, nu după ceea ce spune, iată cărțile recomandate de Florin Cîțu:
Startegy – Lawrence Freedman
Escaping Paternalism: Rationality, Behavioral Economics, and Public Policy – Glen Whitman și Mario Rizzo
The Parasitic Mind: How Infectious Ideas Are Killing Common Sense – Gad Saad
The Evolution of Everything: How New Ideas Emerge – Matt Ridley
Antifragile – Nassim Nicholas Taleb
Skin in The Game – Nassim Nicholas Taleb
How to Fail at Almost Everything and Still Win Big: Kind of the Story of My Life – Scott Adams
Vă invităm să vă pregătiți cafeaua preferată și să savurați conversația bogată a celor doi, în noul episod al podcastului "Fain &Simplu". Aflați povestea personală a tânărului care a copilărit la țară, a studiat în străinătate, a acumulat experiență lucrând în Noua Zeelandă și la Luxemburg, fiind conștient tot timpul că cel mai important proiect la care lucrează este investiția în propria persoană.
Florin Cîțu are credința că răbdarea e o virtute și că lucrurile bune vin la cei care așteaptă. Un podcast bogat, în care ideile #HaiCaSePoate sau #TheBestIsYetToComeRomania sunt revelate exact așa cum boabele de cafea își descoperă buchetul cu claritate și eleganță.
Un proiect Radio ZU, parte a GRUPUL MEDIA CAMINA (G.M.C.) SRL, disponibil pe YouTube, Spotify și pe https://fainsisimplu.ro.
✖
Mulțumim pentru că vrei să fim prieteni!