Editura Nemira lansează Umbra regelui, un roman de excepție, nominalizat la Man Booker Prize în 2020

Editura Nemira lansează în colecția Babel un roman de excepție, nominalizat la Man Booker Prize în 2020: Umbra regelui, de Maaza Mengiste. Scriitoarea de origine etiopiană aduce la iveală un capitol șters din istoria oficială a Africii, povestea femeilor-soldat care l-au înfruntat pe Mussolini și lupta lor care a devenit legendă.
"Un roman genial, în care istoria se transformă liric în mit." Salman Rushdie
Cartea anului pentru THE NEW YORK TIMES, GUARDIAN, ELLE, TIME, SPECTATOR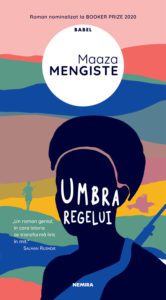 Etiopia, 1935. Hirut este orfană și lucrează ca servitoare în căminul lui Kidane, ofițer în armata Împăratului Haile Selassie. Când armatele lui Mussolini se apropie, bărbații trebuie să se mobilizeze. Însă Hirut și celelalte femei își doresc să facă mai mult pentru cauza războiului decât să aibă grijă de răniți și să îngroape morții. Când împăratul fuge și totul pare pierdut pentru Etiopia, Hirut vine cu o idee salvatoare: ca să nu-i lase pe soldați să-și piardă speranța, un țăran blând e deghizat să ia locul împăratului, iar ea devine garda lui de corp, inspirând tot mai multe femei să lupte pentru țara lor.
"Magnific, teribil, elegant și bântuit." Booklist
"Un cântec de război modern." The New York Times
"O carte minunată și devastatoare despre femei care țin lumea laolaltă, când e pe cale să se facă țăndări." Marlon James
MAAZA MENGISTE s-a născut la Addis Ababa, Etiopia, în 1974, dar a părăsit țara împreună cu familia ei când avea 4 ani. Și-a petrecut restul copilăriei în Nigeria și Statele Unite, apoi a studiat în Italia, ca Fulbright Scholar, și la New York University. A publicat masiv, în special pe tema imigrației și a Revoluției din Etiopia, în The New Yorker, The New York Times, Granta, Lettre Internationale. Romanul ei de debut, Beneath the Lion's Gaze (2010), a fost menționat printre cele mai importante 10 cărți africane contemporane de către Guardian. Cel de-al doilea roman al său, Umbra regelui (The Shadow King, 2019), a fost nominalizat la Booker Prize și la Historical Writers' Association Gold Crown Prize (2020). În prezent, Maaza Mengiste trăiește la New York și este profesoară de scriere creativă și traducere literară la Queens College.
✖
Mulțumim pentru că vrei să fim prieteni!