Educația Montessori. Ghid esențial pentru formarea viitorului adult, de la naștere până la 24 de ani de Paula Polk Lillard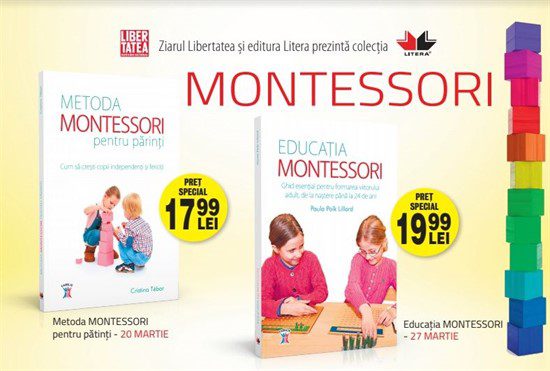 Destinat părinților, profesorilor și tuturor celor care sunt interesați de educație, volumul prezintă un plan de educație logic și unitar pentru dezvoltarea ființei umane din copilărie până la maturitate, ce trezește motivația interioară, ajutându-i pe copii să obțină cele mai bune rezultate intelectuale și sociale.
Combinând libertatea cu responsabilitatea, educația Montessori le asigură copiilor un rol mai activ în cadrul procesului de învățare, standarde înalte de excelență academică, conștiință socială și dezvoltare morală, precum și o viziune asupra umanității și a propriilor realizări care-i va inspira să-și ocupe locul în comunitate, la timpul lor, în calitate de adulți pe deplin integrați în societate.
Cele patru planuri ale dezvoltării • Perioade sensibile • Mintea absorbantă • Educarea părinților • Limbajul și materialul matematic • Independența față de familie • Puterea imaginației • Dezvoltarea morală • Perioada dintre 18 și 24 de ani • Idei și inspirație pentru momentele dificile
Paula Polk Lillard este o autoritate recunoscută la nivel internațional în domeniul educației Montessori și cofondatoare a Forest Bluff din Lake Bluff, Illinois, o şcoală de tip Montessori pentru copii începând de la vârsta preşcolară până la clasa a opta.
A mai publicat: Montessori: A Modern Approach (1988), Montessori in the Classroom: A Teacher's Account of How Children.
✖
Mulțumim pentru că vrei să fim prieteni!