Începe CALEIDO – festival multicultural de arte performative

În perioada 21-25 mai are loc cea de-a patra ediție a festivalului multicultural de arte performative Caleido, eveniment care descoperă și promovează diversitatea culturală și etnică. În programul festivalului se regăsesc 20 producții independente de teatru, dans și performance, care vor fi transmise online, gratuit, pe https://vimeo.com/caleido, și cinci ateliere practice, care vor avea loc la unteatru.
"Contemporary Hip-Hop Fusion", susținut de Răzvan Rotaru (actor, dansator, păpușar, performer),  "Inteligența corpului în mișcare", susținut de Cristina Lilienfeld (coregrafă și dansatoare), "Your Body is a Battleground", susținut de Cristina Regina și Paul Dunca/ Paula Dunker, "Singing Bodies / corp și voce în spațiu" – o inițiativă a performerilor Alexandra Bălășoiu și Denis Bolborea, alături de Atelier de improvizație cu Matei Lucaci-Grünberg (regizor de film și teatru, scenarist, dramaturg) sunt cele cinci ateliere prin intermediul cărora participanții pot experimenta direct modalități de exprimare corporală, de a scrie texte, de a improviza ori de a-și folosi creativ vocea și corpul.
Pentru înscrieri și detalii, vă rugăm să accesați: https://www.caleido.ro/ateliere/.
Cele 20 de producții independente de teatru, dans și performance vorbesc despre subiecte actuale din societatea românească și atrag atenția asupra impactului stereotipurilor, a importanței cunoașterii celorlalți, empatiei și implicării sociale, contribuind la construcția unor discursuri axate pe diversitatea etnică și culturală.
Spectacolele pot fi accesate online, gratuit, între 21-25 mai pe pagina de Vimeo a festivalului, timp de 24 de ore. Programul este disponibil și pe site-ul festivalului.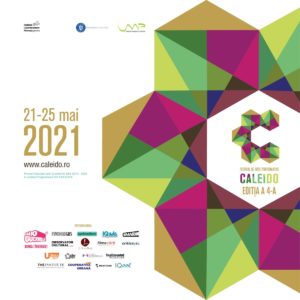 "Bambina, regina florilor" (regia: Mihai Lukacs), primul spectacol despre tradițiile romilor boldeni, ce o are în prim plan pe celebra florăreasa Bambina; "Infinit pozitiv" (regia: Alex Fifea), spectacolul care analizează poveștile de viață a șase personaje din România, infectate cu HIV; "Nu toți sunt eroi" (de și cu Cristina Lilienfeld, Smaranda Găbudeanu), care spune povești despre lupta pentru supraviețuire a bunicilor dispăruți; "Singurătatea pietrelor" (regia: Norbert Boda), ce aduce în prim plan perspectiva unui copil ce trăiește mental într-un univers paralel; "Domeniul luptei" (text și regie: Catinca Drăgănescu), care urmăreşte povestea unui tânăr asiatic aflat în căutarea soluţiei pentru o viaţă mai bună în Europa; "Neverland" (concept: Iulia Rugină, Ioana Flora), o privire în intimitatea unei femei, ce îi scoate la iveală traseul emoțional pe parcursul vieții, vulnerabilitatea, fricile și iubirile; "Limite" (regia: Radu Apostol), un one-woman show comic și acid despre școala românească, sunt doar o parte dintre spectacolele din program.
Caleido va include și performance-uri ca "American Gypsy" (concept, text și regie: Mihai Lukacs), o explorare a temei migrației din România, "Daughters" (concept și coregrafie: Simona Deaconescu), un spectacol de dans în care trei femei tinere fac un corp comun cu mamele și bunicile lor, "Reverse Discourse" (coregrafie, concept și performer: Ioana Marchidan), care vorbește despre traume înmagazinate individual și colectiv, sau "Singing Bodies' Trilogy" (concept și interpretare: Alexandra Bălășoiu, Denis Bolborea și Valentina De Piante Niculae) care încapsulează experiențe kinestezice și senzoriale în raport cu orașul în care trăim.
Producțiile Caleido realizate în 2020 și care vor fi prezentate în premieră la cea de-a patra ediție a festivalului sunt: "Domnișoara Iulia" (regia: Andrei și Andreea Grosu) – "despre mersul pe sfoară fără plasă de siguranță"; "Libretto Impostura" (regia: Matei Lucaci-Grünberg) – o comedie tristă, în care membrii trupei își propun să dezbată impostura; "Bildungswoman" (regia: Elena Morar, open call Caleido 2020) – un performance transdisciplinar care aduce împreună generații diferite de femei; "APR [Adorație Performance-ului Radical]" (cu/de: Irina Milan, Paul Dunca/ Paula Dunker, Waana Neagu, Raj Alexandru/ Ramya, Alex Bălă și Octavian – carte blanche oferit de Caleido 2020) – un tribut adus corpurilor neconforme care prin rezistența dansului au clădit cultura ballroom și scena prezentului.
Acestora li se adaugă alte trei producții Caleido, realizate în 2019: "Aleea stereotipurilor" (coordonatori: Ionuț Oprea, Mădălina Dorobanțu), în interpretarea trupei Playhood, care mixează elemente din poetry-slam, hip-hop și dans contemporan pentru a descrie diferite forme de discriminare născute din stereotipuri, "Magic is a condition that kills people in all kinds of performative hazards" (concept și interpretare: Andreea Novac și István Téglás), care vorbește despre colaborare, provocări artistice sau funcția publicului într-un spectacol, și "Pelicanul" (regia: Florin Liță), o poveste despre iertare și relația disfuncțională mamă-copii.
Cele două spectacolele invitate în festival, selectate în urma open call-ului lansat în vara anului 2020 sunt: "Uitasem" (scenariul și regia: Gabriel Sandu) – un show inspirat din povestea reală a unui puști din Galați care a fost izolat de mama sa într-un garaj și crescut să creadă că este reîncarnarea lui Iisus Hristos – și "Pe ei!" (scenariul și regia: Ionuț Caras) – un spectacol despre mărturiile celor care au reușit să supraviețuiască Experimentului Pitești.
Spectacolele vor beneficia de discuții online dedicate, care vor fi disponibile pe caleido.ro și moderate de jurnalistul Andrei Crăciun și Andreea Novac, director artistic Caleido.
Programul CALEIDO este disponibil aici www.caleido.ro/editia-a-iv-a-2021/
Site-ul caleido.ro găzduiește o serie de interviuri realizate de jurnaliștii Andrei Crăciun și Alina Vîlcan, cu realizatorii spectacolelor din program – care vorbesc, fiecare, despre motivațiile și experiențele personale, dar și despre situația precară a teatrului independent.
Cea de-a patra ediție a festivalului multicultural de arte performative Caleido pune în scenă diversitatea culturală și etnică, în dialog și dezbatere constructivă.
Văzut de Radio Guerrilla
Parteneri media: Critic Eyez, Cooperativa Urbană, Filme-carti.ro, IqAds, IQool, Smark, Liternet, Munteanu Recomandă, Observator Cultural, Psychologies, Spotmedia, Suplimentul de Cultură, The Institute, Urban.ro,  Zile și Nopți, Ziarul Metropolis
Caleido este organizat de Fundația Amfiteatru, care face parte din proiectul DIALOG (Diversity in Arts. Learning Opportunities and Growth), finanțat prin Granturile SEE 2014-2021 în cadrul Programului RO-CULTURA.*
Fundația Amfiteatru dezvoltă programe, proiecte și parteneriate la nivel local, național și internațional, în scopul afirmării resurselor antropice și naturale ale comunităților. Organizația se concentrează pe abordările integrate, cu finalitate socială, pentru a furniza comunităților soluții și sprijin. Site oficial: fundatia-amfiteatru.ro.
Granturile SEE reprezintă contribuția Islandei, Principatului Liechtenstein și Regatului Norvegiei la reducerea disparităților economice și sociale în Spațiul Economic European și la consolidarea relațiilor bilaterale cu cele 15 state beneficiare din estul și sudul Europei și statele baltice.
Aceste mecanisme de finanțare sunt stabilite în baza Acordului privind Spațiul Economic European, ce reunește statele membre UE și Islanda, Liechtenstein și Norvegia ca parteneri egali pe piața internă. În total, cele trei state au contribuit cu €3,3 miliarde între 1994 și 2014 și €1,55 miliarde pentru perioada de finanțare 2014-2021.
Mai multe detalii sunt disponibile pe: www.eeagrants.org  și www.eeagrants.ro.
Programul RO-CULTURA este implementat de Ministerul Culturii prin Unitatea de Management a Proiectului și are ca obiectiv general consolidarea dezvoltării economice și sociale prin cooperare culturală, antreprenoriat cultural și managementul patrimoniului cultural. Bugetul Programului este de 34 milioane de euro.
Mai multe detalii sunt disponibile pe: www.ro-cultura.ro.
✖
Mulțumim pentru că vrei să fim prieteni!