LONCOLOR ULTRA îmbracă haine noi (P)

LONCOLOR – brand românesc și lider de piață în categoria vopselei de păr – a pregătit de mai bine de un an un amplu proiect de relansare pentru cea mai populară gamă din portofoliu: LONCOLOR ULTRA. Astfel, toate cele 35 de nuanțe existente se relansează sub un nou ambalaj, mai atrăgător și aerisit, la care se adaugă încă 5 nuanțe noi, pentru un total de 40 de nuanțe, adică cea mai largă gamă de opțiuni cromatice la nivelul întregului portofoliu de game LONCOLOR. Una dintre cele 5 nuanțe noi este special creată pentru ANTONIA, ambasadoarea de brand cu care LONCOLOR a semnat un contract de imagine pentru următorii 3 ani.
"Fie că ești cool, hip, atipică, enigmatică, ultra-dramatică, plină de viață, elegantă, impresionantă, radiantă, dominantă sau chiar extravagantă, poți alege din paleta de 40 de nuanțe LONCOLOR ULTRA pe cea care te pune cel mai bine în valoare, pe cea care te inspiră să fii tu. Pentru că…e ULTRA să fii TU!" așa le îndeamnă ANTONIA pe doamne și domnișoare să îndrăznească să își aleagă nuanța care să le facă să se simtă în fiecare zi ca un superstar.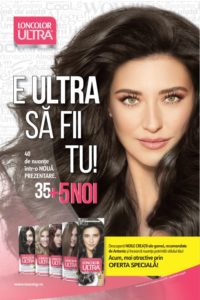 ANTONIA, femeia care inspiră îndrăzneală și feminitate, cu un păr superb și curajul de a fi ea însăși pe scenă și în afara ei, jonglând cu roluri multiple, de la cel de mamă, la cel de artist… este expresie a forței de a se reinventa ce animă și LONCOLOR de aproape trei decenii.
"Asocierea cu ANTONIA – ambasadoare a gamei ULTRA a venit absolut natural, pentru că așa cum ea este un adevărat lider în lumea artistică, iubită de români, LONCOLOR ULTRA este lider în piața de vopsea de păr[1], iubită de consumatoarele loiale de peste 30 de ani. Acest lucru ne-a motivat să creăm o nuanță dedicată ANTONIEI și să acționăm ca adevărați lideri care aduc un suflu nou în piață. Noile noastre ambalaje sunt inspirate de clientele noastre care au încredere în ele, care știu că frumusețea părului le pune în valoare ca pe niște adevărate vedete. Împreună vom scrie  o nouă pagină de succes pentru această gamă și suntem siguri că noile ambalaje și  nuanțele noi vor fi îndrăgite rapid de clientele LONCOLOR ULTRA." – declară Marius Niță, director de marketing și vânzări LONCOLOR.
LONCOLOR ULTRA răsplătește încrederea româncelor cu 5 noi nuanțe fermecătoare, creând astfel cea mai variată paletă de culori: 40 de nuanțe moderne, strălucitoare
Întreaga gama ULTRA are acum un portfoliu extins ce însumează 40 de culori moderne, vibrante, rezistente: de la cele de gri, cenușiu și blond rece cu strălucire de diamant, la cele de blond cald și rose, pentru strălucire solară; de la nuanțele de chihlimbar, miere, la cele ultra-îndrăznețe de arămiu, rubin, violet, vișină și până la castaniul în nuanțe sofisticate care te poartă cu gândul la ciocolata artizanală. Rezultatul este ULTRA-strălucitor, iar culoarea se păstrează armonioasă de la rădăcină până la vârfuri, acoperind firele albe până la 100%. Formula protejează părul încă din timpul colorării datorită uleiului de migdale și a proteinelor din grâu, care hrănesc părul și îi conferă suplețe și textură mătăsoasă.
Dincolo de facelift-ul ambalajului, grija pentru a răspunde nevoilor consumatoarelor se traduce prin adăugarea celor 5 nuanțe noi în portofoliu: castaniu scorțișoară, castaniu vibrant, blond bej cenușiu, blond irizat și ciocolată neagră – nuanță creată special pentru ANTONIA.
Din anul 2003, de la lansarea gamei, LONCOLOR ULTRA se bucură de fidelitatea consumatoarelor astfel că până în prezent, la vârsta majoratului acestei game, s-au vândut aproximativ 80 de milioane de tuburi de vopsea. Făcând o analogie pentru a vizualiza acest număr, alăturarea tuburilor de vopsea de păr LONCOLOR ULTRA cumpărate până acum de femeile din România ar înconjura țara de 3 ori.
Alături de cele 40 de culori, gama LONCOLOR ULTRA pune la dispoziția consumatoarelor și un set pentru decolorare, de până la 7 tonuri, ușor de folosit acasă, pentru obținera unui blond cu strălucire radiantă. Setul se poate folosi atât pentru decolorare totală, cât și pentru decolorare selectivă (șuvițe), iar masca de păr inclusă în setul de decolorare contribuie la menținerea unui aspect sănătos al părului vopsit, conferindu-i strălucire și vitalitate.
LONCOLOR ULTRA DUO MAX – singura gamă de vopsea de păr din România, dedicată părului bogat sau lung
Pornind de la insight-ul consumatoarelor cu păr lung sau foarte des, care în medie consumă minim două tuburi de vopsea la o singură colorare, LONCOLOR a creat încă de acum 10 ani o gamă dedicată care reunește cele mai iubite nuanțe LONCOLOR ULTRA. Și acest pachet special de vopsea în cantitate dublă, la preț avantajos, are parte acum de o relansare, cu ambalaje noi și nuanțe noi, inclusiv 4.10 Ciocolată Neagră, creată pentru Antonia. Varianta mai economică LONCOLOR ULTRA DUO MAX, conține două tuburi de vopsea și este disponibilă acum în 13 nuanțe care pot fi descoperite în magazine și pe https://www.loncolor.ro/colorare/game-vopsea/loncolor-ultra-max.
Despre LONCOLOR
Papillon Laboratoires Cosmetiques este cea mai importantă companie românească producătoare de vopsea pentru păr, cu o experiență de 27 de ani în domeniu, fiind joint venture din România. Cel mai cunoscut și iubit dintre brandurile sale este LONCOLOR, brandul românesc numărul 1 în categoria vopsea pentru păr, care de la lansarea din 1993 pune în valoarea frumusețea naturala a consumatoarelor, oferind produse de încredere:
Vopsea de păr: LONCOLOR Ultra, LONCOLOR Ultra Duo Max, LONCOLOR Expert HEMP style, LONCOLOR Expert Oil Fusion, LONCOLOR Natura, LONCOLOR GoCrazy!, LONCOLOR Trendy Colors, LONCOLOR Expert Quick Color Touch
Îngrijire: LONCOLOR Trendy, LONCOLOR Expert, LONCOLOR Michel Mercier
Papillon Laboratoires Cosmetiques se mândrește cu:
O distribuție foarte bună la nivel național, atât în comerțul traditional, cât și în cel modern;
Cea mai mare cotă de piață în volum[2] în categoria Coloranților de Păr;
Certificatul Sistemului de Management al Calității, în concordanță cu standardul SR EN ISO 9001:2001, acordat de Organizația de Certificare TUV Thuringen;
Numeroase premii obținute de-a lungul timpului la categoria "Fabricarea parfumurilor și a produselor cosmetice" pentru rezultatele obținute conform criteriului productivității, al cifrei de afaceri și al performanței globale.
[1]Calcul realizat pe baza datelor Nielsen din serviciul de retail audit realizat pentru categoria Vopsea de păr, volum vânzări și distribuție ponderată, pentru perioada ianuarie 2020 – decembrie 2020, pentru Total Romania Retail (Copyright © 2021. The Nielsen Company.)
[2]Calcul realizat pe baza datelor Nielsen din serviciul de retail audit realizat pentru categoria Vopsea de păr, volum vânzări și distribuție ponderată, pentru perioada ianuarie 2020 – decembrie 2020, pentru Total Romania Retail (Copyright © 2021. The Nielsen Company.)
✖
Mulțumim pentru că vrei să fim prieteni!