Utopie/ Distopie, în conferințe, ateliere și documentare la BIDFF #6

Bucharest International Dance Film Festival, unica manifestare cinematografică din România dedicată filmelor de dans, care va avea loc între 3-6 septembrie, prezintă documentare, conferințe și ateliere de de film de dans chiar în inima Bucureștiului. Cea de-a șasea ediție a festivalului include, pe lângă cele trei competiții, proiecția în premieră națională a documentarului Being Jérôme Bel și o serie de evenimente dedicate industriei de film și dans: un atelier de film de dans cu coregrafa Chrysanthi Badeka, două conferințe care vor explora tema BIDFF – utopie/distopie, susținute de artiștii Jassem Hindi și Pavle Heidler, și un masterclass susținut de Maria Tânjală, cofondator FilmChain.
Seara de sâmbătă, 5 septembrie, va fi marcată de premiera națională a filmului Being Jérôme Bel (documentar, 79', FR, regia Aldo Lee și Sima Khatami). Proiecția va avea loc de la 21:00, la Cinema Elvire Popesco, în aer liber, iar biletele se vor pune în vânzare începând cu 17 august. Filmul surprinde procesul de lucru al lui Jérôme Bel, coregraf și performer recunoscut pentru maniera sa provocatoare de a confrunta spectatorii cu propriile preconcepții despre corp, dar arată și dificultățile celor doi regizori care se lovesc de rezistența artistului în a fi portretizat. Lungmetrajul a avut premiera în 2019, în cadrul Festivalului de Film de la Locarno, în afara competiției. Trailer:https://vimeo.com/348802951
În cadrul atelierului de film de dans, Chrysanthi Badeka va explora, timp de trei zile, alături de participanți, arta filmului de dans ca o practică pentru dezvoltarea artistică interdisciplinară. Folosind elemente transmedia de reflexie și compoziție, Chrysanthi propune un studiu de conținut, estetică, filmare non-teatrală, coregrafia camerei, realizarea unui storyboard, scrierea și comunicarea în echipă. Atelierul își propune să creeze o colaborare fructuoasă între profesioniști care activează în diferite domenii artistice, punând accentul pe noile utopii ale filmului de dans și educația peer-to-peer.
"Într-o lume în care ne confruntăm cu probleme critice de zi cu zi, este esențial să reanalizăm, acum mai mult decât oricând, puterea corpului uman pe ecrane. În plin proces de transformare socială, cum lăsăm un impact asupra publicului? Cum construim povestea unui corp în mișcare? Cum ne imaginăm viitorul dansurilor pe ecran? Despre asta va fi atelierul din cadrul BIDFF", a spus Chrysanthi Badeka.
Chrysanthi Badeka este o coregrafă independentă, dansatoare, creatoare de filme, editor, profesor specializat în videodance, curator de filme de dans pentru festivaluri și conferințe și manager de proiect la mAPs – migrating Artists Project în Grecia.
Atelierul de dans se va desfășura în zilele de 4, 5 și 6 septembrie, între orele 11.00 – 15:00 la LINOTIP-Centrul Independent Coregrafic, iar participarea se va face pe bază de înscriere și selecție, în limita locurilor disponibile, la adresa de email [email protected].
Prima conferință din programul dedicat industriei de film și dans va fi susținută de Maria Tânjală, cofondator FilmChain și producător de film, vineri, 4 septembrie, de la ora 16:00. Prezentarea sa – "Overarching vision and Collective work", centrată pe viziunea generală și munca colectivă, pornește de la o paralelă între filme și startup-uri, și cuprinde sfaturi de dezvoltare pentru scenarii, producție, marketing, construcția mărcii personale, precum și detalii despre contracte, distribuție, campanii de crowdfunding, implicarea echipei și prezența la festivaluri internaționale.
Jassem Hindi, un artist ce explorează relația fizică dintre poezie și performance, cercetător independent în filosofie – studiind granița dintre ospitalitate și obsesie,  va susține în cadrul BIDFF, pe 5 septembrie, de la ora 16:00, o conferință despre tehnicile de editare legate de textura utopiilor și a distopiilor, care au și puterea de a manipula timpul.
"Artele performative temporale (performance, poezie, sunet, cinema) și derivatele lor au dezvoltat, discret, ca efecte secundare, sutele de alte teorii temporale, împrumutând unele de la altele gesturi care alterează timpul: supraexpunere, cut-up-uri, adâncimea, swarm, voice over-ul. Aceste tehnici de editare cu efecte secundare expun ceea ce există, ce poate exista, ce ne bântuie și care sunt legile transformării", a adăugat Jassem Hindi.
A doua conferință BIDFF va fi susținută de Pavle Heidler, care va spune, pe 6 septembrie, de la ora 16:00, povestea distopiei pornind de la teoria lui Descartes, privind ruptura minte-corp, care a influențat standardele valorilor pe care vestul le-a instituit și promovat atât de mult – o teorie care discriminează corpul și ale cărei practici sunt competitive, perturbatoare, egocentrice, orientate spre produs și putere.
"Motivul pentru care vreau să spun această poveste este pentru că în adâncurile ei stă ascunsă o altă poveste – a utopiei. Această este istoria unei dinamici integrate minte – corp, în care realitatea nu este măsurată în unități palpabile ci ține, mai degrabă, de negociere, participare și motivație", a spus Heidler.
Pavel Heidler este absolvent al Salzburg Experimental Academy of Dance și al Performing Arts Research and Training Studios și s-a specializat în Coregrafie – Performance  la University of Dance and Circus – Stockholm University of the Arts. Proiectele sale vorbesc despre ficțiunea erotică experimentală și incapacitățile narative ale dansului. Pavel Heidler a primit în 2018 International Choreographer's Stipend, oferit anual unui artist suedez de către Comisia Suedeză a Granturilor Artistice.
Pentru fiecare din cele trei evenimente dedicate profesioniștilor din domeniul filmului, artelor performative, artei vizuale și digitale, programate la Centrul Național al Dansului București, sunt disponibile 15 locuri, iar înscrierile se pot face la adresa de email [email protected]. Cei interesați sunt rugați să trimită un email prin care își manifestă dorința de participare, alături de o scurtă prezentare personală. Pentru suplimentarea măsurilor de siguranță, aceste evenimente ar putea avea loc online, organizatorii urmând să confirme tuturor participanților modalitatea de desfășurare.
Filmul care deschide cea de-a șasea ediție BIDFF este EMA, în regia lui Pablo Larraín. Proiecția va avea loc pe 3 septembrie, de la ora 21:00, la Cinema Elvire Popesco (bilete disponibile aici: https://bit.ly/2CgZniR) și Mercato Kultur (biletele vor fi disponibile în curând, pe Eventbook).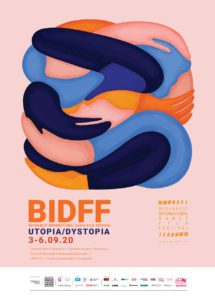 Proiecțiile BIDFF 2020 vor avea loc în aer liber la: Cinema Elvira Popesco și Muzeul Țăranului Român, iar evenimentele speciale, cu locuri limitate, la LINOTIP – Centru Independent Coregrafic și CNDB – Centrul Național al Dansului București.
Văzut de Radio Guerrilla
Parteneri media: AaRC.ro, Cărturești, Cinemap, COOPerativa Urbană, Cover Stories, Elle, Films in Frame, FilmSi, Glamour, Movienews, Munteanu Recomandă, Spotmedia, The Institute, Ziarul Metropolis, Zile și Nopți.
Despre BIDFF
Dedicat producțiilor de dans realizate de coregrafi, regizori de film și artiști din întreaga lume, Bucharest International Dance Film Festival a fost fondat în 2015 de coregrafa și regizoarea Simona Deaconescu și de producătoarea de film Anamaria Antoci. Evenimentul, unic în peisajul festivalurilor de film din România, militează pentru colaborarea dintre oamenii dansului și oamenii filmului, coagularea unei comunități a creatorilor de film de dans, încurajând excelența, inovația și discursul artistic curajos.
Bucharest International Dance Film Festival, ediția a VI-a este un proiect cultural organizat de Asociația Tangaj Dance și co-finanțat de Administrația Fondului Cultural Național.
*Proiectul nu reprezintă în mod necesar poziția Administrației Fondului Cultural Național. AFCN nu este responsabilă de conținutul proiectului sau de modul în care rezultatele proiectului pot fi folosite. Acestea sunt în întregime responsabilitatea beneficiarului finanțării.
Festivalul este sprijinit de Centrul Național al Cinematografiei, Conceptual Lab by Theo Nissim, ADFR – Asociația pentru Dezvoltarea Filmului Românesc.
Partenerii festivalului sunt Institutul Francez (Cinema Elvira Popescu), Muzeul Național al Țăranului Român (Cinema Muzeul Țăranului), Centrul Național al Dansului București, LINOTIP – Centru Independent Coregrafic și Institutul Balassi.
✖
Mulțumim pentru că vrei să fim prieteni!